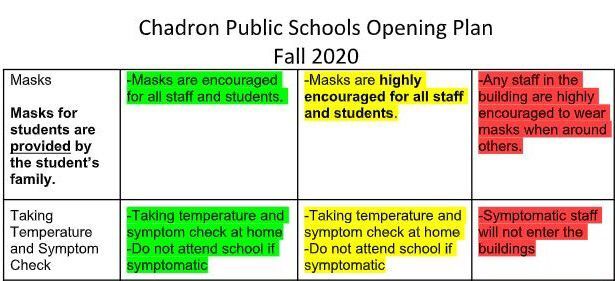 Parents and student should expect surveys this week regarding the re-opening of school buildings and the 2021-school year. Tri-color plans — Green, Yellow and Red — will also go out with a memo from new superintendent Ginger Meyer, who presented the plans at the Chadron Public Schools Board of Education regular meeting.
Currently the district is in a green scenario, with planned regular start time, scheduled for Aug. 13, and in-person learning while incorporating additional sanitizing measures. There will also be determination of set entrances and other measure to help control traffic flow.
Health and Sanitation Procedures: The following health and sanitation procedures are actions that will be collectively implemented to keep students and staff members safe should schools be permitted to start
Students and staff will sanitize their hands consistently, i.e. upon entering the building, entering a classroom, exiting a classroom, entering cafeteria, exiting cafeteria, exiting building.
Tabletop surfaces and highly touched areas cleaned consistently and routinely. Staff and students will participate in classroom cleaning procedures. Masks Students and staff are encouraged to wear masks throughout the school day and during activities (following NSAA guidelines). The district will provide masks/PPE for staff. Students must provide their own masks.
Parents screen children at home for temperature, runny nose, cough, and other symptoms. Random screening if necessary. Teachers self-screen at home for temperature, runny nose, cough, and other symptoms. If symptomatic, call a medical professional, notify school and do not attend. Return to school with clearance documentation from a health care provider.
No mouth drinking from fountains. Students must provide their own water bottles. Students should not share water bottles.
Levels of Attendance: (Green) Full Capacity, (Yellow) Modified Capacity, (Red) Remote Learning
School districts are preparing to open under the possibility of three different scenarios. Staff want to make sure students, parents and staff not only feel safe, but are safe.
•Green: All students and staff are to return on the first day of school as noted on the approved 2020/21 school calendar. Health and sanitation practices will help minimize risks. This plan would have the least negative impact on the economy as schools would again assume custodial care of children during specific hours. This plan is preferred if health and sanitation protocols can replace some social distancing.
•Yellow: This type of opening would be the middle ground between a (Green) Full Capacity and (Red) Remote Learning. All staff are to return on the first day of school and students would follow the modified schedule per building. The decision to move to Yellow will be made in coordination with the Panhandle Public Health department and there may be modifications to the school calendar and after school activities.
•Red: If need be, school districts can open remotely. This is not an ideal situation because the relationship between a teacher and student needs to be established. This solution also creates obstacles in establishing routines and transitions as well as gathering baseline data on students. If we were to be in this position, we would not need to follow social distancing guidelines as students would not be on campus. All activities would be suspended.
Additional information will be provided to parents and staff regarding various Green, Yellow and Red measures and scenarios.
Meyer noted the administrative team will be meeting on July 29 to discuss survey results. 
The board also looked at and approved several policies. Third reading of Policy 3542, regarding bus drivers, was approved. The policy requires drivers to complete state-required driver tests and physical examinations, and also prohibits use of cell phones and similar devices while driving.
The second reading of Policy 5141.2, regarding illness and infectious disease with students, was approved. Action on 5141.22 tabled, as it will be combined into 5141.2 upon its third reading.
Under the combined policy, a school child who has been ill with a communicable disease will not be allowed to return to school except upon the permission of the nurse or physician medical health provider. If a child becomes ill at school, the teacher or principal shall isolate such child from other children until such time as he or she can be removed to home.
In the event that a student becomes infected with a chronic infectious disease, the superintendent shall make decisions about changes in the educational program of the student on a case by case basis, relying on guidelines from NDHHS, CDC, and local medical professional advice.
Policy 4019.41, regarding employees with illness/infectious disease, was approved. Under the policy, an employee who has been ill with an infectious disease shall, in no case, be allowed to return to work except upon the written permission of a medical health provider.
Policy 1180 was approved. Under the policy, the Superintendent of Schools shall at least annually prepare and report to the board and general public a written report, which describes the district's success in meeting annual goals which have been established by the district.
Policies regarding safety and security devices were also approved.
Policy 3543, the Safe Pupil Transportation Plan, includes language that personal safety or security devices (such as Tasers, mace or pepper spray) may only be transported with prior approval of an administrator of the district.
Policy 5130, regarding grounds for suspension, adds language that carrying personal safety or security devices may only be transported with prior approval of an administrator of the district.
Policy 5144, regarding student discipline, includes language stating that in the event that a student desires to carry or possess a personal safety or security device, the student must obtain prior approval from the building principal before bringing such devices on school grounds. If a student obtains prior approval from the building principal, the student must store the device during the school day in the student's locker, in the main office, or in another secure location designated by the building principal. 
Under Policy 5145.8, regarding searches and seizures in schools, a personal safety or security device not previously approved by the Administration constitutes a "dangerous weapon" and will be removed.
Policy 6115, regarding ceremonies, observances and the Pledge of Allegiance was approved. Under the policy, appropriate patriotic exercises suitable to the occasion shall be held under the direction of the Superintendent on George Washington's birthday, Abraham Lincoln's Birthday, Dr. Martin Luther King, Jr.'s birthday, Native American Heritage Day, Constitution Day, Memorial Day, Veterans Day and Thanksgiving Day, or on the day or week preceding or following such holiday if the school is in session. In addition appropriate exercises may be held for Flag Day and State Fire Day.
Following a short public hearing for each of several policies, those policies were reaffirmed.
The board reaffirmed Internet Policy No. 6163.2, Policy No. 5138.1, and Policy No. 4119.34, though 4119.34 will be sent to the Policy Committee to discuss possibly allowing for web-based e-mails such as Hotmail, Yahoo! and Google.
Policy 1205, regarding parental involvement and communications, was reaffirmed, though it will go to the Policy Committee as well. Chadron Primary Principal Libby Uhing was concerned with language that stated parents would be provided copies of records at 25 cents per page. All families are offered Special Education documents free of charge, she noted, and requested it be changed to read "may be charged" rather than having it state they "will be charged."
Policy 5142.5 regarding anti-bullying was reaffirmed. During the public hearing there was some concern expressed as to whether the policy was too broad, though Uhing also expressed her appreciation to having a set definition as to what bullying.
Policy 5119 regarding student fees was reaffirmed. Among the highlighted changes are the school meal prices of: $1.80 for breakfast, $3 for K-4 lunch and $3.10 for 5-12 lunch. Reduced breakfast is $0.30 and reduced lunch is $0.40. Extra entree is $1.80 and extra milk is $0.60.
Policy 5112 regarding student attendance was reaffirmed, but will go to the Policy Committee after concern was expressed as to how this policy will be affected by the COVID-19 pandemic.
Another policy reaffirmed without need for a hearing was Policy 5141.6, the annual notification of wellness policy. The board also approved Policy 5111.2, regarding option enrollment limits.
In other action, the board approved a Husqvarna mower with a 48-inch deck for $3,000. Board President Tom Menke noted the mower is a necessary purchase to replace a mower that is several years old.
The board also approved three resignations. Heidi Smith resigned as primary library para; Christina Frick resigned as head Start para; and Linda Meisman resigned as HS para.
New hires approved include: Chaona Redtke; Primary; Danielle Woods, Middle; Jaylyn Youel, Primary; Tori Sandoz, Primary; Mitch Garner, Primary; and Andrew Smith, Primary.
Be the first to know
Get local news delivered to your inbox!