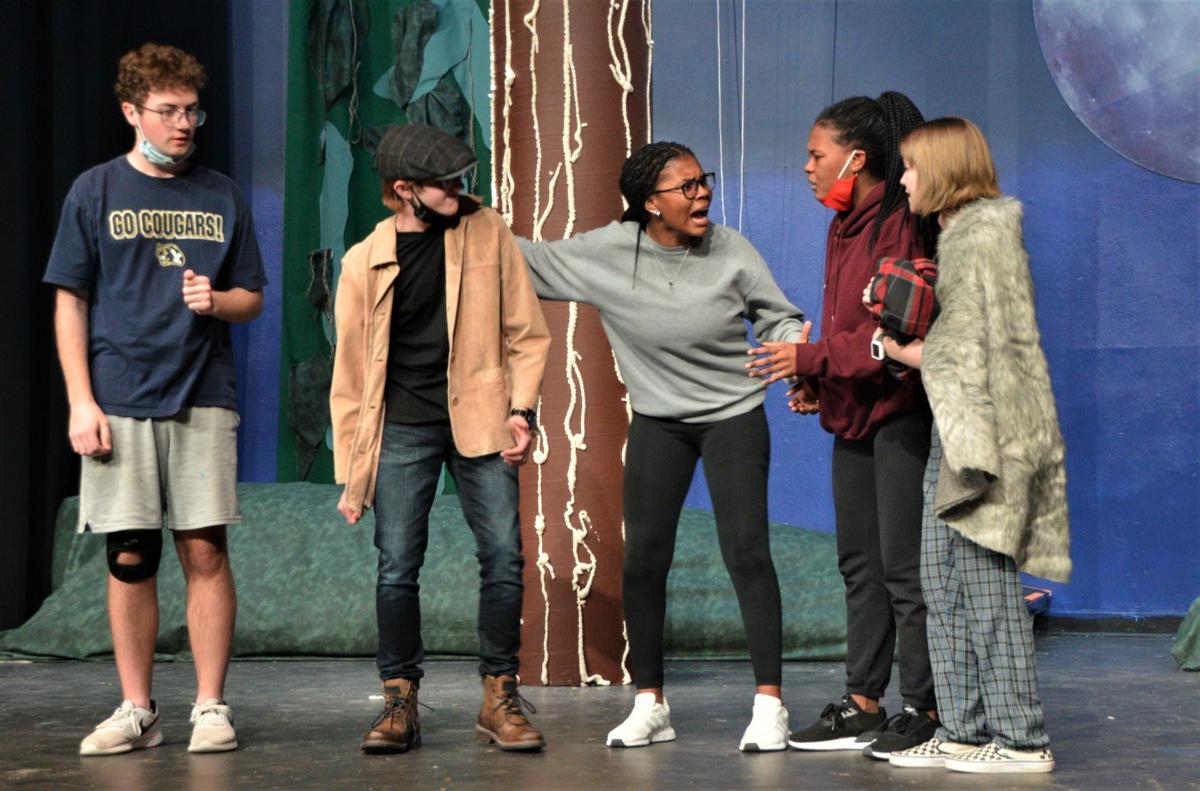 If the musical performed at Chadron High School this year seems a bit familiar, there's a reason. Created by Stephen Sondheim, "Into the Woods" brings together characters from classic Brothers Grimm fairy tales such as "Little Red Riding Hood", "Jack and the Beanstalk", "Rapunzel" and "Cinderella. Through the course of the production, the well-known stories take a different turn as the traditional boundaries between their narratives become a bit blurred.
Director Wendy Rhoads said things are coming along really well, though there were some changes that had to be made due to other extracurricular activities. Prior to the winter holiday break Rhoads cast the show so students could prepare for their parts and be ready for first practice when they returned. Rhoads further explained that, due to copyright laws, schools are only allowed materials such as librettos — the scripts and score — for eight weeks before they have to be returned to offices in New York. This would've set the show for the first weekend in March. Due to COVID-19, extensions on materials were granted and opening night is set for this Friday, March 19.
The students have been hard at work since January, Rhoads said. A famous theater rule, she said, is there is one hour of rehearsal for every minute of time on stage, and she sticks to a fairly rigid schedule.
On top of that, the libretto is nearly twice the size of the typical school production, clocking in at 490 pages compared to the average 250 in other years. There's a lot more singing, Rhoads pointed out, and Sondheim is complex composer. "This is the hardest musical I've ever attempted.
There's also the set design to consider. Created by students in her Stagecraft class, Rhoads said things were a bit challenging as she didn't have the regular number of students who had taken Woods or other shop classes. Still, it's fun to watch them build things and see how they work on stage.
Providing music for the production will be a live orchestra consisting of three pianists and a percussionist from Chadron State College. Rhoads praised the skill of the musicians, and is especially excited the students get to perform with artists of their caliber.
Though a difficult production, Rhoads said the students have been a great fit in their roles and they can do it. She enjoys all of the characters, but as practice goes on there are some special moments for her such as Lateisha Ngoi's performance of "Last Midnight." It's also been enjoyable, she said, to watch senior Jameson Margetts as he's grown over the last four years. Underclassmen such as Jacee Bates and Aidan Dressel also have moments that have made the director giggle a time or two.
As well as the public, students will also be performing for Nebraska High School Musical Theater Academy adjudicators, who will provide feedback on the show. Rhoads further noted students can later be nominated to perform live for the Nebraska High School Theatre Awards. From the state level, it's possible for them to move on to Nationals, where the grand prize is a full ride to the New York University Tisch School of the Arts.
Rhoads hopes people come out to see the performance this weekend. Times are 7 p.m. Friday and Saturday, and 2 p.m. Sunday, at the high school auditorium. Tickets are available in advance for $5 from cast members, the high school office or Bat's business office on Main Street. All advance tickets are general admission and usable for any time.
Tickets will be available at the door for $7, and children age 3 and under are free.
The cast of "Into the Woods is:
Bakers Wife: Kennedy Stack
Cinderella's Prince/Wolf: Drew Milburn
Red Riding Hood: Jacee Bates
Granny(understudy Narrator): Katelyn Diehl
Jack's Mother: Alexis Conboy
Rapunzel's Prince (Understudy: Wolf): Jamie McKinnon
Rapunzel (Understudy: Witch): Sophia Oladimeji
Cinderella's Stepmother (Understudy: Baker's Wife): Blaine Tewehade
Cinderella's Stepfather: Zander Rust
Florinda (Understudy: Cinderella): Aubrey Milburn
Lucinda(Understudy: Lil Red): Kaylee Sprock
Cinderella's Fairy Godmother (Understudy Jack's Mother): Maralee Rischling
Mysterious Man (Understudy Cinderella's Prince): Cody Hall
Steward (Understudy: Rapunzel's Prince):Luke Kahl
Royal Sisters (Understudy for Stepsisters): Naomie Elliot, Kenzie Pourier
Milky White (cow): Dayton Richardson
Supporting Cast: Kelton Burbach and Kelcarah Demeritte