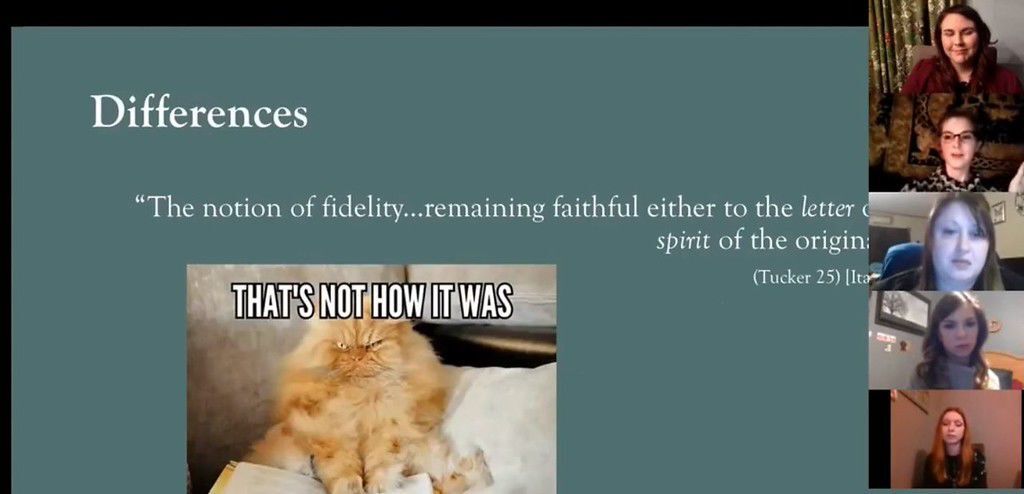 Chadron State College English major Ashy Blacksheep of Ditch Creek, South Dakota, presented during a roundtable discussion and Q&A session March 26 at the virtual international Sigma Tau Delta conference.
The roundtable was titled The Haunting of Hill House: Metamorphosis of Psyche, Life, and Medium. Blacksheep's portion was Metamorphoses of Medium and explored the adaptation of Shirley Jackson's novel, The Haunting of Hill House, to Mike Flanagan's Netflix series through the lens of translation.
Blacksheep said she is grateful for the opportunity to speak to an international audience and credits her professors and fellow Sigma Tau Delta members for encouragement and support.
"I think the best part of the roundtable was working with other students from different regions. The presentation was a labor of love and interest for all of us. It's an amazing thing for people in different places, in different areas of study, to come together to share something with the world. That is something I want to do much more of in my writing career," Blacksheep said. "The critical and academic writing I do for my literature and writing professors has given me an edge in participating in conferences. Not only can I process and apply literary theory, but I can also engage others in conversation about it."
Assistant Professor Dr. Mary Clai Jones said the English Department is proud of Blacksheep.
"We all agree she is a star student. I am always excited to see her name on my roster, and her keen intellect and creativity always surprise me when I read her work," said Jones, who also attended the conference.
Blacksheep's poetry has been published in Ample Remains and accepted for publication this spring in Not Deer magazine. She will graduate in December 2021 and plans a career in as a professional writer, podcaster, and collaborator.