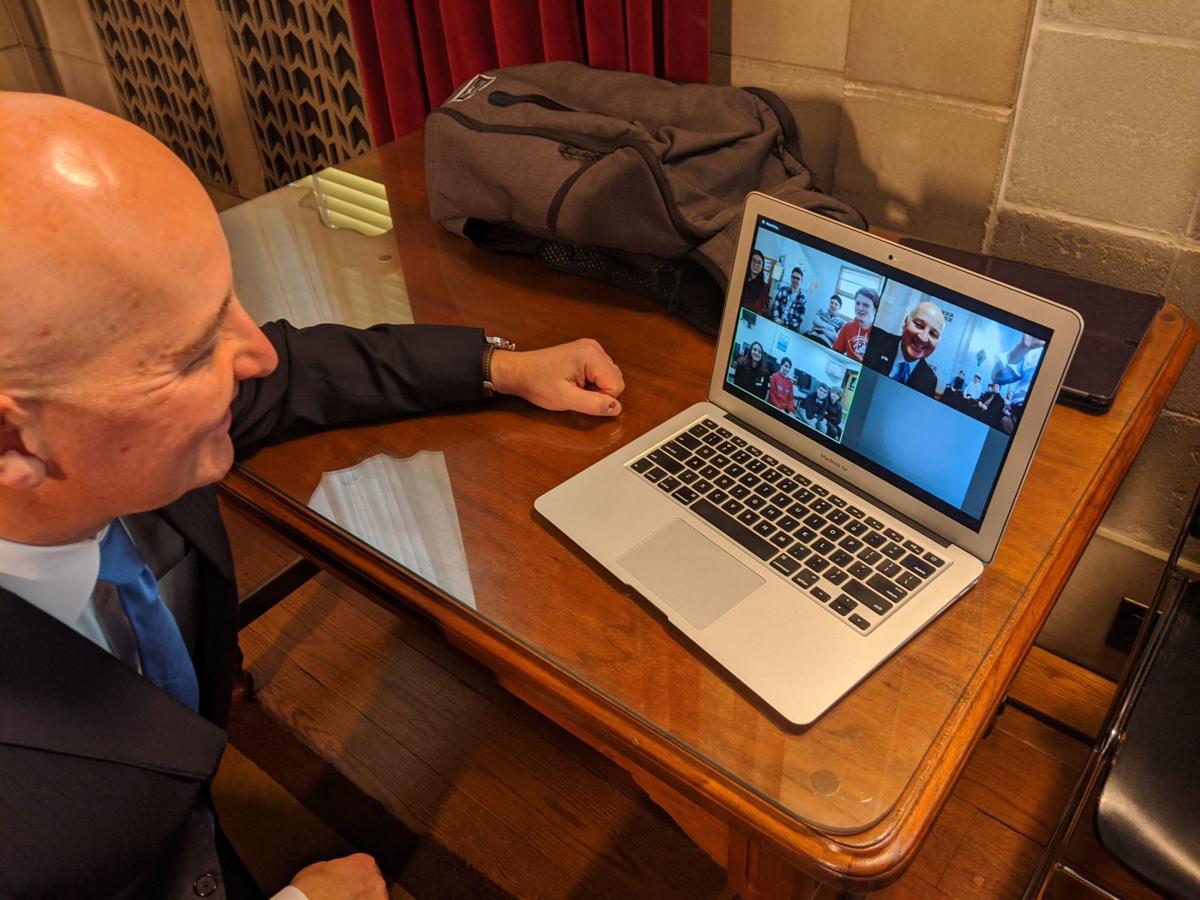 LINCOLN — Students from across Nebraska met with Governor Pete Ricketts this week to celebrate their success in the December 2019 "Find Your Genius" challenge and discuss the future of the state's workforce.
On Tuesday, January 21, the winners of the December 2019 Find Your Genius Challenge met with Governor Pete Ricketts at the state capitol to talk about their accomplishments and gain insight on how young people can connect to real-world industries while still in school.
Those attending the event included students from Chadron Public Schools, Westside Community Schools, Bellevue East and West High Schools, Battle Creek Public Schools, Gross Catholic High School and Quest Forward Academy. Two winning homeschool students from Fremont also attended.
Area industry leaders including Tammy Slater, CEO of Goodwill Industries of Greater Nebraska, Lisa Wilson, HR Leader for Case New Holland, and Kevin Hensel, President of the Bellevue Chamber of Commerce were among the business partners who have engaged and invested in young people through Find Your Genius.
In the December challenge, Find Your Genius partnered with Goodwill Industries of Greater Nebraska Inc. and asked students to create a business idea that solved one of two proposed issues: poverty or mental and emotional stress. These topics challenged students to discover their abilities outside the classroom, think about paths after high school, and learn where their place is in Nebraska's future workforce. At the end of the challenge, Find Your Genius awarded the winners with cash prizes.
Gov. Ricketts also encouraged the students to take their ideas one step further and reach out to prospective industries in Nebraska for experience and job opportunities. "This is really cool and innovative stuff. It gets you thinking about other connected problems and solutions and how they fit together," Gov. Ricketts said. "In the state of Nebraska, we have been trying to create that pipeline from you [the students] to companies." The Governor also pointed out that young people have a lot of mentors willing to invest time in them. "People are willing to help, you just have to ask," he said.
Students received prize money for their winning efforts but more importantly, several have received paid internship offers and secured positions with regional companies while others have received offers to fund their business ideas.
Todd Smith, CEO of Symphony Workforce and Find Your Genius, added that students across rural and urban areas in Nebraska are the state's greatest resource. "This is workforce development. We have brought businesses, area chambers, teachers, school leaders, students, and foundations together. Our model ties all of these resources together in a way that is modern and relevant to young people and creates immediate and lasting ROI for business", Smith said. "Our efforts align with the workforce priorities Governor Ricketts has identified."
The next Find Your Genius Challenge is set to take place in April.
Find Your Genius is an online platform that gives young people the opportunity to solve real-world business problems through online challenges that engage in career discovery and personal growth. The challenges enable young people ages 13-22 to participate in solving actual business problems in an online, gamified forum where students can safely fail, rapidly sample multiple career paths in week-long increments, and engage with industry mentors who share their experiences.
Find Your Genius creates access to some of the region's most prominent companies and dynamic startups, incenting students to discover their likes and dislikes, become aware of their soft skills, develop their communication and collaboration abilities, and find a career path that aligns with their personal aspirations.
For more information, visit Facebook (@FindURGeniusNE) and Twitter (@FindUrGeniusNE). Or visit findyourgenius.org