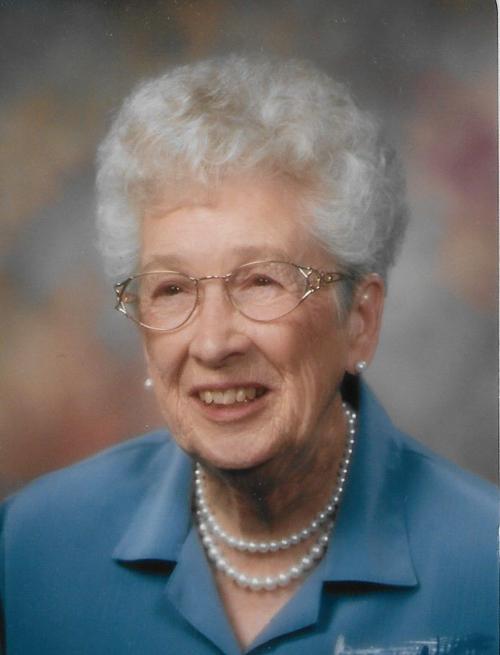 Donna Marie Sipp (Stiehl) was born Dec. 8 1921, in Hay Springs to Lillian Shipp and Charlie Stiehl. Donna had one younger sister, Viola Mae (Brown). Donna spent her childhood in Hay Springs and attended the High School there, graduating in 1940 with 41 other students.
Growing up, Donna spent time in the seventh and eighth grades going down to the Stiehl Department Store after school hours and doing odd jobs for her father Charlie, and two uncles, Roy and Clarence. Her memories from that time included repacking raisins, dates, apricots and peas that would come in large boxes and need to be put into small containers to be sold. She also told of a bean machine they had that would sort out the bad beans from the good ones. During the summer months Donna would clerk at the store where she enjoyed waiting on the customers. Donna played the clarinet in the band and played basketball in the ninth grade.
Donna met George Sipp while dancing at the Chicken Roost in Hay Springs in 1939, and they were married Nov. 5 1941. They lived on the farm south and east of Rushville, which Donna said she loved. They had no electricity or running water, but they did have an outhouse. Donna and George enjoyed coming to town on Saturday night and dancing under the roof of the Rushville Theater. During the winter months they played Pinochle with neighbors. To this union were born two daughters, Marty Jo Peters (Jerry), born Jan. 31, 1944, and Judith Ann Skeen (Jim), born March 5, 1945. Both girls were born in Rushville. Donna and the girls moved to Hay Springs when George was inducted into the Army, where they lived in Donna's grandmother's house (Laura Shipp) until George retuned from the service. The couple then purchased Laura Shipp's house, in which they lived most of their lives. George passed away Feb. 20, 1998.
Donna began bookkeeping in 1946 for Sipp Grain and Feed. After 37 years in the grain and feed business, the couple put in a self-service station and formed D&G Oil Co. This was the first self service station in Hay Springs.
Donna became a school board member in 1959 and was proud of the fact that she had handed out the high school diplomas to both Marty and Judy, as well as to both sons-in-law, Jerry and Jim. Donna was involved in many different boards and a member of the Methodist Church throughout her life.
Donna was able to live in her own home until the age of 96, due in a large part to her wonderful neighbors- the Gary Drabbels and the Randy and Betty Turman Families. Thank You!
Donna was preceded in death by her parents, her husband, her daughter Marty Peters, a sister-in-law, two brothers-in-law, and a nephew.
She is survived by her daughter Judi (Jim) Skeen, son-in-law Jerry Peters, seven grandchildren and 19 great-grandchildren.
Funeral services were Aug. 31 at the United Methodist Church in Hay Springs. A memorial has been established for the Hay Springs Ambulance Fund or Lister Sage. Donations may be sent to Chamberlain Drabbels, PO Box 443 Hay Springs, NE 69347.
To plant a tree in memory of Donna Sipp as a living tribute, please visit Tribute Store.