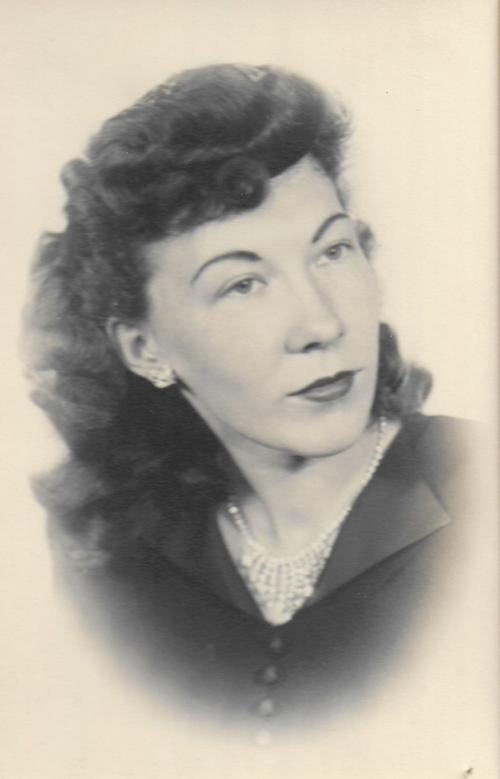 Evva Gwendolyn Gore Goetzinger was born March 15, 1926, in Osmond, Nebraska, to Ottie Leillia Anderson Gore and Otis Thomas Gore. She passed away peacefully on Monday, Aug. 26, 2019, at her daughter Nancy Crowe's home in Alliance, Nebraska, surrounded by her loving family.
Evva graduated from Osmond High School in 1944. During her high school years she was employed by Dorothy Lorenz, manager of Bell Telephone, Gene Liewer, owner of the Osmond Republican newspaper, and Carrie Wright, owner of Carrie's Bar, where she tended bar and waited tables. Evva was a cheerleader all four years in high school, played drums in the band and belonged to the chorus.
After graduation, she immediately went to Omaha, Nebraska, and was employed by the Glen L. Martin Bomber Plant. She worked directly on the B-29 airplanes, standing on a scaffolding, fitting the leading edges on the wings between the engines, wiring the fire extinguishers throughout the planes and installing the generators in the tail sections. She was part of Lester Trout's team that worked on the Enola Gay. In 2014, she was honored at the American Rosie the Riveter Convention in Omaha for her part in working at the Omaha plant and helping build the B-29 airplanes.
When the war ended, the "Love of her Life," Kenneth John Goetzinger from Plainview, Nebraska, came home, and they were united in marriage in 1946, subsequently settling in Chadron. To this union two beautiful daughters were born, Jeanne Lynn and Nancy Joyce. After nine years, their marriage was dissolved. However, Evva and Kenny remained good friends and business associates until his passing in 1982.
In 1960, she opened her first business, the "77 Lounge," in the Walt Mann Building on Second Street in Chadron. Her daughters worked side-by-side with her, making it a successful family business. She also was State Secretary for the Nebraska Beverage Association for four years.
In 1969, she purchased the Hub Hotel and renovated it, and it became known as the legendary "Cave" or the "77 Hotel." Daughter Nancy worked alongside her Mom during all the years she attended college. In 1990, Jeanne returned to Chadron and took over ownership of the business, renaming it The Olde Main Street Inn, which she subsequently was able to get on the National Register of Historic Places. Evva was very proud that Jeanne's daughter, Lorri, also became a part of the business in the early 1990s, as it then became a three-generation business owned and operated by women. Evva was especially proud in the last few years to now have five generations involved with the Olde Main Street Inn, creating a five-generation, 50-year business owned and operated by women.
One of Evva's proudest and most treasured moments was in 1983 when her very good friends, sisters of the Yellow Horse family, Lillie, Gladys, Fern, Linda and Julianne, honored her with a ceremony conducted by the Elders from Pine Ridge. Evva was given her Lakota name, "Wa Wo Ki Ya Wan," which means "Woman who helps Lakota," and was honored in the ceremony with an Eagle Feather and a Shawl.
Evva continued to "hold court" the last 30 years at Olde Main when she would return from the Fountain of Youth Spa in California in the Spring.
Evva was a member of the Osmond Methodist Church, the Chadron American Legion Auxiliary and the American Rosie the Riveter Association.
She is survived by daughters Jeanne Goetzinger of Chadron and Nancy Goetzinger Crowe (Mel) of Alliance; grandchildren Lorri Pickerill Meng (George), Brad Pickerill, Mark Crowe and Ben Crowe; 10 great-grandchildren and five great-great-grandchildren.
She was predeceased by her husband and father of her children, Kenneth Goetzinger, and husband Marvin Bracken; sisters Cordelia (Corky) and Wanda; her parents, Ottie and Otis (Blue) Gore; and grandparents Everett Lincoln and Estella Gore.
A Celebration of Evva's Life will be held Saturday, Oct. 5, 2019, at The Olde Main Street Inn at 1 p.m. Dr. Russ Seger will officiate.
A memorial has been established for a local American Rosie the Riveter memorial honoring Evva and all the local Rosies from World War II.
To plant a tree in memory of Evva Gore as a living tribute, please visit Tribute Store.
Obituaries Newsletter
Sign up to get the most recent local obituaries delivered to your inbox.