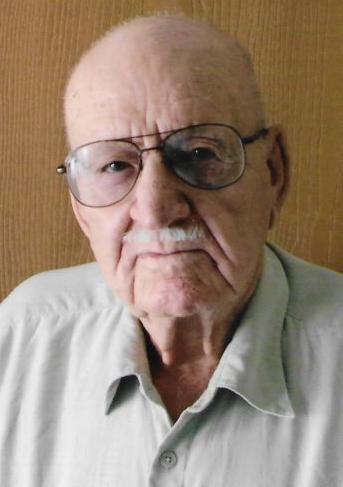 Jack Carnahan passed away at Chadron Community Hospital Aug. 2, 2019. Services will be Aug. 12 at 10 a.m. at Chamberlain Chapel.
Jack was born Aug. 6, 1920, in Ardmore, S.D., to John Carnahan and Mabel Miller. Jack was the third of seven children.
You have free articles remaining.
Growing up at Orella, climbing Sugar Loaf and wandering Toad Stool Park, he graduated from Sioux County High School. Jacked joined the Navy in April 1942 and served in World War II on the Naval destroyer USS Storm. His ship was bombed by a Kamikaze pilot. He was very proud of his military service and was an active member of the American Legion Post 12.
In August 1948, Jack married Peggy Mittan in Chadron. They settled on the ranch at Whitney. To this union were born five children: Sandra Stetson (Rick), Bruce Carnahan (Gayle), Beverly Bayne (Denny), Brian Carnahan (Melody), Brenda Brown.
He is also survived by grandchildren: Josh (Stormy) Carnahan, Jacky Carnahan, Jennifer (Tony) Gieser, Chad Brown, Eric Stetson, Skyler (Whitney) Bennett, Jason (Lori) Carnahan, Casey (April) Carnahan, Corey (Amy) Carnahan; great-grandchildren: Kristen Gieser, Aiden Carnahan, Gavin Carnahan, Bode (Jack) Carnahan, Kyndall Carnahan, Kole Carnahan, Kadence Carnahan, Charlie Bennett, Cooper Carnahan, Cane Carnahan, baby Jack Bennett coming in December; sister Dorothy Landers; numerous much-loved nieces and nephews; and longtime companion Virginia Jones.
He was preceded in death by his wife Peggy, his parents John and Mabel, and five brothers, Ansel, Kenny, Bob, Dick, and Jim, and son in-law Rick Stetson.
To plant a tree in memory of Jack Carnahan as a living tribute, please visit Tribute Store.