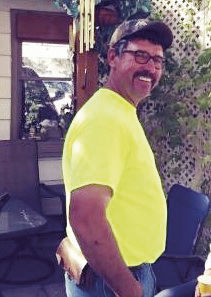 TORRINGTON, Wyo. | Thomas Frank "Tom" Miller, 62, passed away Tuesday, Nov. 19, 2019, at his home with family due to complications from Pancreatic cancer.
Tom (Grandpa, Dad, Brother) was born on Oct. 7, 1957 in Crawford, NE, one of 4 boys, into the Miller family of 9 children. He grew up on the family farm, on 4 Mile Road south of town, where he learned about horses, raising crops, riding motorcycles and operating heavy equipment.
Tom grew up and attended school in Crawford, where he had many friends and met his high school sweetheart Deb Miller (Stumph). Tom and Deb continued to date while he attended technical college in Rapid City, SD, and Deb finished high school. They were then married Feb. 5, 1978 at the United Methodist Church in Crawford.
After Tom was bucked off a horse for the last time, he took a job with BNSF railroad in Crawford, where he worked for 42 years as an equipment operator, CDL truck driver and served as treasurer for his BMWED local 1142. He was known for his custom brimmed hard-hat (the closest thing to a rail-roaders "10 gallon hat") and could be picked out of a crowd by the shadow it cast.
Work with BNSF led Tom and Deb to Torrington, WY, where they started their family and lived for the rest of their years. Tom found a passion for house renovation and began working on his houses to transform them into homes for his family. Tom enjoyed spending time with his family and would always say that the only thing he really wanted to do was to spend time with the ones that he loved.
Tom is survived by his children: daughter, Erin Miller of Torrington; son, Chris Miller of Torrington; son, Spencer Miller (April) of Laramie; grandson, Jasper; brother, Chuck (Veronica) Miller of Spalding, NE; sister, Carolyn Bell (Mike) of Rapid City; brother, Roy (Wendy) of Custer, SD; brother, Jim (Laurie) of Crawford; sister, Susan Miller Leeling (Doug) of Crawford; sister, Valerie Miller of Crawford; sister, Laurie Ponserella (Harold) of Deer Trail, CO; sister, Sandy Orr (John) of Rushville, NE; sister-in-law, Lori Stromberg (Marty Widener) of Scottsbluff, NE; brother-in-law, Jerry Stumph (Lori Palomeres Stumph) of Crawford; mother-in-law, Sheila Stumph (Hunt) of Crawford; along with many beloved nieces, nephews and extended family.
Tom was preceded in death by his beloved wife of 38 years, Debra Miller; his father, Melvin Miller; his mother, Mary (Hagemeister) Miller; and his father-in-law, John Stumph.
Memorial services will be held at 10 a.m. on Saturday, Dec. 14, at the Community Building in Crawford, followed by a lunch and interment at the Whitney Cemetery (weather permitting).
Any floral arrangements or donations may be sent to the Miller residence at 7089 Road 47F, Torrington, WY 82240 and will be transported from there to the ceremony in Crawford.
To plant a tree in memory of Thomas Miller as a living tribute, please visit Tribute Store.