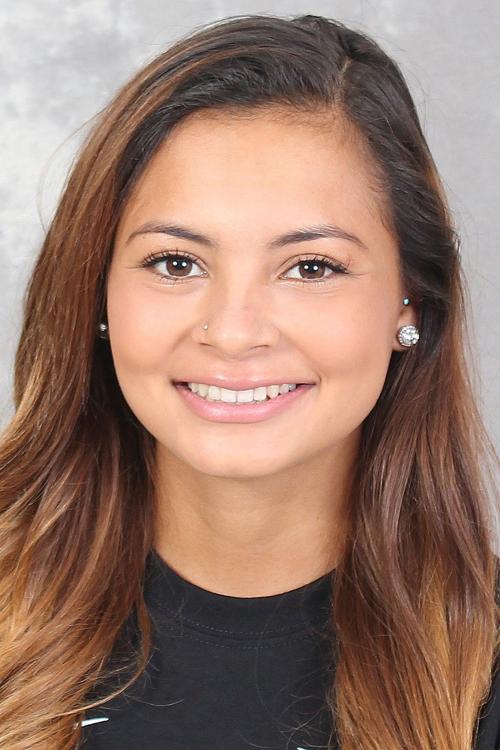 Fatima Larios "was a wonderful, beautiful daughter… with a big heart," says her mother, Lissette Larios Roohbakhsh.
Her dad, Nelson Larios, recalls a "happy kid" who was "competitive by nature." She learned to swim before she could walk, and while gifted in many athletic endeavors, she fell in love with softball early in life.
"She was just in love with life," Larios said.
That zest for life ended when Fatima, a member of the Chadron State softball team, was found dead in the High Rise dormitory Jan. 31, 2015. Her death was ruled a suicide.
In the two years since her death, Roohbakhsh and Larios have searched for answers and actively lobbied for enforcement of Title IX provisions designed to protect students from dating violence and sexual assault. Last week, they filed a case in U.S. District Court in Omaha claiming that Chadron State College and the Nebraska State College System acted with "deliberate indifference" to reports of dating violence between their daughter and her boyfriend.
Roohbakhsh and Larios immigrated from El Salvador in the 1980s, fleeing the war-torn country in search of safety in the U.S. They considered themselves fortunate to settle into a tight-knit community in California to raise their family, Larios said.
Fatima flourished, becoming a four-sport athlete who set her sights on playing collegiate softball. In 2010, she was part of a national championship travel team, her father said. When she graduated, she headed to Austin Peay State University in Tennessee to play softball, but transferred to Chadron State in August 2014 in order to attend the same college as her boyfriend.
Larios remembers touring Chadron with his daughter and meeting with softball coach Rob Stack. He left town believing his daughter would be safe.
Mother and daughter spoke every day, but Fatima gave no indication to either of her parents that anything was amiss.
"She was acting normal. We did not know anything (was wrong)," Roohbakhsh said.
During the conversation the night before they learned of her death, Fatima voiced excitement over an upcoming softball tournament in Florida. Twenty-four hours later, police knocked on their door to deliver the shocking news of her death.
However, the family didn't discover the allegations of dating violence until October 2015 – nine months after her death. Martin Gould, an attorney with Romanucci, Blandin Law Firm in Chicago and who is representing the family, said it was only after his firm began an investigation into Fatima's death that her parents learned of the possible dating violence.
Last year, the family filed a complaint against Chadron State College with the U.S. Department of Education's Office for Civil Rights. That investigation is still pending, Gould said. The lawsuit filed in the U.S. District Court is another avenue the family is taking to make sure Title IX policies are enforced at schools across the country.
"Their main goal is to make sure this never happens again," Gould said.
The 17-page filing alleges that the college failed to investigate reports that Fatima was being abused. Teammates and coaches noticed bruises and changes in behavior and reported their concerns to officials at the college, according to court documents. Chadron's Title IX Coordinator did not interview those who reported their concerns and did not monitor Fatima's well-being despite "actual notice and observed evidence of … abuse."
The college, the lawsuit says, had a duty to take reasonable steps to investigate and prevent dating violence on its campus. Fatima's parents allege that CSC should have ensured that their daughter understood her rights and options and had access to confidential counseling. Campus Security should also have been made aware of the situation, the filing says.
Instead, the college mailed and e-mailed a copy of campus policy regarding dating violence to Fatima. Her softball coaches were carbon copied on the e-mail, a breach of confidentiality that the lawsuit alleges may have discouraged her from addressing the dating violence. Reaching out to her by mail and e-mail also may have increased her risk, the filing says, because abusers often read victim's mail and e-mail as a form of control.
"As a result of the Defendants' deliberate indifference to reports that Fatima was a victim of dating violence on Chadron's campus, Fatima was subjected to further physical and emotional abuse … thereby suffering a hostile educational environment," the court documents read.
The documents allege that residence hall advisors and staff were aware of numerous arguments between the couple, at least some of which prompted advisors to threaten to call the police.
Two softball teammates also noticed large bruises on Fatima, and when they inquired, she said that her boyfriend was abusing her. The teammates reported their concerns to an assistant softball coach, who had also observed bruises that appeared to be handprints, and the complaint worked its way up the chain to CSC's athletic director and then to the Title IX coordinator in November 2014.
The documents allege that after Fatima received the e-mail regarding dating violence, evidence shows that she was still being abused. No one called the police or took any other action.
Adele Kimmel, an attorney with Public Justice, a national public-interest law firm based in Washington, D.C., is also working on the case.
"Chadron ignored mountains of evidence," Kimmel said. "There were so many opportunities to take steps to help Fatima."
Schools have a duty to act on allegations of dating violence, even if those reports do not come from the victim, she continued. CSC staff spoke to Fatima only in generalities, never addressing her specific situation and never advising her of confidential resources at her disposal. Those confidential resources would have allowed Fatima help without triggering a formal investigation.
"Dating violence is a widespread problem … that many colleges ignore," Kimmel said.
The school had multiple reports but failed to contact authorities," Roohbakhsh said, calling the lack of action crazy.
Chadron State College responded to the lawsuit with a written statement released to media Thursday.
"The loss of Fatima Larios in 2015 was a tragedy for her family, her friends and teammates, and for Chadron State College. The College shares her family's grief and mourns Fatima's passing. Chadron State College is aware of a lawsuit Fatima's parents recently filed in the U.S. District Court for the State of Nebraska concerning her death," the statement reads. "CSC is confident in its personnel and its policies, so it will remain focused on educating its students while it vigorously defends itself. Chadron State College certainly understands and appreciates litigation-related inquires, but it does not intend to comment further on this matter."
As parents, Larios said he and Roohbakhsh are living every parent's worst nightmare. Had he been aware of his daughter's struggles, he would have been on the next flight to bring her home.
Instead, he's left with only memories.
One in particular showcases who Fatima was as a person, he said.
Larios coached his daughter's soccer team in middle school and was her biggest fan. During one game, Fatima had already scored twice and was lined up to score for a third consecutive time – what is known as a hat trick. Larios recalls being on the sidelines, excited to see his daughter score her first-ever hat trick, but instead she passed the ball to a teammate, who made the goal.
On the way home, he asked her about it. Her response was simple: her teammate always played defense and hadn't yet scored that season. With the season nearing its end, Fatima believed it was more important for her teammate to score than it was for her.
"Nothing we can do now will bring her back," Larios said. "But we can move forward in a way that will allow Fatima to help others."