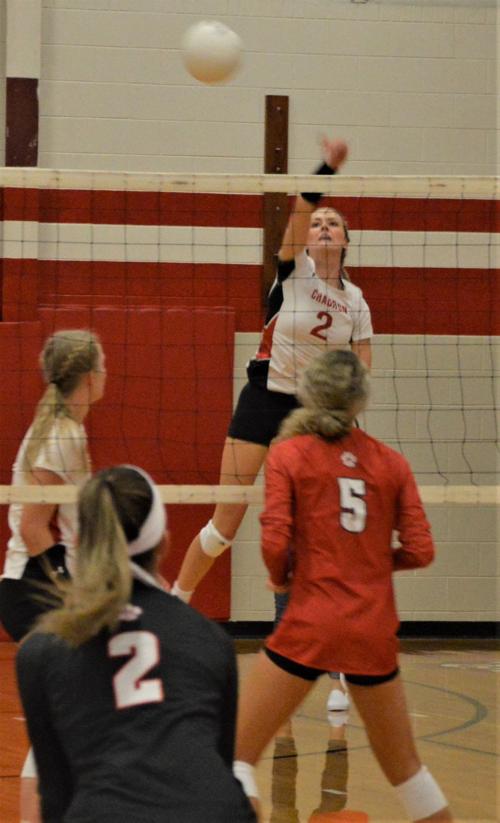 The Chadron Volleyball team chalked up their first loss of the season when they hosted the Scottsbluff Bearcats on Aug. 31, coming out strong with a 25-19 win in the first set but falling in the next three — 25-21, 25-21 and 25-9 — to give their opponents the win.
Coach Blakelee Hoffman said, "We just struggled keeping our game in system. We've worked on our out of system game, but it just wasn't working for us tonight. It seemed like we were off.
"The first set wasn't bad. Even though we won, we couldn't quite put it together. We weren't really sticking to our game plan at the very beginning. We weren't getting the ball tot eh people we needed to, even when we were in-system
"And Scottsbluff played a heck of a game. After losing that first set I thought they came back and [played really well against us."
Hoffman added that Macey Daniels played and put down the ball very well, and Kenli Boeselager stepped up with some great blocks and attacks when she needed.
The girls regained their confidence later in the week, earning a 3-1 victory over the Gordon-Rushville Mustangs while on the road Sept. 2. Chadron was able to secure wins in the first two sets, at 25-15 and 25-19, before GR answered back with a 25-18 win in the third. The Cardinals wrapped things up in a strong fourth set, as a 25-12 score gave them the W.
After the loss to Scottsbluff and dropping the third set against Gordon-Rushville, Hoffman said, "We talked as a team about what changed and what we needed to do to move forward. We shifted our focus in the fourth set to taking care of our game and not sitting back on our heels waiting for them to make mistakes. It's so easy to do in games like that."
Tatum Bailey was the top killer in both games, taking 10 against Scottsbluff and a whopping 22 at Gordon-Rushville. Jaleigh McCartney was a major asset as well, providing 26 assists across the two games.
"Tatum played a very smart game," Hoffman said. "She hammered it when it was the right time, tipped or hit off speed placing the ball at the right moments; this was her most impressive game yet. I also thought Kenli Boeselager played really well. She's getting more and more confident with her attacking."
The Cardinals were scheduled to play at Alliance on Sept. 7, before returning to The Birdcage against the Gering Bulldogs at 6 p.m. Sept. 9
#; Athlete Name; Kills; Aces; Blocks; Digs; Assists; Receptions
1; Jacey Garrett (Sr); -; -; -; 23; 3; 29
2; Tatum Bailey (Sr); 10; 3; 2; 13; -; 4
3; Demi Ferguson (So); 3; -; 2; 14; -; 13
4; Jaleigh McCartney (So); -; 1; 2; 9; 14; 2
10; Marlee Pinnt (Jr); 2; 2; 3; 6; -; -
11; Jayrah Ngoi (Jr); -; 1; -; 1; 1; 7
20; Macey Daniels (Sr); 5; 1; -; 1; -; 11
23; Kenli Boeselager (So); 3; -; 2; -; -; -
31; Kaylee Sprock (So); 2; -; 1; 1; -; -
Chadron vs. Gordon-Rushville
1; Jacey Garrett (Sr); -; 2; -; 20; 1; 26
2; Tatum Bailey (Sr); 22; 2; 2; 18; -; 7
3; Demi Ferguson (So); 5; 1; 4; 12; -; 15
4; Jaleigh Mccartney (So); 2; 2; -; 12; 37; -
10; Marlee Pinnt (Jr); 5; 5; -; 7; -; -
11; Jayrah Ngoi (Jr); -; 5; -; 16; -; 9
20; Macey Daniels (Sr); 3; -; -; 5; -; 2
23; Kenli Boeselager (So); 5; -; 1; -; -; -
31; Kaylee Sprock (So); 2; -; 1; 1; -; -