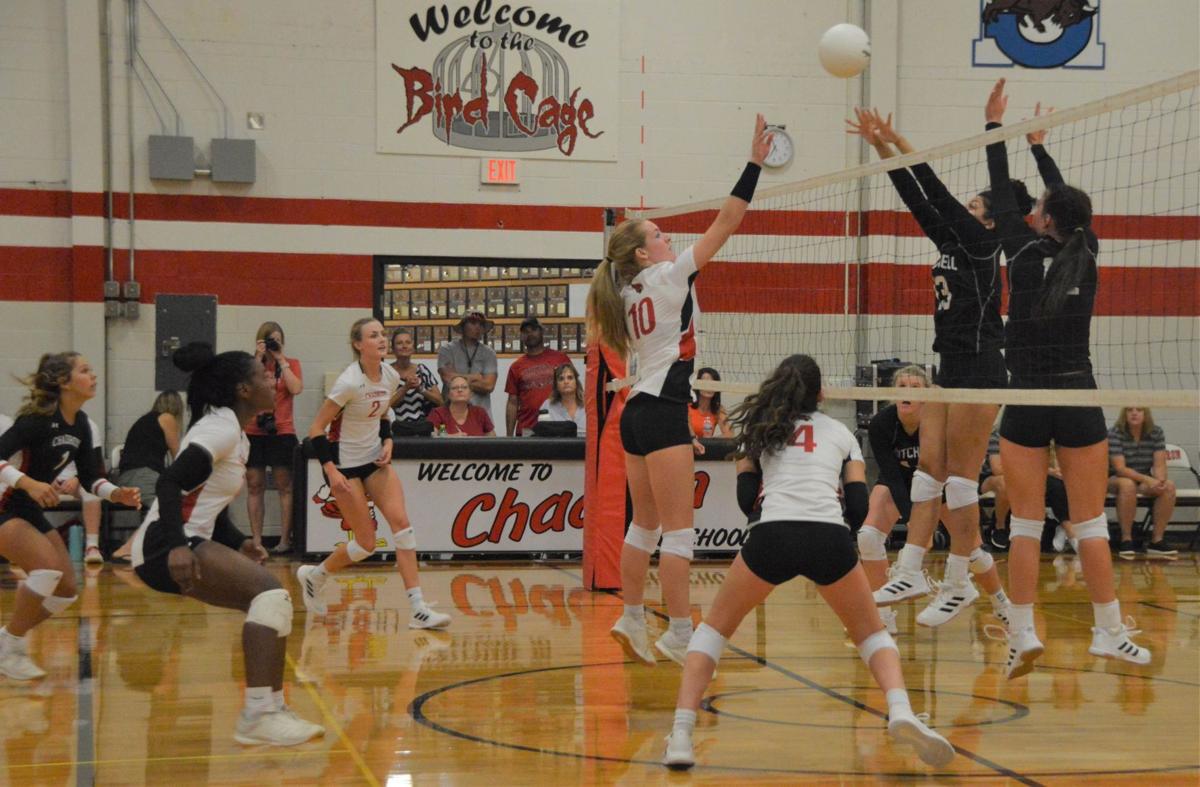 Though some large cats came into the Birdcage last Thursday in the form of the Mitchell Tigers, the Cardinals showed some amazing communication on the floor and at the net for the first game of their season, shutting out the visitors in three sets: 25-20, 25-23 and 25-18.
Teammates were vocal in claiming shots, as well as keeping each other aware whether balls were expected to land in or out of the court. Combined with their awareness of each other's locations, helping where needed and rushing to make saves when necessary, the Cardinals kept volleys alive when often the fans and their opponents thought play was finished.
The Cardinals came out strong in the first set, but Coach Blakelee Hoffman noted there was some nervousness amongst the team.
"I'm just happy we came out, played really well and swept 'em," Hoffman said. "That first set was a little shaky. I think we had some nervous girls, especially those who haven't played varsity yet, but I'm really happy how they came together."
The Cardinals took a commanding lead in the second set, thought he Tigers nearly caught them at the end, and the girls really took in to Mitchell in the third to complete the sweep.
Of the second matchup, Hoffman said, "We kind of let the momentum get away from us. Once we got it back, we just took the win.
Among the standout players for the opener was Jacey Garrett, who got plenty of time all over the court as she ran, dove and otherwise went after the ball to keep it in play. She had the highs in assists with 23, and in receptions with 20.
"Jacey always seems to have a good game," Hoffman said. "I can't think of a time when she doesn't. She makes plays that are just amazing, and sometimes our girls are even amazed. They think the play is over, and it just keeps going."
Hoffman is happy to see the communication between the girls, as it's something the team has worked on over the summer.
"For everybody's first match, I didn't think we had anyone really struggle at all," Hoffman noted. She plans to work more still on communication, as well as getting setters and hitters to connect, "but the more time we get together, the better it's going to be."
The Cardinals were scheduled to play again at home, this time against Scottsbluff on Tuesday, Aug. 31, before taking to teh road this Thursday against Gordon-Rushville.
#; Athlete Name; Kills; Aces; Blocks; Digs; Assists ; Receptions
2; Tatum Bailey (Sr); 12; 2; 1; 10; -; 4
3; Demi Ferguson (So); 4; 3; 1; 5; -; 13
4; Jaleigh McCartney (So); 3; 2; 1; 9; 25; -
10; Marlee Pinnt (Jr); 4; 1; 1; 1; -; -
11; Jayrah Ngoi (Jr); -; 4; -; 8; -; 11
20; Macey Daniels (Sr); 6; -; -; -; -; 1
25; Jacey Garrett (Sr); 1; -; -; 23; -; 20
31; Kaylee Sprock (So); 2; -; -; 1; -; -