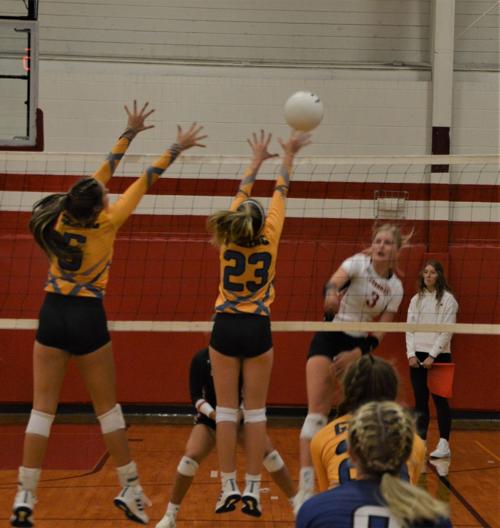 Though the Cardinals had a shaky start of things in their Sept. 9 matchup at home against Gering, the girls were able to turn things around and sweep the Bulldogs 3-0.
Gering looked set to take the first set against Chadron with a commanding eight-point lead before the Cardinals rallied back to grab a 25-22 win. Their momentum not only brought them back for that W, but kept them pushing forward and refusing to yield their lead once they took it from the Bulldog in the following sets, taking victories at 21-14 and 25-17.
"After about the first five serves I was getting a little worried," coach Blakelee Hoffman said, "but that is something they have really worked on. If we dig a hole, we have to really work hard to get out of that. They did a great job not just letting [Gering] continue to move forward.
One of the power houses for the evening was Demi Ferguson, who made a personal season-best 16 kills against the Bulldogs. The sophomore was on point in other arenas as well, keeping the ball off the floor with 13 digs and six receptions.
"She did a great job," Hoffman said of Ferguson. "We had made some changes, moved her to the outside and moved Macey [Daniels] to the right side." Hoffman further added Daniles has been having shoulder issues so they've been looking to protect her, and Ferguson has done well on the outside.
Hoffman also praised sophomore Kenli Boeselager, who has stepped up into being a full-time starter in the middle.
Also setting a personal record for the season was sophomore Jaleigh McCartney, whose 30 assists kept the ball alive and put fellow Cardinals in excellent positions for kills.
"Jaleigh has done a great job," Hoffman said. "Honestly, this is only her fifth match a starter, and she has done a tremendous job stepping into that role."
Moving forward, Hoffman said she would like the serving to be more aggressive, and will continue work on defense and serve-receive.
The Cardinals struggled earlier in the week against the Alliance Bulldogs, keeping up but not quite securing wins with a Bulldog sweep of 25-21, 25-18 and 25-22.
Of the game against Alliance, Hoffman said, "Although we lost, I was really pleased with how we played. We made some changes in practice yesterday (Monday, Sept. 6) that probably affected our play, but with more time together on the court, it will only get better."
The Cardinals were scheduled to compete in a triangular against Sidney and Bridgeport on Sept. 14, with Bridgeport hosting, before heading to Gothenburg this Friday.
#; Athlete Name; Kills; Aces; Blocks; Digs; Assists; Receptions
1; Jacey Garrett (Sr); -; -; -; 20; 3; 23
2; Tatum Bailey (Sr); 1; 2; 1; 12; -; 3
3; Demi Ferguson (So); 7; 1; 2; 7; -; 9
4; Jaleigh McCartney (So); 1; 1; 2; 8; 26; 1
10; Marlee Pinnt (Jr); 1; 1; 2; 2; -; -
11; Jayrah Ngoi (Jr); -; 4; -; 1; -; 1
20; Macey Daniels (Sr); 6; -; 2; 6; -; 18
23; Kenli Boeselager (So); 3; -; 2; 2; -; 1
1; Jacey Garrett (Sr); -; 4; -; 19; 1; 29
2; Tatum Bailey (Sr); 12; 3; 1; 15; -; 4
3; Demi Ferguson (So); 16; -; 2; 13; -; 6
4; Jaleigh McCartney (So); 4; 3; 2; 6; 30; -
10; Marlee Pinnt (Jr); 2; -; 3; 4; -; -
20; Macey Daniels (Sr); 2; -; -; 7; 1; 12
23; Kenli Boeselager (So); 1; -; 4; -; -; -