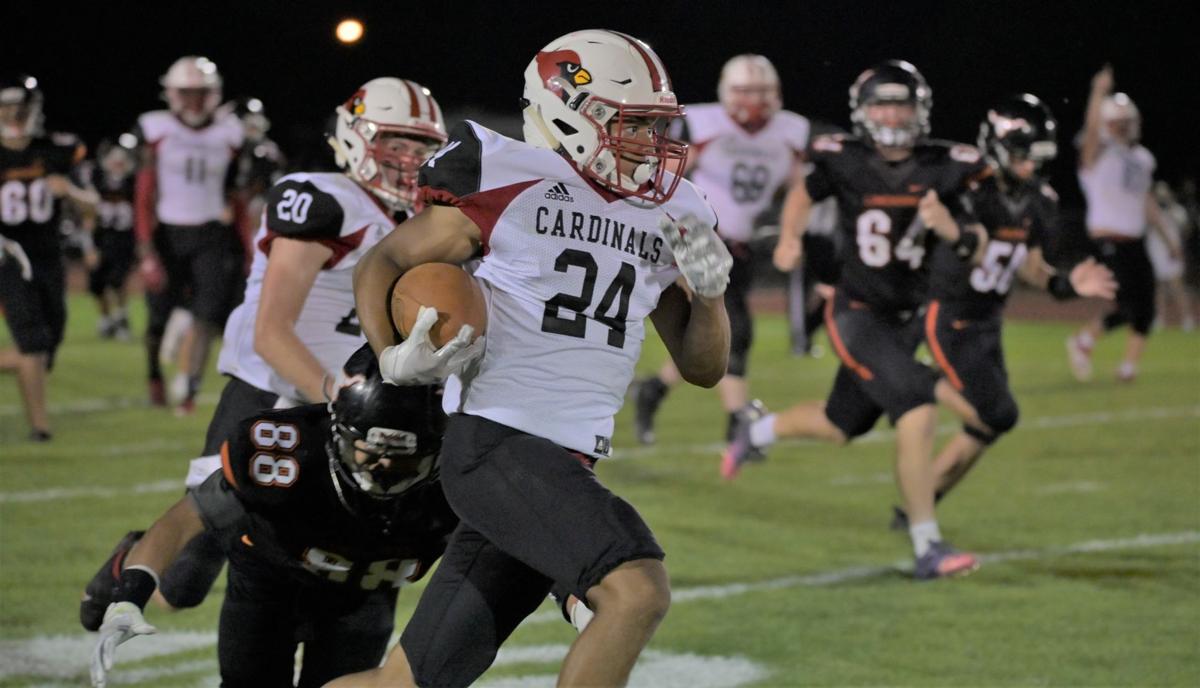 The Chase County football team knew it would have its hands full Friday evening against Chadron, especially after seeing 16 seniors on Chadron's 30-player varsity roster.
"We also knew this would be one of the physically largest teams we would see during regular-season play and would have to do our best to rely on speed and trying to get play makers the ball in space," said CCS Head Coach Nathan Gaswick.
Add some early-season injuries to the mix and the Longhorns had more than they could overcome in a 42-0 loss.
Somewhat surprisingly, the high-flying Cardinals went to work through the air in the first half.
"Chadron did not do anything unexpected other than go to the air more than they have done in the past. With a more experienced quarterback and wide receivers this made sense," Gaswick said.
Chadron took the kickoff and marched down the field for a 10-play drive, capped by a 33-yard touchdown pass.
The Longhorns' first drive of the season crossed into Cardinal territory thanks to a 20-yard run by quarterback Ryan Bernhardt. The drive stalled, however, and Chase County was forced to punt.
After both teams punted, Chadron took over on its 22-yard line. The Cardinals finished off the six-play drive with a 16-yard touchdown pass.
CCS continued to struggle on offense. Punting once more, the Longhorns' defense gave up another six-play drive. The Cardinals scored its third touchdown through the air, this one a 12-yard reception.
Once more the teams traded punts. With time winding down in the half, Chase County gained some momentum. The Longhorns started at their own 17-yard line. Helped by runs of 31 yards from Bernhardt and 15 yards from Dawson Mollendor, CCS drove to the Chadron 15-yard line.
Unfortunately for the Longhorns, Chadron intercepted a CCS pass, setting up a 49-yard touchdown pass on the very next play with less than a minute in the half.
Chadron scored twice more in the second half, an 85-yard run and three-yard run.
Chase County saw drives stall in Cardinal territory in the third and fourth quarters.
The Longhorns best shot at the end zone came on the first play of the fourth quarter after Kade Anderson got behind the Chadron defense for a 53-yard reception from Berhnardt.
CCS had first and goal from the five-yard line, but was unable to find the end zone.
Bernhardt led the Longhorns in rushing, finishing with 48 yards. The senior also completed 6-14 passes for 85 yards.
Anderson had two catches for 62 yards.
Gaswick said CCS coaches were surprised by Chadron's 4-3 defense.
"Traditionally, Chadron has been an odd-front team defensively. This year they showed a 4-3 front which again probably makes sense with the abundant size they have up front," he said.
Chadron coach Mike Lecher stated, "Overall, it was a good team effort. As usual with the first game, there were mistakes made that will be corrected. We were proud of the team as the bus trip is nearly 4 hours one way and during the game, the air temperature was fairly hot with no breeze. It is always good to travel to Imperial and secure a win."
Chadron: 33-yard pass (kick good)
Chadron: 16-yard pass (kick good)
Chadron: 12-yard pass (kick good)
Chadron: 49-yard pass (kick failed)
Chadron: 85-yard run (Pass good)
Chadron: 3-yard run (kick good)