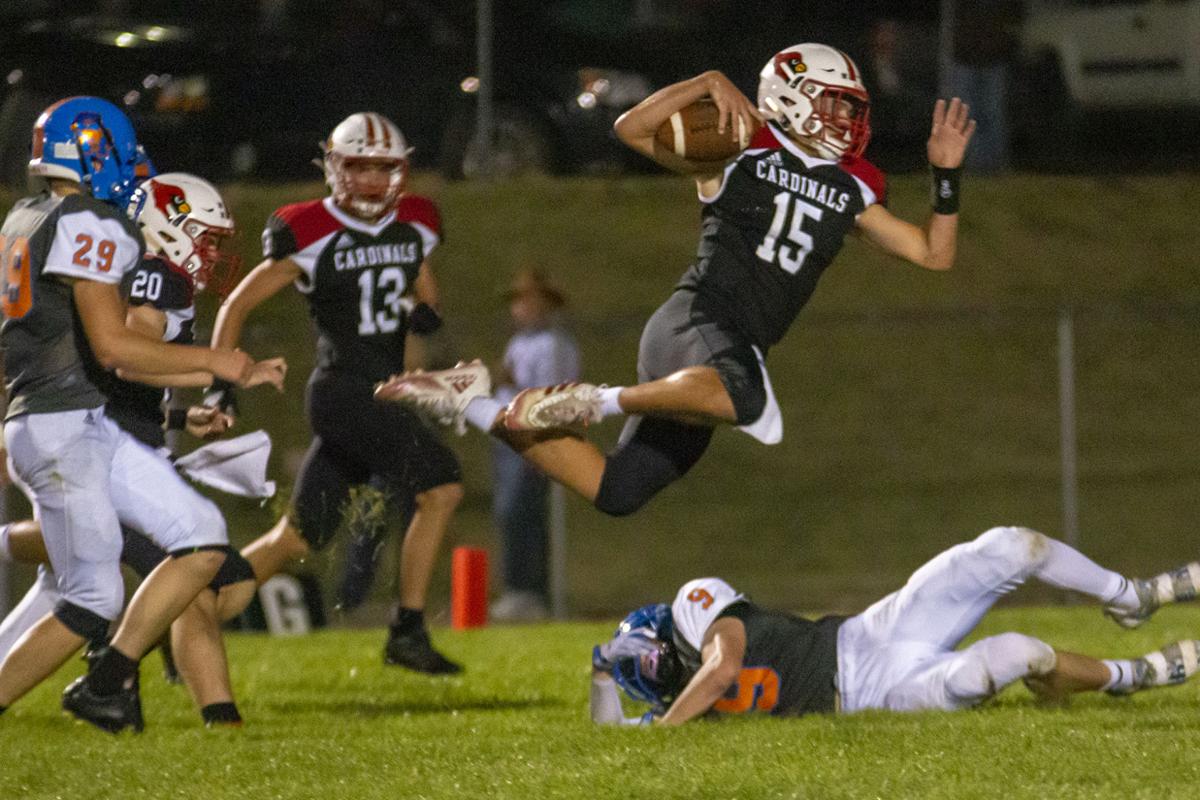 The game was called a little early because of lightning, but the Chadron High Cardinals produced enough thunder in the first 46 minutes of play to leave no doubt in the outcome.
Chadron scored the game's first four touchdowns and defeated the Gordon-Rushville Mustangs 28-7 Friday. Despite occasional light precipitation and the encroaching lightning that would cause the game to end with 1:43 remaining, it was a beautiful night for the home-opener at Cardinal Field.
Chadron Coach Mike Lecher said it's the first time in his career that a game ended early because of the weather.
"It's a coaches' decision and I let the Gordon coach make the call," Lecher said. "It was the right decision. If it would have been a one-score game, things probably would have been different. We might not have gotten back on the field until 11:30 or we might have been playing it on Saturday."
Chadron received the kickoff and struck paydirt on the game's opening drive when senior quarterback Justus Alcorn connected with junior receiver Seth Gaswick from 35 yards out. The drive, which covered 57 yards in six plays, included a 14-yard run by Xander Provance.
The touchdown was the first of four receptions by Gaswick, who would account for 77 of Alcorn's 157 passing yards on the night.
The Mustangs went three-and-out on their first possession, and a short punt gave the Cardinals the ball at the 50-yard line. Seven plays later, freshman running back Quinn Bailey scored his first touchdown for the Cardinals' varsity on a 14-yard scamper up the middle. Helping Chadron get in scoring position was another pass from Alcorn to Gaswick and a 23-yard run by senior back Dawson Dunbar.
On the Mustangs' next possession, senior Cody Hall sacked the quarterback for a 10-yard loss and t he defense forced a turnover on downs at the Cardinals' 45-yard line. Four plays later, though, Jace Freeseman blocked Hall's punt to set the Mustangs up at the Chadron 37.
While the Mustangs were showing life on that drive, Gaswick again came up big in the opening moments of the second quarter with an interception at the Chadron goal line.
Beginning at its own 3-yard line, the Cardinals took the ball the length of the field. Alcorn, who would finish as Chadron's leading rusher, opened the drive with a 9-yard ramble through traffic and later picked up 14 yards on a quarterback sneak. Dunbar accounted for 30 rushing yards on the 11-play drive, which was capped by his 10-yard touchdown run and two-point conversion.
The Cardinals knocked on the door once more before halftime as Provance made a leaping reception above a defender at the Mustang 20 for a 42-yard gain. Alcorn then connected on a pass to Dunbar in the flats, and he reached the 3-yard line as time expired.
The third quarter, which featured no scoring by either team, opened with another stop by the Cardinal defense and the Mustangs turned the ball over on downs at the host's 35. The teams each were forced to punt on their ensuing drives.
The Cardinals entered the fourth quarter with a scoring effort that put their ground game on display. After opening the drive with a 15-yard pass to fellow senior Michael Sorenson, Alcorn picked up 14 yards on a fourth-and-two play at the Mustang 45. He also scrambled 39 yards on another play, to set the stage for an 8-yard touchdown run by Dunbar.
Gordon-Rushville's only score came at 3:52 remaining with a four-yard run by Beau Child. The Mustangs had begun that drive at their opponents' 17-yard line, and picked up yards on pass plays by junior quarterback Carter Anderson to P.J. Lynch and Logan Slama.
As the Mustangs were facing third-and-long, the officials stopped play at 1:43 remaining because of lightning. After a short conference between the coaches and officials, the teams shook hands and left the field.
Chadron, which amassed 402 yards of offense, out-rushed the Mustangs 245 to 80. The game marked the 11th consecutive win for the Cardinals over their Highway 20 foes from Sheridan County.
Other than the team's 75 yards of penalties, Lecher said he was pleased with the team's performance.
"Our offensive line played well. They improved a lot from week one to week two," Lecher said. "We also made some good decisions on when to throw and when to run, and our quarterback did a good job with it."
Alcorn, who had four first-half touchdown passes in the shutout over Chase County the prior week, had a great game both running and passing against the Mustangs. He had 102 yards on 11 carries, and was eight for 12 passing for 157 yards, one touchdown and no interceptions.
"We've got some designed run plays for him this year, and he's doing a really good job with that," Lecher said.
Dunbar toted the ball 85 yards on 17 carries, including his two touchdowns and PAT run.
Lecher also gave high marks to the Chadron defense for not giving up big plays.
Middle linebacker Rhett Cullers was the busiest Cardinal on defense, racking up six solo tackles, two assists and a quarterback hurry. Dunbar, Jarek Anderson and Brayden Underwood each had five tackles.
The Cardinals' extra points were kicked by sophomore Blake Rhembrandt — who, oddly, is the first successful PAT kicker for Chadron High's varsity in at least four or five seasons. He was 2-3 Friday after going 4-5 in the season-opener.
The Cardinals will take their 2-0 record to Valentine on Friday. The 0-2 Badgers, which are the third consecutive Class C2 team on Chadron's schedule, lost to Crofton 51-6 and O'Neill 37-7 to open the season. The game between the Cardinals and the Badgers was not played in 2020, with Valentine canceling because of COVID-19 issues.
The Mustangs fall to 0-2 and will travel to 2-0 Mitchell on Friday.
Total Net Yards; 184; 402
Rushes, Yards; 24-80; 42-245
Penalties, Yards; 7-50; 9-75
1st 9:09 CHS Seth Gaswick 35 pass from Justus Alcorn (Rhembrandt kick)
1st 4:18 CHS Quinn Bailey 14 run (kick failed)
2nd 4:56 CHS Dawson Dunbar 10 run (Dunbar run)
4th 10:46 CHS Dawson Dunbar 8 run (Rhembrandt kick)
4th 3:52 GRS Beau Child 4 run (Perez kick)
Rushing: Gordon-Rushville — Carter Anderson 8-33, Donovan Fillmore 8-31, Wyatt Fedderson 6-12, Beau Child 2-4. Chadron — Justus Alcorn 11-102, Dawson Dunbar 17-85 2 TD, Quinn Bailey 7-36 1 TD, Xander Provance 3-18, Chayton Bynes 4-4, Malachi Swallow 1-2.
Passing: Gordon-Rushville — Carter Anderson 9-23-112 0 TD 1 Int. Chadron — Justus Alcorn 8-12-157 1 TD 0 Int.
Receiving: Gordon-Rushville — P.J. Lynch 2-61, Logan Slama 1-23, Jace Freeseman 2-12, Kyler Vincent 1-6. Colton Archibald 1-2. Chadron — Seth Gaswick 4-77 1 TD, Xander Provance 1-42, Dawson Dunbar 1-17, Michael Sorenson 1-15, Dalton Stewart 1-6.
Tackles: Chadron — Rhett Cullers 6-2 8, Dawson Dunbar 4-1 5, Jarek Anderson 2-3 5, Brayden Underwood 1-4 5, Chayton Bynes 3-1 4, Cody Hall 3-1 4, Seth Gaswick 2-2 4, Xander Provance 1-2 3, Ryan Vahrenkamp 3-0 3, Gage Wild 0-3 3, Henry Kennell 1-1 2, Chase Olson 2-0 2, Michael Sorenson 2-0 2, Dayton Richardson 1-1 2, Ryan Bickel 1-0 1, Blake Rhembrandt 1-0 1, Gabe Tidyman 1-0 1, Dalton Stewart 0-1 1, Quinn Bailey 0-1 1, Garrett Ferguson 0-1 1, Shawn Schremmer 0-1 1