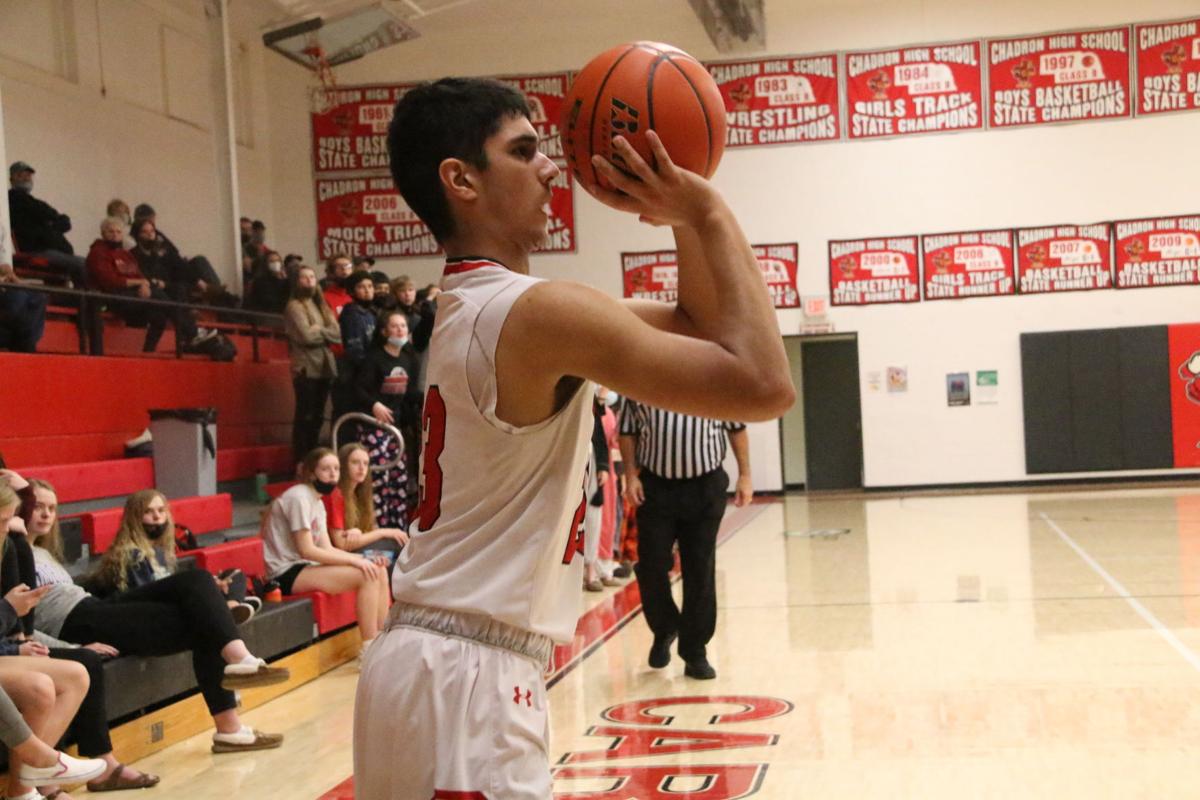 The Chadron High boys' basketball team improved its record to 11-9 last week by winning a pair of games on the road, one of them by a wide margin and the other by a whisker on a late basket and free throw.
The Cardinals breezed past the struggling Valentine Badgers 61-25 on Tuesday night, Feb. 9, while putting 11 players in the scoring column and playing them about equally. Things were different on Saturday night at Hot Springs, where the final score was 51-48.
The Red Birds, who at one time led by 10 at Hot Springs, broke a 48-48 tie on a layup by junior forward Cody Hall with 25 seconds. Collin Brennan, who threw the pass to Hall for the go-ahead bucket, added a free throw with eight seconds left, and the Bison missed a shot at the buzzer.
The Cardinals took a 13-3 first quarter lead at Valentine and then scored 16 points in each of the remaining three periods while the Badgers never tallied more than nine points in any quarter. Valentine, which also lost to North Central 75-39 last week, is 1-18 for the season with its only win a 55-36 decision over neighboring Cody-Kilgore.
Junior forward Gaurav Chima led Chadron with 17 points and Hall added a career-high 12. The Cards didn't shoot the lights out, making 24 of 65 attempts for 37 percent from the field, but "helped" Valentine commit an array of turnovers that limited the Badgers to just 35 field goal tries. The hosts made eight of them for 23 percent, and, while nine players scored, none of them had more than four points.
Things were much closer at Hot Springs. Led by Justus Alcorn's eight points, the Cardinals led 13-12 after the first quarter and stretched the margin to 30-23 at halftime after Brennan tallied seven points and Chima six on a pair of 3-pointers in the second frame.
Hot Springs hit three treys and outscored the visitors 13-9 in the third quarter to make the score 39-36 entering the final period.
The Bison took a pair of one-point leads in the fourth, but the Cardinals tied the count at 48 on a free throw by Brennan with 1:22 to play and then added the three points down the stretch and held the Bison scoreless for the victory.
Alcorn, who had scored in double figures in each of the Cardinals' first 18 games, had just five points at Valentine where his offense wasn't needed, but answered the call at Hot Springs by making nine of 11 field goal shots to go with four free throws and finishing with a career-high 22 points. He also grabbed 20 rebounds in the two games, 11 at Valentine and nine at Hot Springs.
Chima shot well in both games, going six of 11, including three of six from behind the arc at Valentine, and was five of eight at Hot Springs, where all five of his baskets were treys for 15 points. Brennan contributed 10 points.
Hot Springs was paced by 6-foot-4 junior Braden Grill with 14 points and 14 rebounds. Jules Ecoffey, a 6-1 sophomore, added 12 points, all of 3-pointers, one in each quarter. Two more sophomores and a freshman also scored for the Bison, who's only senior on the roster, Wrider Allison, scored seven points before fouling out.
Hot Springs was 6-9 for the season following the loss.
The Cardinals' games at Sidney on Friday night were not played because of the Arctic blast and snow. The girls' game cannot be made up, but the boys may play Thursday night, Activities Director Andy Pope said Monday.
Chadron--Gaurav Chima 17, Cody Hall 12, Teagan Scoggan 6, Zach Wordekemper 5, Dawson Dunbar 5, Justus Alcorn 5, Michael Sorenson 4, Jackson Behrends 3, Broc Berry 2, Collin Brennan 1, Brodey Planansky 1. Totals: 24-65 (5-25) 8-19 61 points, 40 rebounds.
Valentine--Kenny Shelbourn 4, Cody Frank 4, Brysen Limbach 3, Connor Kruetner 3, Seth Varva 3, Hayes Hammond 2, Tim Engelhoff 2, Matt Gibson 2, Rhett Witt 2. Totals: 8-35 (2-11) 7-13 25 points, 30 rebounds.
Chadron 13 16 16 16 ----61
3-pointers: Chad--Chima 3, Wordekemper 1, Behrends 1. Val--Frank 1, Limbach 1.
Chadron 51, Hot Springs 48
Chadron--Justus Alcorn 22, Gaurav Chima 15, Collin Brennan 10, Brodey Planansky 2, Cody Hall 2. Totals: 19-47 (6-14) 7-16 51 points, 19 rebounds.
Hot Springs--Braden Grill 14, Jules Ecoffey 12, Haedyn Haas 7, Wrider Allison 7, Camron Maciejewski 5, Preston Iverson 3. Totals: 19-49 (8-27) 2-4 48 points, 31 rebounds.
Chadron 13 17 9 12 ----51
Hot Springs 12 11 13 12 ----48
3-pointers: Chad--Chima 5, Brennan 1. HS--Ecoffey 4, Haas 1, Iverson 1, Allison, Maciejewski 1.