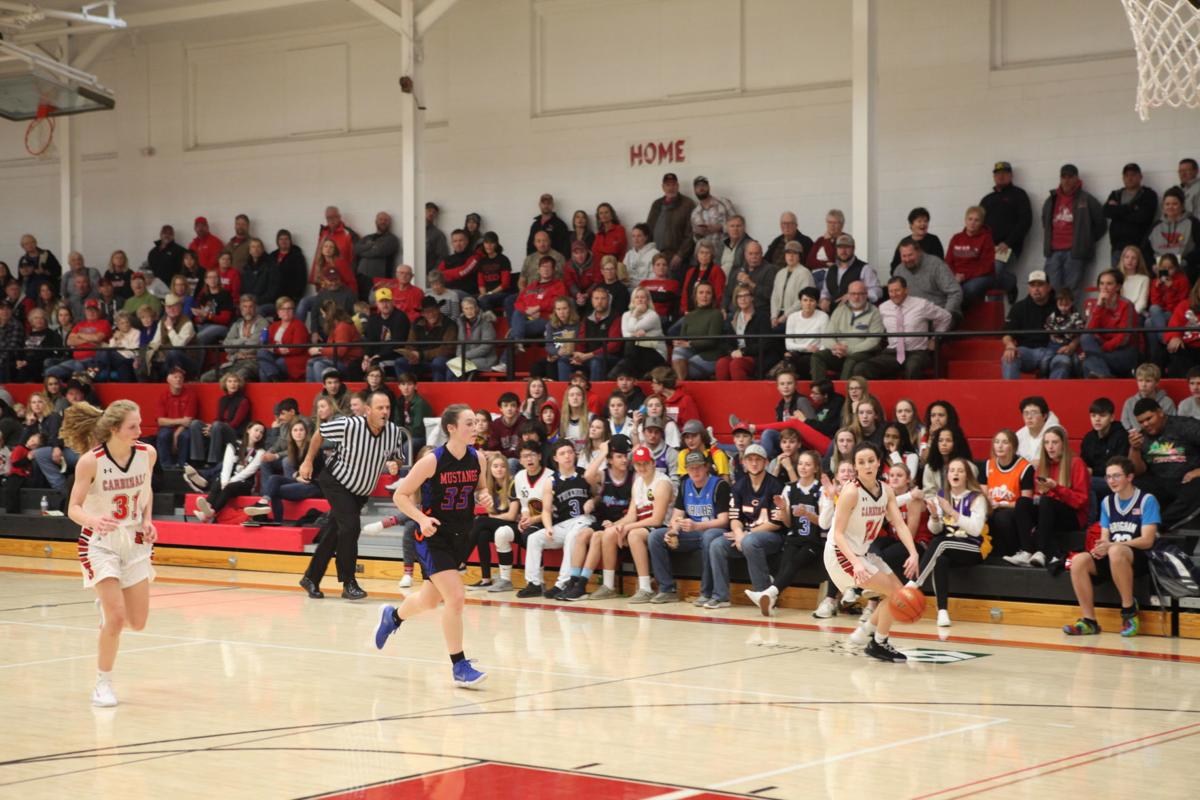 The Chadron High School basketball teams defeated the Gordon-Rushville Mustangs on Friday Dec. 13. The girls won 47-21, and the boys won their contest 60-29. The girls and boys similarly played full court pressure basketball to force the Mustangs into turning the ball over. This led to easy buckets most of the night.
            The Lady Cardinals had a very active press all night and seldom would a possession go by without them at least getting a deflection. Senior guard, Shea Bailey, struggled shooting the basketball but this didn't affect her defensive effort in the slightest. Whether it was stealing diagonal passes or using quick hands to strip the ball to herself, Bailey was a force on the press much of the night. Olivia Reed was also active on the press, converting her steals into quick buckets.
            Chadron was up 27-10 at the break. They extended their lead to 39-12 by third quarter's end behind back-to-back three pointers from senior, Tyleigh Strotheide. Gordon-Rushville played a zone most of the night and Chadron was able to get looks at will from the outside, but they struggled a bit from beyond the arc. Most of the Cardinal success came from their basic high-low offense ran through Olivia Reed and Anika Burke.
            Gordon-Rushville's undersized guards battled all night against Chadron's length, and when they were able to break the press they were able to execute fast break offense. Junior forward, Jayla Brehmer, led all Mustang scorers with seven points.
            Chadron will play Torrington tomorrow evening, Dec. 14, at 4:00 in Chadron. Then they host Hot Springs this Tuesday, Dec. 17, at 5:30.
You have free articles remaining.
            Chadron scorers: Olivia Reed 19, Tyleigh Strotheide 10, Anika Burke 8, Shea Bailey 6, Macey Daniels 2, Lauren Collins 2.   
            The Chadron High School boys' team beat a young Gordon-Rushville squad behind an active defense and confident scorers in seniors Cooper Heusman, Trevor Berry, and Kristian Bartlett.
            Gordon Rushville was able to stay in the game early due in part to foul trouble from the senior Cardinal guards, Trevor Berry and Dillan Sayaloune. They each had two fouls in the first quarter. Once Berry came back into the game he hit three treys in the second quarter to extend the Chadron lead to 25-17 at the break. Chadron started the third on an 11-3 run and from there extended their lead through full court pressure and quick hands on defense.
            Gordon Rushville is a young team. They played at least four freshman consistently, and three of those four led the Mustangs in scoring. Guards Carter Anderson and Ellis Livingston scored ten and seven points, and forward, Jace Nelson, had eight. The Mustangs also got extensive minutes from sophomore, P.J. Lynch. They're a young team that will get better the more minutes they see.
            The Cardinals rightly played up tempo basketball against the inexperienced Mustangs and ran the offense through their senior leaders Heusman and Berry. For much of the night Chadron took high percentage looks through early offense and in their offensive sets. The Cardinals were also able to limit possessions late in the game by burning around thirty seconds on each half court possession in the fourth quarter.
            The Cardinals play Torrington tomorrow night, Dec. 14, at 6:00 in Chadron, then they turn around and host Hot Springs this Tuesday, Dec. 17, at 7:00.
            Chadron Scorers: Cooper Heusman 17, Kristian Bartlett 14, Trevor Berry 12, Gaurav Chima 4, Dillan Sayaloune 3, Xander Provance 3, Dawson Dunbar 2, Collin Brennan 2, Zach Collins 2, Dawson Reitz 1.