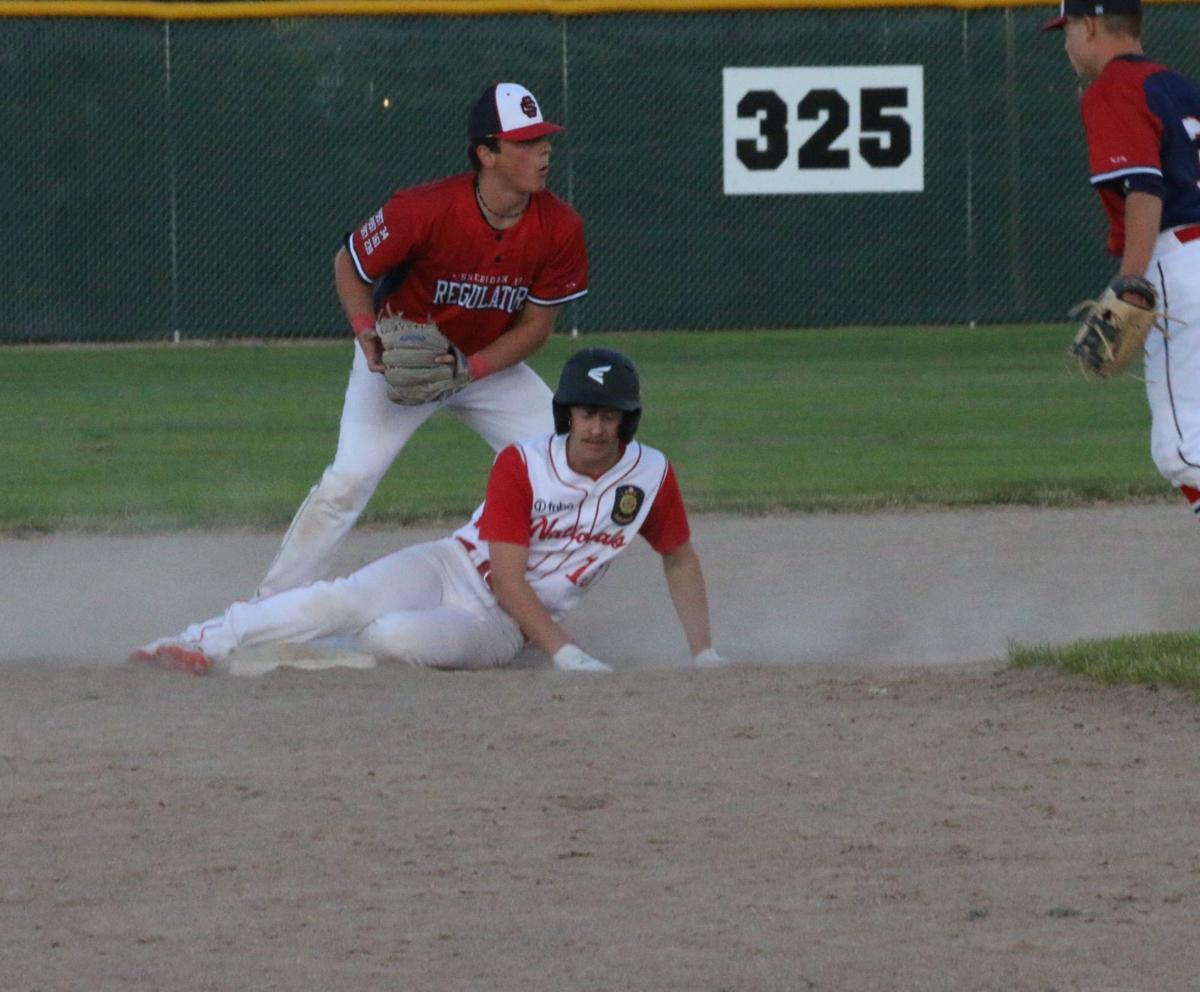 Chadron's First National Bank of North Platte-American Legion Seniors baseball team opened its schedule last Thursday by winning three games and losing two during a five-day stretch.
Coached by Bruce Parish, the Seniors opened with a 13-4 win at home over the Sheridan County team that includes players from all three towns along Highway 20. After that, the Chadron crew played four games in a tournament at Alliance, losing twice on Friday, but winning each of the contests that were played Saturday and Sunday.
Parish said the Seniors team is solid, particularly when a few Juniors also are in the lineup, but admitted he's having difficulty finding enough opponents to build as complete a schedule as the team deserves.
"The COVID hasn't done us any favors," he said. "Some teams that usually play us have bailed out this year."
In the season-opener, Chadron scored four runs in the first inning, but Sheridan County tallied single runs in both the first and second frames and tied the score in the top of the third. After that, it was all Chadron, which scored two, three and four runs in the next three frames to post the 13-4 triumph.
The Nationals outhit Sheridan County 12-4. Chadron's number seven and eight hitters in the lineup, Pat Rust and Eric Vahrenkamp, each drove in three runs while Cole Madsen and Dawson Dunbar both went two-for-three at the plate. Madsen knocked in a pair of runs.
Shane Frye gave up the four hits, yielded just one earned run and struck out six while pitching the first four innings. Blake Olson set the invaders down in order while hurling the fifth frame.
At Alliance on Friday, the Blakely Bombers based at Chappell won the first game 8-2. Chadron led 2-1 after four innings, but Blakely scored three times in the fifth and four in the sixth for the victory.
Madsen, Tate Ryan, Curt Bruhn and Ryan Vahrenkamp all singled for the Nationals. Trevor Berry was the starting pitcher and gave up just one earned run while fanning seven during his four and one-third innings on the mound.
The Alliance Seniors overwhelmed Chadron 12-0 in the second game. Tate Ryan got the Nats' only hit off Chance Crow, who threw three innings and struck out four.
The Nationals had much better fortune on Saturday when they met the Alliance Juniors. This time Chadron won 13-2 while collecting nine hits in the four-inning contest.
Leadoff batter Xander Provance had three hits and scored three times for the winners. Madsen added a double and five teammates singled. Dunbar and Provance divided the pitching duties, giving up just five hits and the two runs.
Chadron closed out the tournament with a 10-2 win over Bridgeport on Sunday.
The Nationals collected 10 hits to match their run total. Berry had three hits that drove in five runs. One of his hits was a double.
Provance went two-for-three, including a triple, and had two RBIs. Bruhn was two-for-two and also drove in a pair of runs.
Frey returned to the mound for Chadron. He scattered seven hits, threw 55 strikes while tossing 78 pitches and struck out six.
Bridgeport comes to Chadron on Tuesday night for a double-header and Chadron goes to Gordon on Wednesday night for two games.
This weekend, the Seniors are idle while the Chadron Juniors will host a round-robin on Sunday. Valentine and Chadron will meet at 2 pm, Valentine and Sheridan County will play at about 4 and Chadron and Sheridan County about 6. 
Be the first to know
Get local news delivered to your inbox!