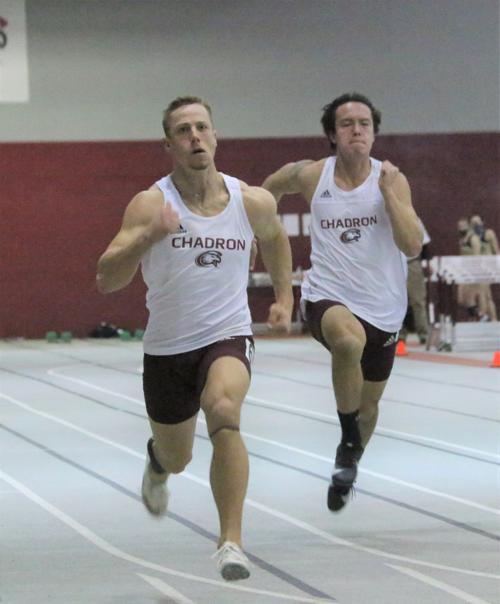 Chadron State College's young male sprinters dominated those events at the Yellow Jacket Open Indoor Track and Field Meet at Black Hills State in Spearfish on Saturday and several teammates also performed well in their events. Athletes from five schools competed.
Freshman Morgan Fawver of McCook led the Eagles while winning both the 60 and 200 meters with career-best times. Fawver ran the 60 in 6.82 seconds and the 200 in 22.42. His 60 mark is a provisional qualifier for the NCAA Division II Championships and ranks among the dozen fastest in the nation so far this winter.
Another CSC freshman, Emory Yoosook of Casper, Wyo., was second in the 60 in 7.15 seconds and third in the 200 in 23.29 and also won the long jump by going 21-6 ¼. All three marks are the best of his young career. This was the Eagles' fifth meet this season.
Sophomore Osvaldo Cano of Oshkosh also had an outstanding day. He was the runner-up to Fawver in the 200 meters in 22.94 seconds for a career-best and matched his fastest ever while winning the 400 in 50.17 seconds.
Three more Eagles were close behind Cano in the 400. Freshman Greg Logsdon of Yoder, Wyo., was the runner-up in 52.22 seconds, followed by Cano's twin, Osiel, who was third in 52.37 seconds, and Harley Rhoades of Douglas, Wyo., fourth in 52.69.
But not everything turned out well for the Eagles in the 400. Junior Brodie Roden of Riverton, Wyo., was leading the pack when he pulled up about 100 meters from the finish line because of a hamstring problem.
CSC Coach Riley Northrup said the injury seems serious enough that it could keep Roden from competing at the RMAC Indoor Championships in two weeks. Roden won both the 200 and the 400 at last year's RMAC Meet and set the conference record in the 400.
Chadron State men also placed first and second in the high jump, where both Alec Penfield of Lusk, Wyo., and Joe Dumsa of Sandy, Utah, cleared 6-foot-4, and had three more second-place finishers. The latter were freshman Logan Peila of Miles City, Mont., in the high hurdles, junior Brock Voth of Berthoud, Colo., in the triple jump and freshman Parker Gosner of Windsor, Colo., in the shot put.
The Eagles' two outstanding long and triple jumpers, Naishaun Jernigan and Derrick Nwagwu, were given the weekend off and the team also was missing Shane Collins, who had won the shot put at the previous four meets, but has a hand injury.
Led by freshman Jourdaine Cerenil of Pine Bluffs, Wyo., who cleared a best of 5-3, Chadron State women claimed the first five places in the high jump. Sophomore Miranda Gilkey of Lusk, Wyo., was second and freshman Hannah Christie of Alpine, Wyo., was third after both went 5-1.
Gilkey also was second in the triple jump at 34-9 and Christie was the runner-up in the long jump at 15-11 ½. Both are career-bests marks.
Junior Julianne Thomsen of Custer, S.D., had another good day as she gears up for the pentathlon at the RMAC Championships. She was second in both the 200 meters and 60 hurdles to go with fourth in the long jump and fifth in the high jump.
Sophomore Becca Monahan of Cheyenne was third in shot put with a season-best throw of 38-10 ¼.
Northrup said some of the Eagles will likely return to Spearfish for a Last Chance Meet this Saturday with hopes of improving their mark and qualify for RMAC and National Meets. Black Hills State will also host the conference meet the final weekend in February.
The CSC placings and marks:
60 meters--1, Morgan Fawver, 6.82 seconds; 2, Emory Yoosook, 7.15.
200 meters--1, Morgan Fawver, 22.42; 2, Osvaldo Cano, 22.94; 3, Emory Yoosook, 23.29.
400 meters--1, Osvaldo Cano, 50.17; 2, Greg Logsdon, 52.22; 3, Osiel Cano, 52.37; 4, Harley Rhoades, 52.69.
60-meter hurdles--2, Logan Peila, 8.90; 3, Pete Brown, 8.97.
Shot put--2, Parker Gonzer, 46-10; 3, Reid Spady, 46-9; 5, Dan Reynolds, 43-10 ¾
Weight throw--3, Dan Reynolds, 52-4 ½; 6, Jordyn Spencer, 47-6 ½.
Long jump--1, Emory Yoosook, 21-6 ¼; 6, Pete Brown, 17-10 ¾.
Triple jump--2, Brock Voth, 43-2 ¼.
High jump--1, Alec Penfield, 6-4; 2, Joe Dumsa, 6-4; 4-5 tie, Pete Brown and Dylan Soule, 5-6.
200 meters--2, Julianne Thomsen, 27.49; 3, Michaela Hill, 27.53.
400 meters--4, Michaela Hill, 1:03.95.
60-meter hurdles--2, Julianne Thomson, 9.55.
Shot put--3, Becca Monahan, 38-10 ¼; 5, Courtney Smith, 38-4; 6, Morgan Ekwall, 37-5 ¼.
Long jump--2, Hannah Christie, 15-11 ½; 4, Julianne Thomsen, 14-9 ¾.
Triple jump--2, Miranda Gilkey, 34-9; 3, Austin Alexander, 32-4 ¾; 5, Jourdaine Cerenil, 31-8.
High jump--1, Jourdaine,Cerenil, 5-3; 2, Miranda Gilkey, 5-1; 3, Hannah Christie, 5-1; 4, Destiny Pelton, 4-11; 5, Julianne Thomsen, 4-7.