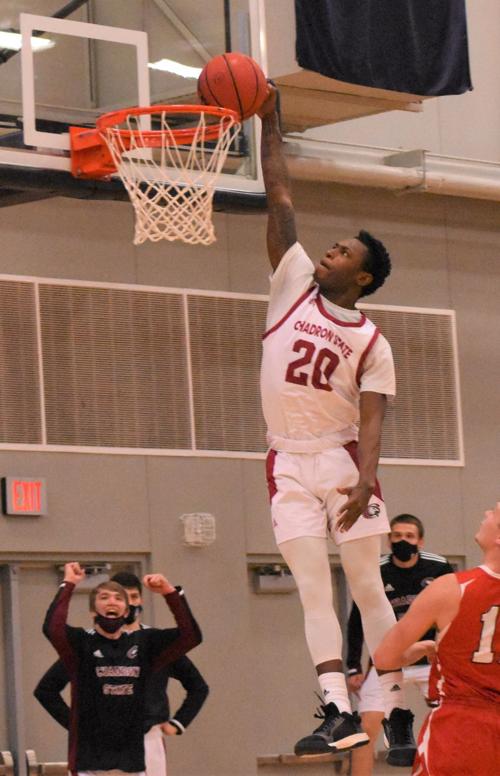 Center Jacob Jefferson sank 10 of 14 field goal shots while scoring 24 points and newcomer Deundra Roberson was seven of nine from the field while tallying 18 as the Chadron State College men's basketball team defeated the Western Colorado Mountaineers 85-73 on Friday night in the Chicoine Center.
The Eagles' shooting was streaky, but impressive. They were hot during most of both halves while building large leads, then cooled off near the end each, allowing the Mountaineers rally. But overall, CSC shot a satisfying 54.7 percent from the field, including 12 of 24 from 3-point territory.
The hosts led 48-24 with 3:47 to play in the opening half before cooling down while Mountaineers went on a 12-0 run to draw within 12 points at halftime.
The Eagles' letup saw them miss their final five shots from the field and also turn the ball over twice and the half ended.
Coach Shane Paben's promising team went back on top by as many as 21 points in the second half, but the Eagles cooled down again while Western warmed up late in the game. Both teams wound up scoring 37 points in the second half, making the final point spread a dozen again.
Along with the hot shooting by Jacob Jefferson and Roberson, CSC's Brady Delimont returned from missing two games because of a concussion to add 14 points, and both Teddy Parham and Psalm Maduakor netted nine.
Point guard Marcus Jefferson scored just six points, all on free throws, but he handed out eight assists and collected nine rebounds. Each team grabbed 31 rebounds.
Western shot 46 percent from the field and was eight of 24 points from behind the arc. Five Mountaineers scored in double figures, but the quintet totaled only 52 points as two of them finished with 11 and the remaining three scored 10 apiece.
The leaders included 6-foot-9 senior Jackson Ehrlin, who scored 10 points and claimed a game-high 11 rebounds. Elijah Davidson, a 6-4 freshman, was four of five from the field and made both of his free shots for 10 points and blocked four CSC shots.
Chadron State is now 3-3 for the season and Western is 2-5.
Both Chadron State teams were scheduled to play three double-headers in a five-day period beginning Friday night, but all of the other games were postponed because of COVID issues involving the opponents. Next on the Eagles' schedule are games against South Dakota School of Mines in Rapid City on Thursday, Jan. 21. (See accompanying story.)
Western Colorado--Cole Sienknecht 11, Jaelan McCloud 11, Jackson Ehrlin 10, Elijah Davidson 10, Matt Ragsdale 10 Grant Wilkinson 8, Jonathan McCloud 5, Kade Juelfs 4, Avery Rambao 4. Totals: 28-61 (8-24) 9-14 73 points, 31 rebounds, 10 turnovers.
Chadron State--Jacob Jefferson 24, Deundra Roberson 18, Brady Delimont 14, Teddy Parham 9, Psalm Maduakor 9, Marcus Jefferson 6, Bryant Jefferson 3, Kayden Sund 2. Totals: 29-53 (12-24) 15-20 85 points, 31 rebounds, 11 turnovers.
Western Colorado 36 37 ---73
Chadron State 48 37 ---85
3-pointers: WCU--J. McCloud 4, Wilkinson 2, Ragsdale 2, Sienknecht 1. CSC--Delimont 4, Roberson 3, Parham 2, J. Jefferson 2, Maduakor 1.