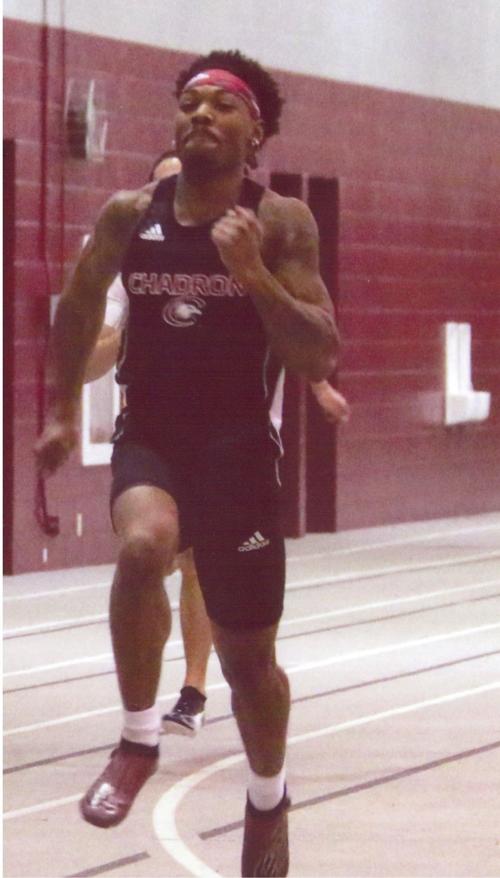 Chadron State College's Javan Lanier continued the outstanding start of his senior track and field season on Saturday by winning the 60-meter dash and placing second in the long jump at the Colorado School of Mines Winter Classic this weekend.
Lanier won the finals of the 60 with a career-best time of 6.80 seconds. There were 43 entries from nine schools in the race. He's now won the 60 in all four meets the Eagles have entered this winter.
CSC Coach Riley Northrup said Lanier got off to an excellent start and led all the way.
Lanier's previous best this season was 6.93 seconds at the Colorado Mines Alumni Classic in early December. His other winning marks were both 6.98.
His previous career-best was 6.83 seconds two years ago while his fastest times the other two years have been 6.85 seconds as a freshman in 2017 and 6.86 last year.
A native of Aurora, Colo., and a graduate of Regis Jesuit High School, Lanier's second place mark in the long jump measured 23 feet, 6 inches. It was just three-fourths of an inch shy of his career-best. There were 25 entries in that event.
Chadron State athletes also placed third in four events. Two of them belonged to sophomore sprinter Brodie Roden of Riverton, Wyo., in the 60- and 400-meter dashes with times of 6.96 and 50.94 seconds. His 60 time was a career-best, but he ran the 400 in 49.82 a week ago at Black Hills State.
The other thirds came in field events. Sophomore Brock Voth of Berthoud, Colo., earned that spot by going 44-11 in the triple jump and freshman Shane Collins of Bison, S.D., was third in the shot put with a throw of 50-11 ½.
Voth has a season-best of 46-5 ¼ in the triple jump, but this was the first time Collins has thrown the shot farther than 50 feet.
The Eagles will enter meets at South Dakota State in Brookings the next two weekends. The team's complete placings at Golden follow:
You have free articles remaining.
60--1, Javan Lanier, 6.80; 3, Brodie Roden, 6.96.
400--3, Brodie Roden, 50.94; 8, Harley Rhoades, 52.07.
Shot put--3, Shane Collins, 50-11 ½; 7, Jordyn Spencer, 41-6.
Weight throw--7, Jordyn Spencer, 44-9.
Long jump--2, Javan Lanier, 23-6; 7, Naishaun Jernigan, 22-9 ¼.
Triple jump--3, Brock Voth, 44-11; 5, Derrick Nwagwn, 43-10 ½; 6, Joss Linse, 43-6 ½.
High jump--6, Naishaun Jernigan, 6-4 ¾.
Shot put--7, Becca Monahan, 38-7 ½.
Weight throw--8, Courtney Smith, 47-6 ¼.