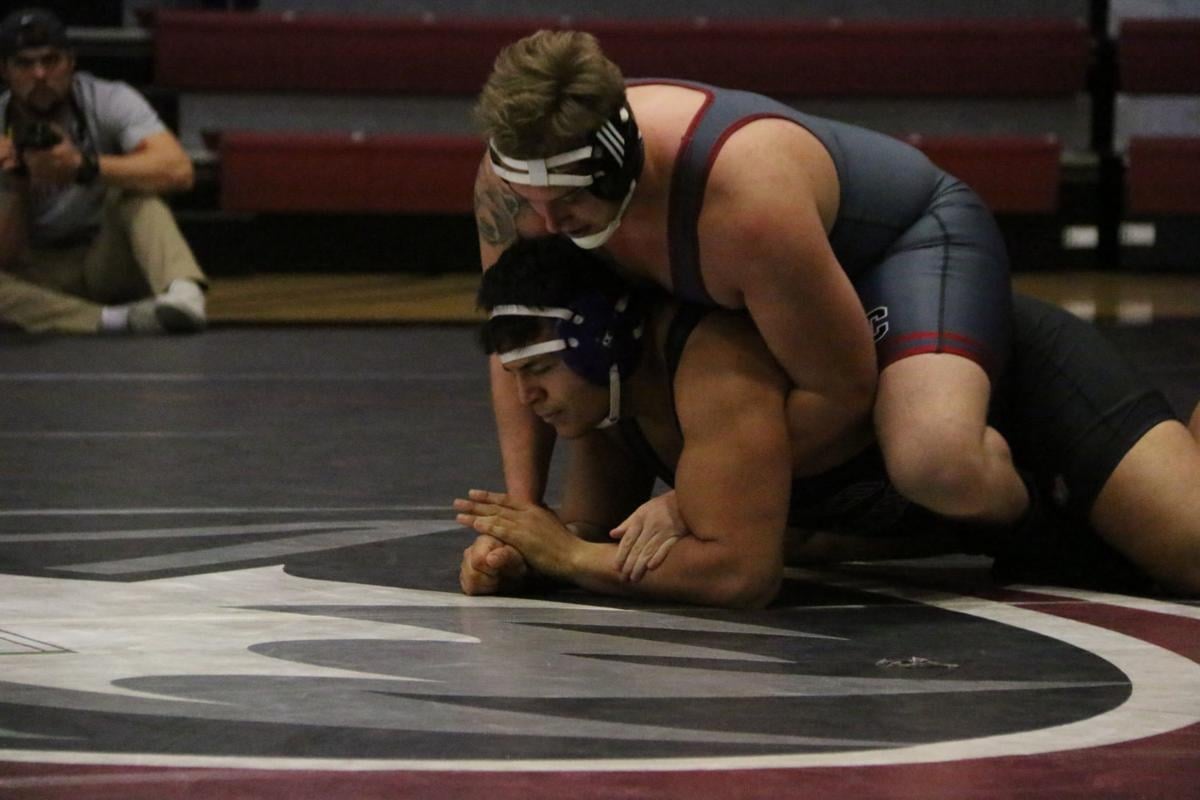 Fifteen names have been added to the Chadron State College wrestling roster for the 2020-21 season, Coach Brett Hunter has announced.
All but one of the newcomers will be freshmen. The exception is Sabastian Robles, who is transferring from Northeastern Junior College at Sterling, Colo.
Three of the freshmen were seniors this past year at Moorcroft High School, which has won four straight Class 2A Wyoming State Tournament championships. Rowdy Pfeil and Parker Seeley were state champions this past year while Parker Schlater was the runner-up in his weight class each of the last three years.
Other CSC recruits who have won at least one state championship include Casey Benavides of Bridgeport, Teven Marshall of Mullen, Jackson Ecklund of Gregory, S.D., and Parker Merritt of Star Valley High at Afton, Wyo.
Both Eklund and Merritt concluded their senior seasons undefeated. Benavides lost just once and Marshall only twice this past year.
Micaiah Grace of Custer, S.D., Joe Renner of Grandview High at Englewood, Colo., and Travis Waldner of Dexter, Mo., were runners-up at their state tourneys this year.
Walder is the son Bob Waldner, a three-time Chadron State All-American and a member of the CSC Athletic Hall of Fame. Young Waldner won 50 matches this year. His only loss was by a 1-0 score in the state championship match.
Another promising prospect appears to be Dean Neff of Jefferson, Wis. He placed third at state this year while posting a 50-3 record.
The Chadron State College wrestling program received the No. 8 recruiting ranking nationally in NCAA Division II from TheOpenMat.com, an online wrestling publication.
Here is a summary of each of the new recruit's career:
--Casey Benavides, Bridgeport, Neb., Had a 41-1 record and won the Class C 106-pound state championship in 2019. Went 38-2 and placed third at 113 pounds in 2020.
--Stone Durham, Rapid City, S.D. A four-time state tourney qualifier at St. Thomas More High School. He graduated in 2018 with a 128-50 record.
--Jackson Eklund, Gregory, S.D. Had a perfect 34-0 record this past year while winning the Class B 145-pound state championship.
--Micaiah Grace, Custer, S.D. Placed second at state in Class B at 170 pounds this year and had a 45-6 season record.
--Nate Hartman, Millard West, Omaha. Placed sixth at Class A at 126 pounds at the Nebraska State Tourney in 2020.
--Teven Marshall, Mullen, Neb. Finished with a 42-2 record and won the Class D 120-pound championship in 2020. Placed third at 113 pounds as a junior.
--Waylon Marshall, Mission, S.D., Todd County High. Placed in Class B at heavyweight at state in 2020.
--Parker Merritt, Afton, Wyo., Star Valley High. Won the Class 3A heavyweight state championship the last two seasons. He was 44-7 as a junior and 42-0 this year, when he pinned all four of his opponents at the state tourney in 2:29.
--Dean Neff, Jefferson, Wis. Finished third at 160 pounds in Division 2 of the Wisconsin State Tournament while going 50-3 for the season.
--Rowdy Pfeil, Moorcroft, Wyo. A two-time Class 2A state champion, winning the 160-pound title as a sophomore in 2018 and the 182-pound championship as a senior in 2020, when he finished with a 50-3 record. He also was the Wyoming State Tourney runner-up twice, placing second at 152 pounds as a freshman and second at 182 in 2019, when his final record was 44-6.
--Joe Renner, Englewood, Colo, Grandview High. Placed second at 182 pounds in Class 5A at the Colorado State Tournament this year, finishing the season with a 36-3 record. As a junior, he placed fifth at 195 pounds at the state tourney.
--Sabastian Robles, Port Orchard, Wash. He's transferring from Northeastern Junior College at Sterling, Colo., where he's filled one of the middle weights the past two seasons. Qualified for the national tournament at 157 pounds in 2020. He was ranked as high as sixth in the weight class during the season.
--Parker Schlater, Moorcroft, Wyo. Helped Moorcroft win the Class 2A state team championships by while finishing as the runner-up at 170, 195 and 220 pounds the past three years. He won at least 40 matches each season and pinned his first three opponents at state this year in less than a minute.
--Parker Seeley, Moorcroft, Wyo. After being the Class 2A 138-pound runner-up at the Wyoming State Tournament three years in a row, he moved up to 145 pounds this past year and won the championship with a 55-3 record. He won 193 matches during his career.
--Travis Waldner, Dexter, Mo. The son of three-time Chadron State College All-American wrestler Bob Waldner, Travis missed winning the Missouri Class 2 170-pound championship this year by 1-0 score. His only loss was on an escape in the finals of the state tournament after he'd won his previous 50 matches. He was a four-time state tourney qualifier, and placed third at 126 pounds as a sophomore and fourth at 138 as a junior. He had a 40-3 record both of those seasons and finished 178-15 for his career. Bob Waldner had a 96-33 record during his four years at CSC, and was the 190-pound champion at both the NAIA Area Tournament and the RMAC Tournament as a senior in 1990. Travis's mother, Kim, and a sister, Brittney, also graduated from CSC.
The Eagles graduated five members of the 2019-20 team, including two-time national tournament qualifiers Chase Clasen at 149 pounds and Wade French at 197. Both were named All-Americans when this year's national tourney was cancelled because of the Coronavirus Pandemic about 24 hours prior to the start of the event.
The other seniors were Brandon Kile at 133 pounds, Chance Karst at 149 and Jay Westcott at 184.
The top returnees this year will include senior Tate Allison of Moorcroft, Wyo., , who qualified for nationals at 157 pounds and finished the season with a 19-8 record, and heavyweight Mason Watt of Broomfield, Colo., who had a 20-9 record as a redshirt freshman.
Be the first to know
Get local news delivered to your inbox!