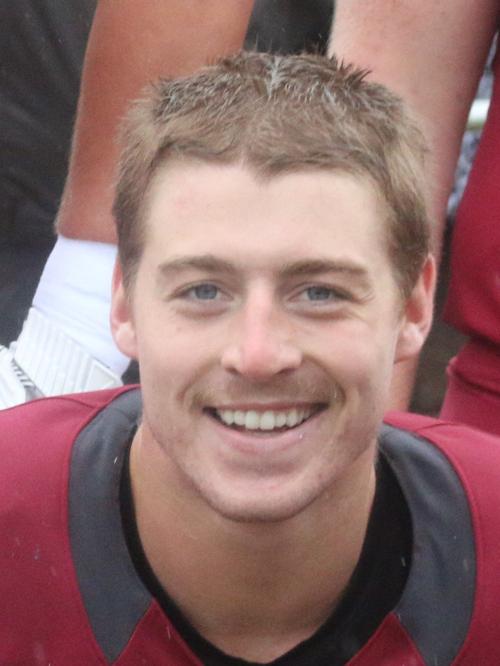 Of all the male athletes in the Panhandle who have wrapped up their high school careers so far this century, few have had better ones than Colt Foster of Hemingford. He was big, strong and athletic while also having exceptional classmates who complemented one another and had many memorable moments.
Football was the Bobcats' best sport. During their final three seasons, Foster and his classmates had a 34-2 cumulative record, capped by a perfect 13-0 record in the fall of 2014, when they won the Class D-1 state championship. It remains just the second time a Panhandle football team has won a state title. Sidney St. Pat's was the first back in 1986, when the Irish were the Class D-2 state champs. St. Pat's closed in the spring of 1991.
Five Bobcats were placed on the D-1 all-state teams by both the Omaha and Lincoln newspapers as well as Huskerland Prep at the end of that season. Besides Foster they were seniors Ethan Skinner, Brady Turek and Matt Wood and junior Tanner Benge. Foster and Skinner were named co-captains of the D-1 all-state team by all three publications.
The Hemingford basketball and track teams also excelled during that span. The Bobcats' basketball team was 20-3 in 2014-15 when both Foster and Wood finished their careers having scored more than 1,000 points. Both the Omaha and Lincoln newspapers ranked Hemingford 10th in Class C-2 at the end of the season.
The track team's highlights included winning the Class C 4x100 relay at the state meet in Omaha in 2014 in 44.33 seconds. The foursome was comprised of juniors Foster, Skinner and Turek and senior Blake Hansen. The following year, the Bobcats placed third in that relay at state, even though their time was faster--44.18 seconds. Jamie Wood replaced Hansen as the fourth runner.
Chadron State College football coaches and fans were delighted when Foster, listed at 6-foot-2, 200 pounds, agreed to join the Eagles after he graduated. He was ideally suited to play tight end in college and appeared to have all-star potential.
He was on that path when two freakish injuries each wiped out a year of gridiron eligibility. But continued to excel academically, graduating with honors while earning two degrees from Chadron State. This year he is the recipient of the prestigious Clyde Bond Memorial Award. It's the 41st time the plaque he received has been presented to a CSC scholar-athlete after their college careers had ended.
The selection criteria includes scholastic and athletic success and character.
The award is given in memory of Bond, a native of Sheridan, Wyo., who was a left-handed pitcher for the Eagles' baseball team. Bond graduated from Chadron State in 1980 and was attending a Southern Baptist seminary in Louisville, Ky., when he was electrocuted on April 15, 1981 while mowing a church lawn. Family and friends established the award.
Like most Chadron State football recruits, Foster redshirted as a freshman in the fall of 2015. The following year, he shared playing time with senior Jack Dobbins and caught 22 passes for 189 yards and a touchdown.
The next season he was a standout like everyone anticipated he would be, catching 42 passes for 561 yards and for a 13.4-yard average and four TDs. He was placed on the Rocky Mountain Athletic Conference's second-team and the Omaha World-Herald's Nebraska DII first-team that fall.
In particular, he played a big role in the Eagles' 25-19 victory over Fort Lewis in the season-opener. CSC was leading by just 18-16, when on the first play of the fourth quarter, quarterback Matt Vinson hit Foster with a pass that gained 31 yards. CSC receivers' coach Logan Masters said Foster "carried a linebacker about 15 yards" after the catch, giving the Eagles a first and goal at the Skyhawks' six.
On the next play, Foster got "wide open" and caught Vinson's pass in the end zone for a TD.
After Fort Lewis kicked a field goal to make the score close again, Foster had another big catch. This time Head Coach Jay Long said Foster caught a pass about 12 yards downfield. It looked like he was going to be tackled, but put his free hand on the ground, spun away and gained several more yards for a first down, allowing the Eagles to run out the clock and secure the win.
Late in the 2017 season, Foster had another big game against Black Hills State. This time quarterback Dalton Holst and Foster hooked up for a 55-yard touchdown pass in the first quarter that helped put the Eagles on the victory path. He finished as the game's leading receiver with four catches for 79 yards.
The following summer, the coaches voted Foster onto the RMAC's preseason all-star team at tight end. His season, though, was extremely short.
Black Hills State was the opponent in the season-opener, and it was the first game after Elliott Field had been completely refurbished. The Yellow Jackets got the ball first and were forced to punt. Foster went onto the field to help block during the return. It turned out to be his last play of the season.
Foster remembers that as he ran ahead of the Eagles' returner, a Black Hills player shoved him aside. Foster landed on his left foot and the anterior cruciate ligament in his knee was torn. Surgery, of course, was required.
Long said Foster's loss was a big blow. "No team loses one of its best players and not notices it," the coach said, adding that he considered the 6-3, 225-pound junior as one of the nation's top tight ends.
Foster recalls he did his best to rehabilitate his knee during the next year, but didn't feel as athletic or as fast as previously. He played in all 11 games, shared playing time with Californian Matt Vargas and caught just six passes for 84 yards.
Then came the 2020 season with all of its adversities and uncertainties caused by the Coronavirus. Setting all those problems aside, Foster said he thought he was back to full speed when the Eagles finally kicked off their abbreviated schedule on Oct. 10 at Colorado Mesa in Grand Junction.
He was the starting tight end, but his name never showed up in the stats. Shortly after halftime, he was the target for one of Holst's passes, but just as it arrived, he was hit from behind and sustained severe injury to his right foot. He initially thought a bone in his foot was broken. But it was even worse; the plantar fascia ligament was torn Again his season was ended.
Some seven months later and about four months following surgery, he said he still can't walk right, but he's confident with more rehabilitation he'll be back to normal.
In the meanwhile, Foster said things are going well. He's grateful that during high school and his first three years at Chadron State, he never missed a practice or playing time because of an injury. He also glad he was able to use his football scholarship to help earn both a bachelor's and a master's degree.
He graduated Cum Laude, which requires a grade point average of at least 3.6 in December 2019, with a degree in business and an option in accounting. This May, he received a Master's of Business Administration and earned all A's while doing graduate work.
Besides that, he's landed an intriguing job at Farmers Co-Op elevator in his hometown as an "originator," someone who buys and sells grain for farmers.
"I know I have a lot to learn, but so far I really like it," Foster said. "I get to work with great people and I took agribusiness courses at Chadron State that help me understand what I'm supposed to do. It's really interesting."
In mid-April this year, Foster was one of two Chadron State football players named to the National Football Foundation's Hampshire Honor Society that recognizes college seniors who had outstanding academic records.