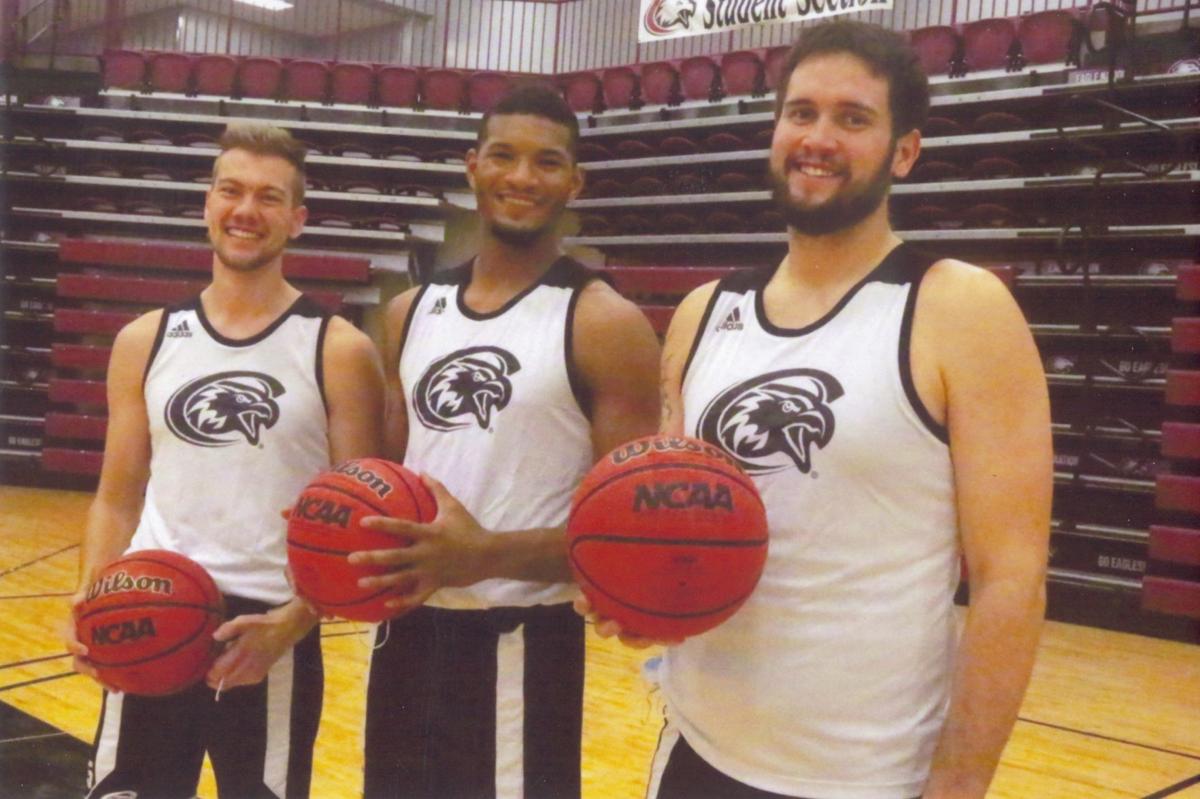 After it appeared the Chadron State College men's basketball team was making good progress, the Eagles suffered a serious setback when six members of the team missed most of the practices last week because of COVID-19 problems.
Coach Shane Paben said, "It's not been fun" with so many of the players either recovering from the virus or quarantined because they had been exposed to it.
"It's been a topsy-turvy time," Paben added. "It is hard to plan and build. We couldn't go live (scrimmage) because we didn't have enough players. Hopefully they'll be back this week so we can get things going again. We've got to be healthy if we're going to play."
Just eight players participated in practice on Friday.
The Eagles are slated to open the season at home Sunday against Colorado School of Mines and play again on Monday against the Regis Rangers. The contests will start at 6 p.m. Sunday and 7:30 Monday night, following women's games against the same Rocky Mountain Athletic Conference opponents.
No fans will be allowed to attend either of the games because of fears that the virus could be transmitted by those in attendance. CSC Athletic Director Joel Smith said the RMAC is stipulating that during the pandemic both teams must agree that it's OK for fans to be in attendance, and Colorado Mines officials have insisted that no fans are to be in attendance at their games at this time.
Regis wasn't as explicit about not having fans, but the same policy will be enforced both nights, Smith said. The games will be available for viewing via the Chadron State web site.
The athletic director added that he hopes fans will be allowed to attend the games the remainder of the season.
Paben, who was hired as the Eagles' new coach in June, said because of the COVID matter he unable to say who will play in the opening games, noting their health may be the primary issue. Some of those who see action may not be at the top of the depth chart, Paben admitted, but he said that will give others a chance to prove themselves.
Thirteen players will be on the opening roster. That doesn't include two transfers, juniors CJ Jennings and Sebatian Zehnder, who will redshirt. In addition, sophomore Devin Buderus of Scottsbluff isn't expected to play in the early games because of an injury, Paben said.
Just six players are back from last year's team. They include lettermen Brady Delimont, Jacob Jefferson, Kayden Sund and Andre Sepeda. Buderus played in five games last year and Gage Delimont was a freshman who redshirted.
Five transfers and two freshmen that Paben recruited fill out the roster. The coach likes what he has seen of Jacob Jefferson and transfer Deion Rhea around the basket, but notes the Eagles are shy of depth in the front court. He believes the Eagles will have a solid backcourt, and said four guards could be on the floor at times.
Since beginning practice, Paben has said he believes the Eagles will shoot well. He's also emphasized defense, something they struggled with last year when they won just four games.
Colorado Mines, which finished 22-10 last season, is expected to have a powerhouse team this winter. The Orediggers return all five of their starters against the Eagles when the teams met twice late in the season. They include 6-6 Brendan Sullivan, who was first-team All-RMAC, and two second-team choices, 6-0 Mason Baker and 6-7 Michael Glenn.
Both Baker and Glenn begin their senior seasons with more than 1,000 points to their credit.
Regis finished with a 17-12 record a year ago. The Rangers' two leading scorers are missing from this year's roster, but nine others have returned, led by guard Brian Dawson, who averaged 12.5 points.
CSC Men's Basketball Roster, 2000-21
Lovra Badzim, Zagrab Croatia; 6-6; Fr.
Devin Buderus, Scottsbluff, Neb.; 6-0; So.
**Brady Delimont, Ainsworth, Neb.; 6-4; Sr.
Gage Delimont, Ainsworth, Neb.; 6-2; R-Fr.
+KJ Harris, McKinney, Texas; 6-2; Jr.
**Jacob Jefferson, Buckeye, Ariz.; 6-7; Jr.
+Marcus Jefferson, Lewisville, Texas; 6-0; Jr.
+Arnar Lindal, Reykjavik, Iceland; 6-3; Fr.
+Psalm Maduakor, Carson, Calif.; 6-4; Sr.
+Teddy Parham Jr., Los Angeles, Calif.; 6-3; Jr.
+Deion Rhea, Houston, Texas; 6-7; Jr.
*Andre Sepeda, Greeley, Colo.; 5-8; So.
**Kayden Sund, Golden, Colo,; 6-6; Jr.
Assistants: Taylor Shaffer, Thomas Ammon
Concerned about COVID-19?
Sign up now to get the most recent coronavirus headlines and other important local and national news sent to your email inbox daily.