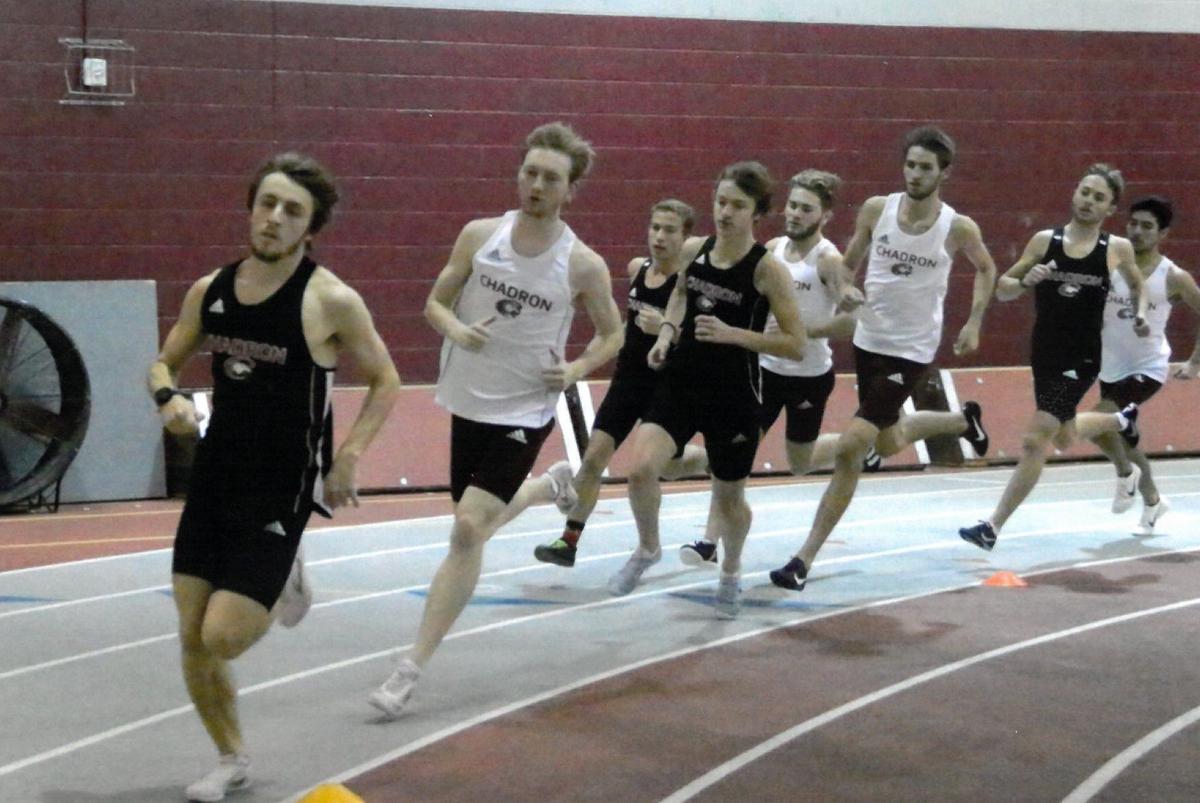 After graduating some hard-working, dedicated and successful runners such as Alexandro Garcia, Phil Duncan, Dylan Stansbury, Ashley Riesen Stephens and Nickie Applegarth Banzhaf in recent years, the Chadron State College cross country teams have not been as competitive in arguably what has been the Rocky Mountain Athletic Conference's most dominating sport on the national scene through the years.
Since the RMAC moved to NCAA Division II in the early 1990s, RMAC teams have won both the men's and the women's national team championships 21 times. The women's second place team also has been from the conference 12 times while 16 of the men's runners-up have been RMAC members.
Each of these RMAC teams were from Colorado and were made up of runners who had trained in high, thin mountain air. Researchers say that benefits them because with the reduced air pressure at higher altitudes, oxygen diffuses into the red blood cells more slowly. That means the runner's blood passes through his or her lungs without being completely recharged with oxygen from the air and they have greater endurance.
But not all the national champions have trained in the mountains. It happens infrequently, but others national championship teams have come from eastern South Dakota, Michigan and Texas. Chadron State would someday like to at least qualify a team for the national races.
Coach Luke Karamitros says the Eagles will keep trying and he believes this could be the year when they become more competitive, or at least turn the corner and are proud of how they represented the college while running against the three RMAC mainstays—Adams State, Western Colorado and, more recently, Colorado Mines.
Karamitros had something neat happen when he was running for Southwest Baptist University at Bolivar, Mo. His team qualified for nationals twice, finished 14th his sophomore year and was 13th his senior year in 2015. Bolivar's elevation is 1,056 feet; Chadron's is 3,379.
Now in his third year at Chadron State, Karamitros has certainly added quantity to the men's team. There are 18 on this year's roster, most of them freshmen and sophomores in eligibility after the NCAA decided no athletes would burn a year of eligibility by competing during the COVID pandemic in 2020.
This year's women's roster has eight names, all but one of them classified as freshmen.
With the aid of Chadron State President Randy Rhine, this year's team had a unique experience the third week of August, just as practice was opening. Rhine enticed his friend, Gary Taylor, a distance coach and motivator from Arkansas, to visit Chadron State and meet the Eagles.
Taylor also accompanied the team on a two-day and two-night visit to the Hill City area where they ran on the Mikelson Trail and around Sylvan Lake for a mixture of sight-seeing, fun, running and absorbing Taylor's expertise.
Taylor was a phenomenal high school distance runner who was enticed by future Hall of Fame coach John McDonnell to attend the University of Arkansas. While competing for the Razorbacks, Taylor and his teammates ignited a streak which led to 34 consecutive conference cross country titles (1974-2007)
A few days after returning, the Eagles had another unusual training experience. They headed north from the college campus and ran nearly 15 miles on the county road to the South Dakota state line.
"I was a nice enough guy to have had a couple of vans waiting to bring them back to the college, but they had quite a workout," Karamitros noted. "Running is more fun when you change things up once in a while."
Nearly all the men on this year's team competed in the three races the Eagles ran last fall when the schedule was greatly condensed. They are Garrett Avery, Sheridan, Wyo.; Noah Burtis, Berthoud, Colo.; Jesse Jaramillo, Scottsbluff; Logan Moravec, Gering; Jayson Caudell, Rock Springs, Wyo.; Ethan Roberts, Rapid City; Cale Schafer, LaSalle, Colo.; and Joaquin Venzor, Greeley, Colo.
Karamitros is impressed by several of the true freshmen. He notes that Logan Andrews of Gering came on strong late this spring and placed fifth in the Class B mile at the state meet in 4:32.85. He also believes Blaine Johnson of Sheridan, Wyo., has excellent potential. Johnson participated in other high school sports and didn't concentrate on distance running, but was still competitive and could excel once he becomes a dedicated runner.
Chadron High grad Nathan Birch is another frosh. Kyle Shirley of Queen Creek, Ariz., is a late transfer from Fort Lewis that Karamitros believes could be the front runner for the Eagles this fall and could challenge for a high placing at the RMAC finals.
Otherwise, the coach said he can't predict who will make up the nine-man team when the RMAC Championships take place in late October.
"Any of them could be among the leaders," the coach said. "I think they'll be a strong pack. They're going to have to fight to make the team. It's a good situation."
The leader of the women's team could be Tukker Romey of Gering, who finished second in Class B at the State Cross Country Meet her senior year in 2019. She also set the pace in most of the Eagles' distance races during the 2021 track season, despite not competing in track previously because she played soccer during the spring in high school.
Karamitros also feels incoming freshmen Audrey Grinnian of Burlington, Colo., and Alissa Wieman of Douglas High at Box Elder, S.D., have excellent potential.
But, in the long run it doesn't matter too much what a cross country thinks could happen. It's a sport in which the final results are determined by who runs the fastest. Every contestant has a chance to prove himself or herself.
Sept 4—at Hardrocker Classic, Sept. 17—at Black Hills State, Sept. 24—at Roy Griak Meet, (University of Minnesota), Oct. 9—at Fort Hays State, Oct. 23—at RMAC Meet, Golden, Colo., Nov. 6—at NCAA South Central Regional, Lubbock, TX.