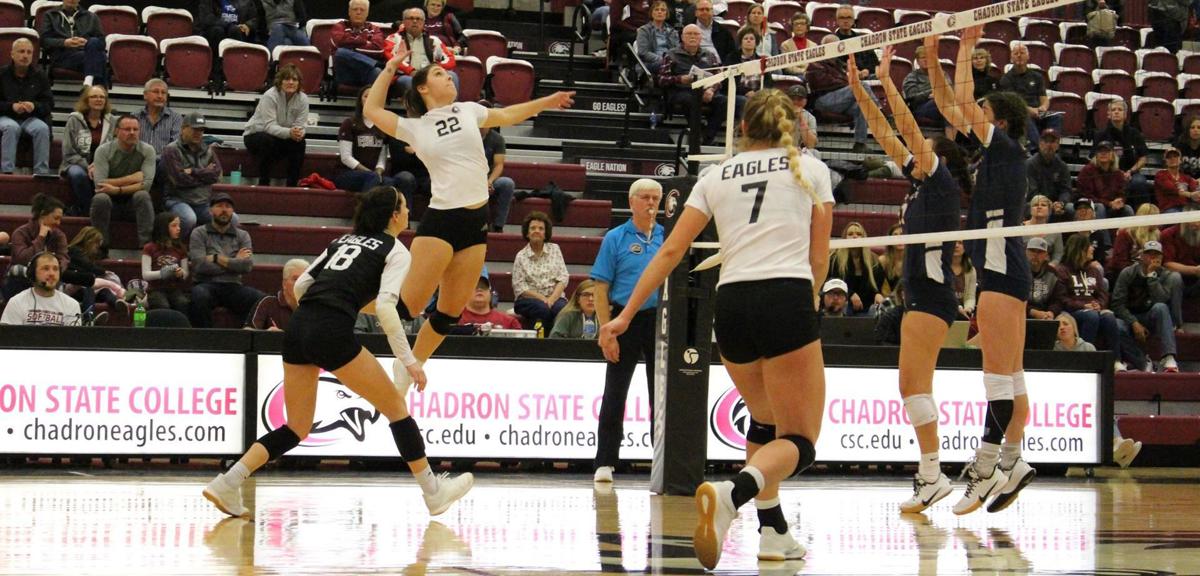 The Chadron State College volleyball team's season ended this weekend, as they fell to MSU-Denver in three sets on Thursday and Friday night.
Thursday, the team fell 25-15, 25-13, 25-13. On Friday, the Roadrunners won each set 25-10, 25-18, 25-13.
In Thursday night's match, the Eagles were out hit by MSU-Denver .394 to .070.
Shelby Schouten and Rylee Greiman tied for a team high six kills for CSC. Schouten hit .200 to lead the pair.
Setter Tori Strickbine finished with 13 assists.
Ashton Burdit led the Eagles with 19 digs to be the only one in double-figures for CSC. Chandler Hageman had a team high two blocks.
Kayla White led the Roadrunners with 16 kills. Rylee Hladky and Avaline LaI both finished in double digits with 12 and 10 kills, respectively. Lai hit a team high .563.
Joli Sadler had 25 assists while Jessa Megenhardt had 23.
Caiden Rexius and Hladky each had double digit kills. Rexius finished with 21 and Hladky had 15. Ember Canty had a match high four blocks.
You have free articles remaining.
Chadron State started every set with a lead Friday night. They led 3-2 in set one, 2-0 in set two and 1-0 in set three. In set one, MSU-Denver responded with a 15-0 scoring run.
The Roadrunners led 18-17 in set two, but scored seven of the next eight points to win. In set three, MSU-Denver opened on a 7-1 run to win.
In the match, the Roadrunners outhit the Eagles .383 to .058.
Chandler Hageman and senior Kelly Murphy led CSC with six kills. Hageman hit a team high .286. Setter Tori Strickbine had 19 assists.
Senior libero Ashton Burditt finished with 14 digs, being the only Eagle with double-digits. Hageman led the team with three blocks.
Avaline Lai was the only player in the match with more than 10 kills, recording 14. She hit .542. Ember Canty, who had seven kills, hit a match high .778 attack percentage.
Joli Sadler had 23 assists to lead the Roadrunners. Jessa Megenhardt followed closely behind with 15. Caiden Rexius had a match high 18 digs, while Lai had three blocks.
IMG 8737 - Head Coach Jennifer Stadler hugs Kelly Murphy while honoring her on senior night
IMG 8767 - Senior Ashton Burditt records a dig during Friday nights match.
Assistant SID l Chadron State College