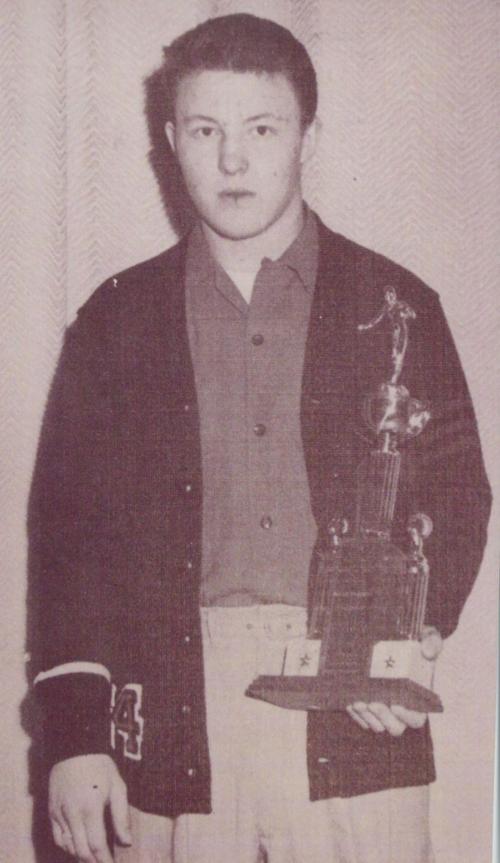 Floyd Coleman's obituary in the Chadron Record this fall said he played football while attending Chadron High School, but it did not mention that he had earned all-state honors or his teammates voted him the Cardinals' top player when he was a senior in the fall of 1953.
Since only 29 of the hundreds of Cardinals' football players through the years have been tabbed full-fledged all-staters, it seems he deserves some additional attention even if it's been 67 years since he received the honors.
Coleman, who was about 5-10, 160 pounds and played guard on both offense and defense in high school, also earned a letter on the 1954 Chadron State College football team, but apparently did not play for the Eagles again. However, he graduated from CSC in May 1958 with a Bachelor of Science in Education Degree while majoring in math and physical education.
It's known that Coleman then taught and coached at North Platte and Culbertson, Neb., and Thornridge High School at Dolton, Ill., but learning much more about him proved difficult.
Even those who were his high school football teammates say they know almost nothing about Floyd's life after he left Chadron and seldom saw him after he retired from teaching and returned to Chadron something like 20 years ago.
His son, Zorn, who is a physical therapist living in Indiana and was in Chadron for his father's graveside services, admitted that he did not know his dad had been a high school football standout and said they had not had a lot of contact through the years.
The Rev. Russ Seger, who conducted the services, never met Coleman. Seger said Zorn told him his parents parted when he was a child and there were times when he didn't see his father for several years.
In other words, Coleman was something of an enigma, or a mystery man. But he must have been an outstanding football player, or he wouldn't have become an all-stater or been voted the best player on the team and one of the top two in the Northwest Nebraska Conference.
His Chadron State transcript also reveals that he got good grades in college, graduating in the upper one-fourth of the class. He earned 13 A's and three B's as a senior.
Coleman was born Sept. 22, 1936 at Whitney. His parents were Guy and Mary Coleman. Guy died Oct. 10, 1952 at age 71 and Mary died Jan. 7, 1982 at age 80. Guy's obituary called him a retired rancher and says the family moved to Chadron in 1951, a year before he died. Both Guy and Mary are buried at Greenwood Cemetery in Chadron.
There were eight children in the family. Floyd and his twin sister, Florine, were the youngest. Both graduated from Chadron High in 1954. Floyd died on Nov. 14 at Crest View Care Center after a short stay there. He was 84 and also was buried at Greenwood Cemetery.
Prior to going to Crest View, Coleman had resided in the Blaine Hotel Apartments for something like 20 years, but was pretty much a loner.
John McDowell, an excellent running back on two outstanding Chadron High football teams in the early 1960s, lives in the Blaine Apartments, but said he never knew much about Coleman.
"I knew his name, but certainly never knew that he'd been a teacher or a football player," McDowell said.
The 1953 Cardinals, coached by Carl McManis, a Chadron State graduate and later an international leader in golf equipment manufacturing and sales, struggled. They finished with a 3-6 record, defeating Hay Springs, Bridgeport and Crawford, but lost to Bayard, Rushville, Gering, Gordon, Hemingford and Hot Springs.
Several of the losses were narrow ones. Rushville won 19-13, Gering 14-12, Gordon 13-12 and Hot Springs 14-6.
Three Cardinals made the Northwest Nebraska Conference's all-star team at the end of the season. The others were Bill McCarter, a running back who was playing his final season for the Cardinals, and Rex Jones, a junior quarterback and an all-stater the following year.
The story in the Chadron Record about the all-conference choices includes the following:
"Coleman, a senior, finished his grid career with a fine season in which he anchored the line and played outstanding ball (all) year long. His fiery, morale-boosting helped the Cards over several rough spots."
The story also notes that the conference coaches chose Coleman and Gordon quarterback Skip Capler as the players they recommended to the Omaha and Lincoln newspapers for all-state honors.
A couple of weeks later the Record reported that Coleman had earned first-team all-state honors on the Class B team selected by legendary Omaha World-Herald sports reporter Gregg McBride. It wasn't a splashy announcement, just a small item in the sports column written by Ted Turpin, a Chadron native, a senior at Chadron State at the time and later a newspaper publisher in Arizona. Turpin wrote:
"It is a fitting tribute to a fine player and carried immeasurable weight considering the unspectacular record of the Cards this year. Making all-state is doubly hard if you're not on a winning team."
Another story about that fall said both Coleman and Capler were on the Lincoln Journal's second-team all-state list.
The 1954 Chadron High yearbook devoted a full page to Coleman, showing him holding a large trophy, which, in that era, was given to the player who was voted as the Cardinals' best by the team members.
The caption below the photo says:
Each year a trophy is given to the outstanding football player on the team. This trophy is given by a father who wishes to remain anonymous. The award has been named "Dad's Trophy." This year a senior, Floyd Coleman, was chosen to receive the award. Floyd was an All-Conference football player in both the Northwest Nebraska and the Panhandle "B" conferences. He also was chosen All-State, first- team guard. Floyd gained all the respect due a good player not only from his own teammates and coaches but from the players and coaches of our opponents as well. Floyd was chosen by his teammates by popular vote."
John Miller, who was a sophomore on the Chadron High team when Coleman was a senior and was a standout the next two years when the Cardinals had a combined 15-1-2 record while being coached by Gordon (Fuzz) Watts, remembers matching up against Coleman often when the team scrimmaged in the fall of 1953.
"Coach McManus liked to have his young linemen go against the starters because he thought it helped get them ready to be starters," Miller recalls. "I played across from him (Coleman) a lot in practices. He was very quick and would hit you before you knew it. He was like an exploding bomb. He also was smart and always got his block when he was on offense."
Although it wasn't directly related to football, the Cardinals earned what the Chadron Record said may have been a state record in 1953.
Nine Cardinals became Eagle Scouts that fall. Apparently no other team in Nebraska had that many Eagle Scouts on their rosters. Coleman was among them. The others were Bob Crawford, Rex, Donnie and Ronnie Jones, Eric Pokorny, Louis Riemenschneider, Larry Smith and Denny Weaver.
Their scoutmasters were Frank Schnell and Clyde Wiley.