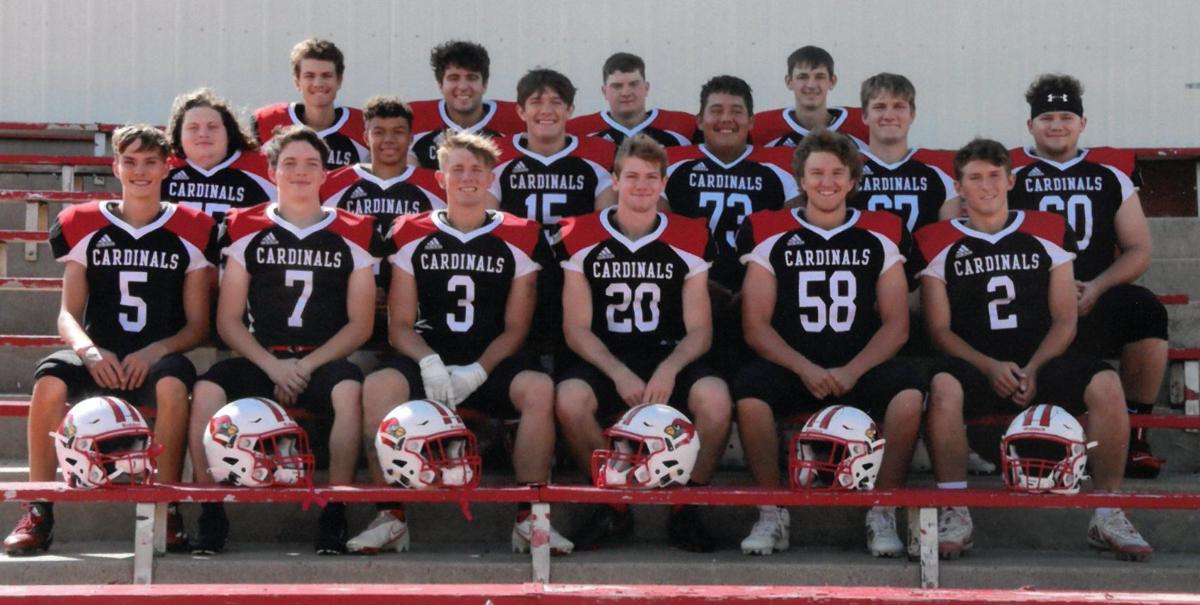 With an array of experienced players returning, the Chadron High School football team should be set for a significant season this fall. The action begins Friday night when the Cardinals visit the Chase County Longhorns at Imperial. Kickoff is set for 6 o'clock MDT.
The Cardinals finished at 6-3 a year ago, when, because of the COVID pandemic, they felt fortunate to have played seven of the eight regular season contests on the schedule and to advance to the Class C-1 playoffs. Many high school and most of the college gridiron teams in America weren't as fortunate.
The Cardinals will strive to build on their good fortune this fall.
While all-conference and honorable mention all-state choices Sawyer Haag and Aiden Vaughn graduated in May, this year's team returns most of its skill position leaders and has a half dozen seniors who will form perhaps the biggest lines in school history. Four of them, Jerek Anderson, Ryan Bickel, Cody Hall and Jesse Stolley, are slated to start on both sides of the ball. Classmates Garrett Ferguson and Shawn Schremmer will be in the rotations, according to current plans.
Beginning his 16th season as the head coach with a 94-49 record with the Cardinals, Mike Lecher and his staff have 16 seniors, 10 juniors, 14 sophomores and 17 freshmen on the 57-man roster.
Most of the seniors saw lots of action last fall. They include quarterback Justus Alcorn, who transferred from Rapid City Stevens without having much previous football experience and completed 69 of 122 passes for 954 yards and nine touchdowns while throwing just four interceptions.
With the four leading receivers returning, the Cards are likely to put the ball in the air often again. They are Seth Gaswick, who had 14 receptions for 337 yards; Dawson Dunbar, 18 for 257; Xander Provance, 11 for 230; and Michael Sorenson. 17 for 141.
Dunbar and Sorenson are seniors. Gaswick and Provance are juniors.
Provance missed about half of the 2020 season because of a shoulder injury. Having him available for the entire season would give the Cardinals a major boost on both sides of the ball, as all the coaches, players and fans are aware.
The Red Birds hope to have an improved ground game this fall. They totaled just 966 yards and averaged only 3.8 yards a carry while the foes rushed for 1,602 and nearly six yards a carry.
Besides being the busiest pass receiver, Dunbar was the Cardinals' leading rusher with 95 carries for 441 yards, followed by Haag at fullback with 68 totes for 368. Dunbar also completed nine of 17 passes for 177 yards while providing the offense with some deception.
Defensively, the Cardinals must replace their three leading tacklers from a year ago. They include Haag, the team leader with 74 stops, and runner-up Daniel Wellnitz with 71, both linebackers, and end Aiden Vaughn with 62.
Dunbar, who was fourth on the tackle chart last fall with 51, is will expected to help anchor the defense this fall as an inside linebacker. This will be Sorenson's third season as a starter in the secondary.
Track standouts Rhett Cullers and Chayton Bynes are among the new starters on defense.
In last year's season-opener, the Cardinals defeated Chase County 26-0. The Longhorns finished 0-7 for the season. They had just 27 players last year, but have 42 this year. Thirty of them are freshmen and sophomores. Two of the nine seniors are playing football for the first time. 
The returnees include Ryan Bernhardt, who will starting at quarterback for the third season. He showed courage last year against the Cards, carrying 18 times for 43 of their 52 yards. The Longhorns did not compete any of their nine passes and had two intercepted.
The Cardinals' probable starters:
Wide receivers—Seth Gaswick, 6-0, 184, Jr.; Michael Sorenson, 5-11, 172, Sr.; and Chayton Bynes, 6-0, 164, Sr.,-Dayton Richardson, 5-7, 156, Sr.
Tight end—Xander Provance, 6-4, 205, Jr.
Tackles—Cody Hall, 6-3, 225, Sr., and Jerek Anderson, 6-5, 255, Sr.
Guards-- Jesse Stolley, 5-10, 315, Sr. and Jamie McKinnon, 6-0, 194, Jr.-Garrett Ferguson, 6-1, 223, Sr.,- Shawn Schremmer, 5-11, 185, Sr.
Center--Ryan Bickel, 6-2, 275, Sr.
Running back—Dawson Dunbar, 5-10, 186, Sr.
Ends--Jerek Anderson, 6-5, 255, Sr., and Cody Hall, 6-3, 225, Sr.
Tackles--Ryan Bickel, 6-2, 275, Sr. and Jesse Stolley, 5-10, 315, Sr.
Linebackers—Rhett Cullers, 6-3, 180, Jr.; Dawson Dunbar, 5-10, 186, Sr.; and Ryan Vahrenkamp, 5-11, 175, Sr.
Cornerbacks—Chayton Bynes, 6-4, 180, Sr., and Michael Sorenson, 5-11, 172, Sr.
Safeties—Seth Gaswick, 6-1, 184, Jr., and Xander Provance, 6-4, 205, Jr.
Punter—Cody Hall, 6-3, 225, Sr.