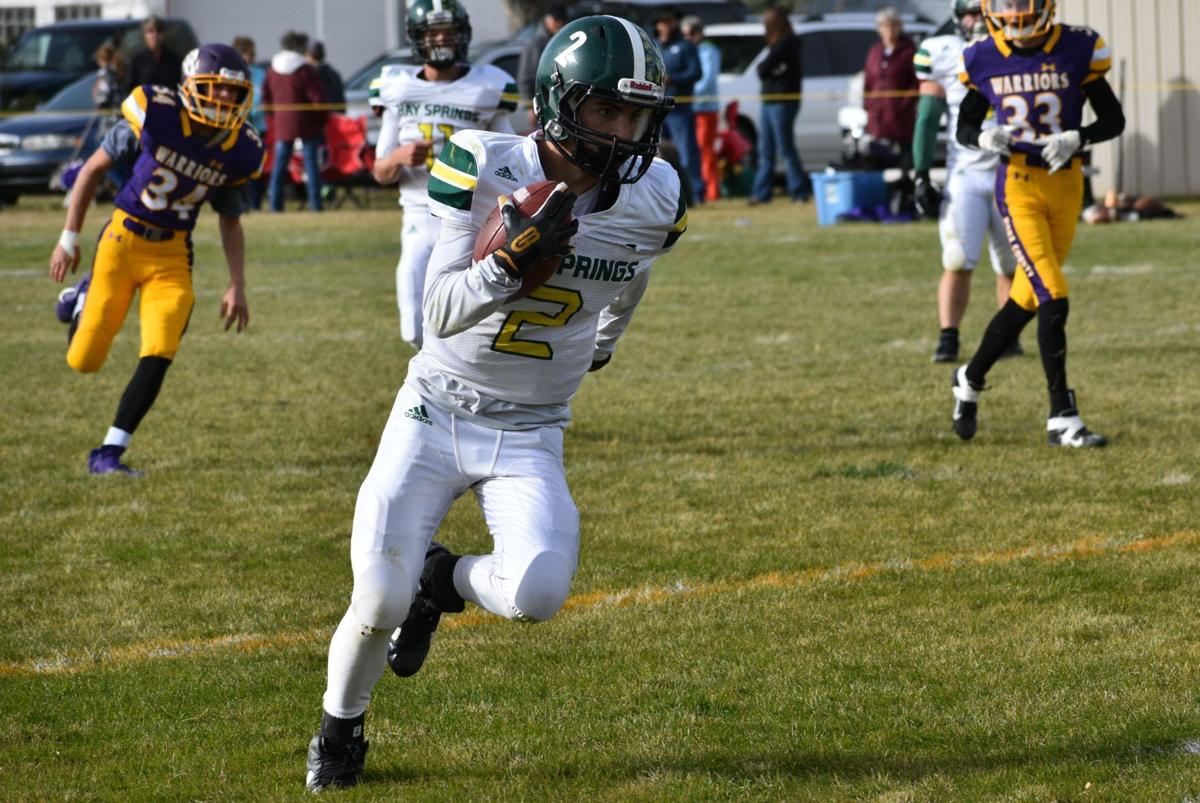 Only a handful of western Nebraska high school football players were named to the full-fledged all-state teams released on Sunday by the Omaha and Lincoln newspapers. Huskerland Prep announced its all-staters earlier. Only one player from the West was a unanimous choice by the three major selectors.
That's Mitchell's Rylan Aguallo, a 5-foot-8, 190-pound senior who carried the ball 236 times for 1,945 yards and scored 35 touchdowns. He's a Class C-1 first-team choice of the Omaha World-Herald and Huskerland Prep at running back. The Lincoln Journal State gave Aguallo a first-team berth as its C-1 offensive athlete.
Two Scottsbluff players were accorded Class B first-team nods, but their selections were not unanimous. Nick Maag, a 6-5, 240-pound senior, was a first-team defensive line choice of both the Omaha and Lincoln newspapers, but Huskerland Prep did not put Maag on its top unit. However, it gave the Bearcats' Tony Mokeac, a 6-4, 290 senior, a first-team berth as an offensive lineman.
The Lincoln Journal Star also tabbed senior Mario Garza of Alliance, a 6-3, 300-pound offensive lineman, as a Class B first-team choice. Garza is honorable mention on the World-Herald list. Huskerland Prep did not choose honorable mention all-staters.
Three players from the West were placed on the all-state teams selected by the Six-Man Football Coaches Association. They are wide receivers Javon Coyle of Potter-Dix and Tucker Ravenscroft of Cody-Kilgore along with Cactus Millar of Cody-Kilgore at defensive back. Coyle is a senior and both Cowboys are juniors.
Huskerland Prep also tabbed Hay Springs' Chaz Twarling as its Six-Man Diamond in the Rough for 2020. Editor Bob Jensen wrote that Twarling overcame a serious head injury to have an extremely productive senior season. His stats included rushing for 1,054 yards and 13 touchdowns to go with 28 receptions for 460 yards and six more TDs.
While playing defense, Twarling participated in 54 tackles, 14 of them for minus yards, including six sacks.
Two Panhandle coaches also were cited by Huskerland Prep for special recognition.
Dale Frerichs of Potter-Dix was the recipient of the Berens Coaching Award after guiding the Coyotes to a 9-1 record after they had not won more than a single game since 2014.
Jeremy Reimers of Bridgeport was named the Class C-2 Coach-of-the-Year after leading the Purple Bulldogs to a 7-2 record and a berth in the playoffs for the first time since 2015. The Bulldogs continued to play well even though one of its top players, Josh Warren, died in an auto accident at mid-season.
Besides Mitchell's Aguallo, two more players that Chadron High faced during the season received Class C-1 first-team all-state honors from all three of the selectors. They are linebacker Owen Geiken of Gothenburg and quarterback Heinrich Haarberg of Kearney Catholic. The Lincoln paper also placed Haarberg on its all-class second-team at quarterback.
Another Kearney quarterback who has committed to continue his career at Chadron State College, Preston Pearson of Kearney High, received all-state honors from both the Journal Star and Huskerland Prep.
The Journal Star tabbed Pearson as its Class A offensive athlete after he completed 99 of 177 passes for 1,285 yards and 15 touchdowns and also ran for 547 yards and nine scores last fall. Pearson was particularly impressive during the Bearcats' upset of defending state champion Bellevue West in the Class A quarterfinals. He threw for 219 yards and four touchdowns and rushed for 117 additional yards and two TDs.
Huskerland Prep named Pearson as its Class A first-team punter after he averaged 35.7 yards on 32 punts.
Following are the West's honorable mention all-staters who were named by either the Omaha or Lincoln newspapers or both:
Scottsbluff--Brett Hill, Alex Galindo, Tyler Smith, Chance Symons.
Mitchell--Garrett Hessler, Brock Knutson, Austin Thyne.
Bridgeport--Cole Faessler, Cade Loomis, Brady Newkirk, Anthony Staman, Braeden Stull, Josh Warren.
Bayard--Jack Kildow, Christian Leonard.
Leyton--Ethan Eckhardt, Scout Gamble, Brayden Haley, Zach Henke, Mason Reimers, Dominck Russ.
Cody-Kilgore--Peyton Sterkel, Parker Andrews.
Creek Valley--Oakley Hodges, Justin Ningen, Eli Schmid.
Hay Springs--Logan DeCoste, Chaz Twarling.
Potter-Dix--Jared Anton, Luke Kasten.
South Platte--Ryan Cheleen.