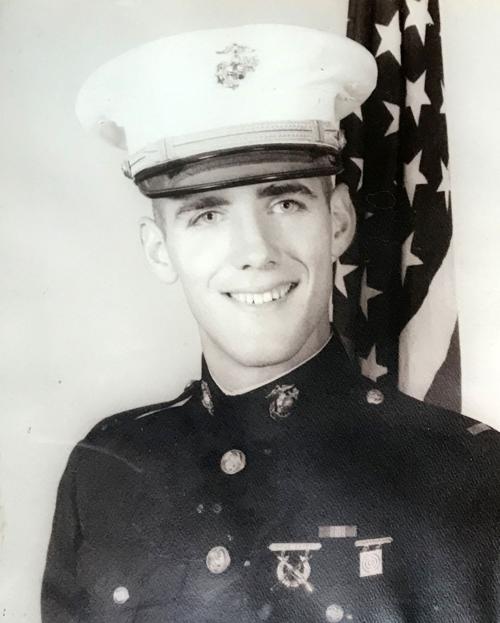 Bill Rice, an outstanding athlete at Chadron High School and the University of Montana who became a lieutenant colonel in the United States Marine Corps, died at his home in Beaufort, South Carolina, on Monday, November 9, a week prior to his 77th birthday.
Officially William Marling Rice, he was born in Chadron on Nov. 16, 1943 to David and Kathryn Rice. Among his many achievements was becoming an Eagle Scout in 1959. As a Chadron High senior in 1960-61, he was a starting end on the Cardinals' undefeated football team, the starting center on the Class B state championship basketball team and won the Class B high jump by clearing 6-foot-3 at the state track meet.
Rice played a major role in the Cardinals' basketball state championship, scoring 53 points in the three games in Lincoln. During the 73-60 win over Hooper in the semifinals, he poured in 24 points, including 14 at the free throw line to set a Class B state tournament record for most free throws in a game. He also scored 18 points in the championship game when Chadron edged Burwell 56-53.
After graduating in 1961 from Chadron High, Rice attended the University of Montana, where he majored in wildlife biology and earned three letters in basketball and four in track and field.
He excelled as a jumper for the Grizzlies and owned the school records of 6-7 ¾ in the high jump and 46-6 ½ in the triple jump when he graduated. He also long jumped 22 11 ½ and won all three events at a U.S. Federation Meet his senior year.
Listed as 6-foot-5, Rice started frequently for the basketball team as a junior and senior. In a story about his career, it was reported that because of his jumping ability, he had "the best two-handed backward dunk shot in the area."
Just prior to graduating in 1965, Rice was the recipient of the Grizzly Cup, which was presented to the most outstanding scholar-athlete at the university.
He also met Jackie Cooper, his wife for the past 55 years, in Montana, when she was attending Montana State-Billings.
Rice joined the Marine Corps in 1966, and served in Vietnam, the Philippines and Okinawa as well as on various U.S. bases. He retired from the Marines as a lieutenant colonel in 1989 and he and his family had lived in South Carolina since then.
In his memoirs in the Chadron High Class of 1961's fiftieth anniversary booklet, Rice, in part, wrote:
"Growing up in Chadron wasn't all bad. The scouting program, youth sports, hunting and fishing and adventures to C Hill and King's Chair and beyond. With school administrators like Mr. (H.A) Schroeder, Miss (Cleo) Bigelow and Mr. (James) Myers, along with teachers like Verne Lewellen, Curt Thompson, Margo Means and Frances Huls, how could we go wrong?"
Bill was preceded in death by his parents and brother David, who was the state high jump champion while attending Chadron High in 1957. Survivors include his sister Sandra Vassar of Bellevue, Neb., and brother Larry of Glenrock, Wyo., as well as his wife, their three children, Bill (Gina) Rice of Huntsville, Ala., Darin (Karla) Rice of Greenwood, S.C., and Kelly (Chris) Olson of Atlanta, Ga., and 10 grandchildren.
A memorial service is planned for the summer of 2021.
Be the first to know
Get local news delivered to your inbox!