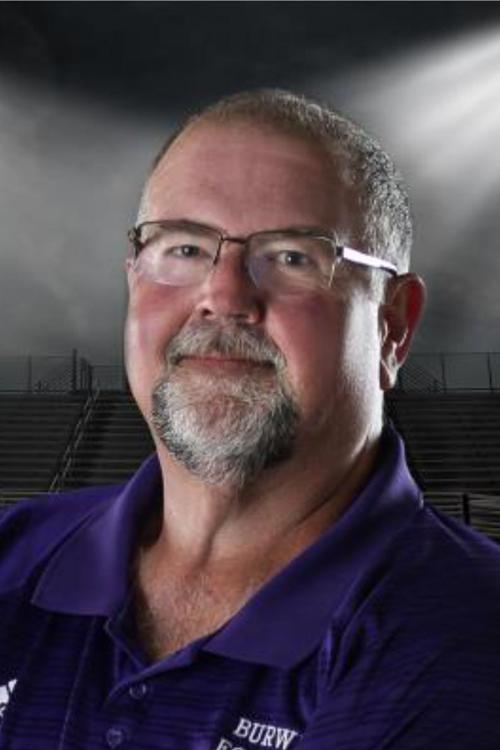 A big man with a big smile, former Chadron State College All-American wrestler Mike Max died June 1 in a Kearney hospital following a short bout with leukemia. His funeral was on Friday in the Burwell High School Gymnasium with an estimated 700 people in attendance.
Max was born Oct. 20, 1961 in Cozad, where he lived until the family moved to Burwell in 1978 when he was entering his junior year of high school. He was a two-time state wrestling tournament heavyweight champion and an all-state football player his senior year for the Burwell Longhorns.
He worked on the family farm until 1984, when both he and his younger brother, Darrin, enrolled at Chadron State College. Darrin joined the football team as a defensive lineman and Darold Andrist, the Eagles' wrestling coach, persuaded Mike to join his team.
He launched his college career in spectacular fashion, pinning all six of his opponents while winning the heavyweight championship at the Cowboy Open Tournament hosted by the University of Wyoming.
Max finished his freshman season in 1984-85 with a 27-5 record. Three of the losses were at the NAIA National Tournament where he won his first two matches before he was injured and lost or defaulted three of his final four matches. At the end of the season, Amateur Wrestling News selected him the nation's outstanding freshman heavyweight regardless of the schools' classification.
The following year, Max had a 31-5-2 record for the Eagles, won the Area Tournament heavyweight title and placed third at the National Tournament, where he won six of seven matches. One of his draws that season was by a 1-1 score with Jon Cogdill, then a freshman on the University of Wyoming team, later a three-time Western Athletic Conference heavyweight champion and a Chadron High School faculty member the past 25 years.
Following 1985-86 season, a 275-pound limit was placed on heavyweights. When the ruling was made, Max weighed about 125 pounds over the limit and was forced to sit out the next season. He was determined to wrestle again, lost the weight so he could compete again and returned to action in 1987-88.
Despite needing arthroscopic knee surgery during the season, he placed second at the Area Tournament and wrapped up his career with a 73-23-2 record. His .744 winning percentage ranks among the top 10 in Chadron State annals.
After graduating from CSC, he and his wife, Kelly, who had been a dormitory director while Mike attended CSC, moved to Ainsworth, where he taught industrial technology and coached football and wrestling for 17 years.
The couple moved to Burwell in 2007, where he was recognized as an outstanding industrial technology teacher and was an assistant football coach and co-head wrestling coach. During the past five years, the Longhorns reached the state football playoffs championship game four times and won two state wrestling championships.
Max was inducted into the Chadron State Athletic Hall of Fame in 2004 and the Nebraska Scholastic Wrestling Coaches Association Hall of Fame in 2006.
Survivors besides his wife include his brother, Darrin, who is superintendent of the Burwell Schools; a sister, Deb Timm of Cozad; his step-father, Ted DeHart; his mother-in-law, Sandy Carr, both of Burwell; plus numerous other relatives.