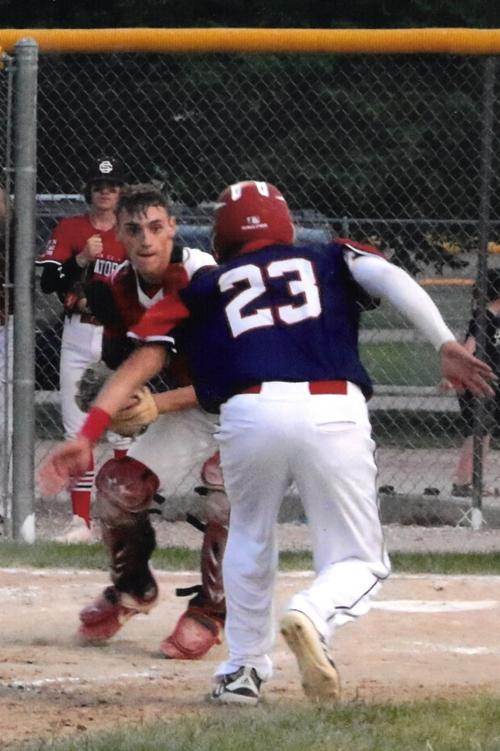 Gordon sent nine men to the plate and scored five runs on five hits in the fourth inning to take the lead it never relinquished last Thursday (July 7) en route to an 8-4 win over the Chadron First National Bank-Omaha Seniors in their final regular season game at Maurice Horse Field.
Chadron, which had won a 3-2 thriller over Alliance in its most-recent home game, managed just two hits off five Gordon pitchers. The Nationals drew seven walks and had three players hit by pitches in the sixth inning to load the bases, but still failed to score in that frame. Ten Nationals were stranded on the bases.
That Nats' only hit with runners on base was by one of the two Babe Ruth players Coach Bruce Parish was forced to put into the lineup because of a shortage of players due in part because of an injury to Collin Brennan.
Trevyn Jenkins, who also fielded everything hit his way at second base, sent a shot into left field to drive in the last of the Nationals' four runs in the third inning.
Garrett Reece opened the third with Chadron's only other hit. The next three Nationals also reached base, one on an error and two on walks. All four scored, but those were the home team's only runs, and the visitors answered with their five-run rally in the fourth.
The Regulators drew a walk and Tranton Starr singled to open the fourth. Chadron starter Cobie Bila struck out the next two Gordon players, but four of the next five Regulators reached base. Jace Freeseman and Adyon McDonald singled, Harley Bayne doubled, Louie Wilson walked and Teagan Snyder doubled.
After five runs had scored, Wilson was thrown out a home to end the uprising.
Gordon added two insurance runs in the sixth on a walk, McDonald's double and Wilson's single.
The Chadron team seemed "snake bit" at times. A prime example occurred in the sixth when the three Nationals were hit by pitches. Between the first and second plunks, Dawson Dunbar sent a shot up the middle. Gordon shortstop Logan Slama got his glove on the ball, which was deflect directly to McDonald, the second baseman, who threw to first for the out.
Slama also made the plays that retired the next two Nationals.
Gordon finished with eight hits, including two apiece by McDonald and Starr.
The Nationals also visited the Rapid City Playmakers on Monday, July 12, losing 14-4. Parish said his team struggled and no details were available.
Now 9-14 for the season, the Senior Nats will enter the Class B, District 7 Tournament at Alliance beginning Friday. With assistance from several Juniors who will have returned from their State Tournament, the Chadron entry could be a contender, although both Alliance and Gering have much better records.