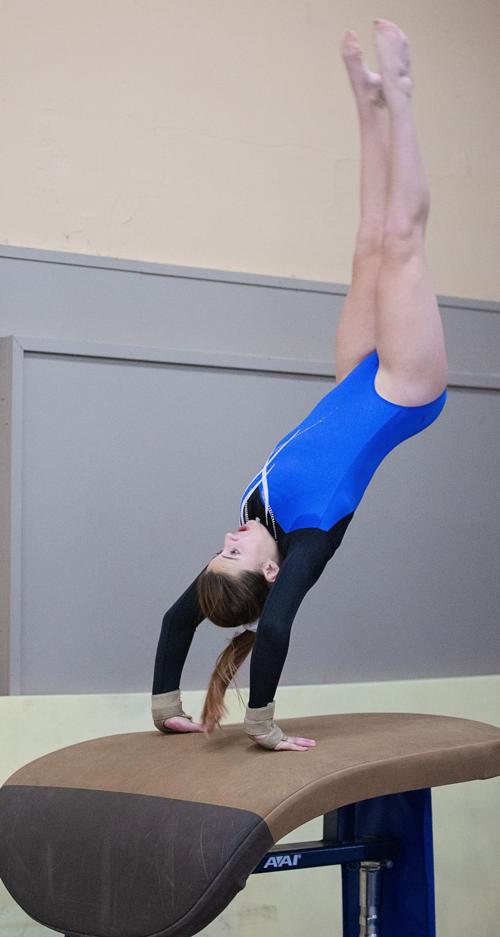 The majority of girls medaled at Panhandle Gymnastics first competition of the season, Remi Stuckey's Mountain Invitational in Casper on Nov. 7. Coach Ashley Strong said she's proud of the team for doing such a wonderful job.
The gymnastics studio closed for a few months starting in March due to COVID-19 concerns, prompting concerns that the girls would lose their strength and skills. As a coach, Strong has told them it takes nine days to get out of shape and 90 days to get back in shape, emphasizing the time it can take to relearn and redeveloping the core strength and skills required.
However, after reopening, Strong said the girls got right to work, and she felt confident enough in their abilities to bump them up a level. When competition time came around, she noted, all of the team competed better than they practiced.
This year's team has grown to 11 girls, ages 7-16, and increase of three members over last year, though Strong noted there was one lost team member. To keep up their skills, older members practice five days a week, three hours per day. Younger members typically only do three days of three hours each, and many high school students choose to come on their own.
In order to compete, Level 4 students must have 12-15 hours of practice per week; Level 3 students must have nine. Strong and her husband, Matt, work with the girls during their sessions, with her focus on beam and floor exercises, and his on bas and vault. A third coach, Payton Strong, also assists with the younger students. For those who come in on their own, there a printed drills for them to follow, and Ashley noted the girls know which areas they need work.
Students must be five years old as of May 31 to participate in gymnastics, and at age 5 they can compete at Level 2. At age 6, they can compete at level 3 and at age seven and up they go to Level 4. Ashley said the studio is just doing teams for Levels 3 and 4 this year, as well as some "pre-team" work to get the younger students ready to join teams next year. She further noted girls must be able to do a backhand springs and a kip to get up on the bars, before they can compete.
Ashley's also looking at starting a boys team, though she hasn't seen too much interest in it from the community. Boys regularly use the studio, she said, to keep in shape during sports off-seasons.
Though competitions for the gymnasts were scheduled for Nov. 21 and Dec. 19, they have since been cancelled due to COVID-19 concerns. The teams' next scheduled competition is the Sweetheart Invitational, Jan. 8 in Loveland, Colo.
Results from the Nov. 7 competition are:
Gymnast; Level; Vault; Bars; Beam; Floor; AA
Kiley Strong; 3-Remi; 7.3; 8.5; 6.6; 8.3; 30.7
Aster Tewahade; 3-Remi; 8.2; 8.35; 7.1; 7.8; 31.45
Teagan Yale; 3-Remi; 8.35; 7.7; 7.5; 7.75; 31.3
Cassie Nesheim; 3-Remi; 8.7; 5.3; 6.5; 7.7; 28.2
Isabelle Thiry; 3- Remi; 7.8; 8.1; 8.05; 7.4; 31.35
Elaina Strong; 4-Remi; 8.2; 5.2; 7.9; 7.1; 28.4; 84.05
Alexis Green; 4-Remi; 8.15; 7.35; 6.8; 7.3; 29.6
Crimsun Hotz; 4-Remi; 7.2; 4.8; 6; 8.05; 26.05