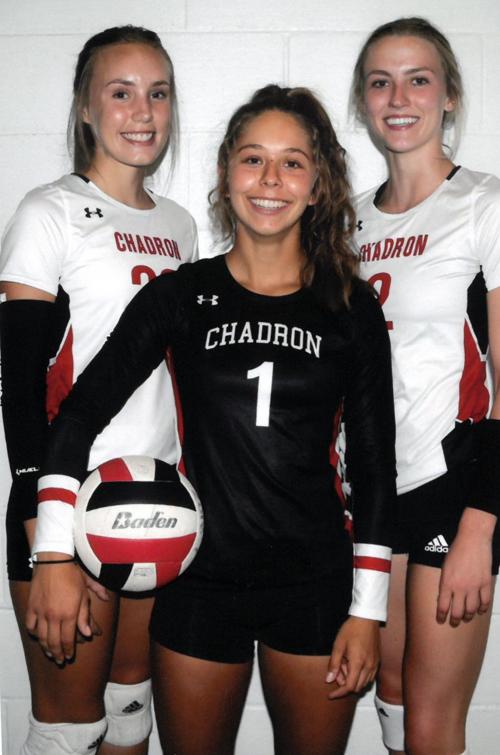 Chadron High School's long tradition of playing excellent volleyball is expected to remain intact this fall. Coached by Blakelee Hoffman and Shauna Golembiewski, the Cardinals will open their season by playing Mitchell at home on Thursday, Aug. 26 and also host Scottsbluff the following Tuesday night, Aug. 31.
The C team action will begin at 4 p.m., followed by the junior varsity match at 5 and the varsity contest at 6 in the High School Gymnasium.
The Cardinals, who have reached the state tournament eight times this century, had a 19-13 record last season. Three senior stalwarts are missing from that team—middle hitter/blocker Anika Burke, setter Emma Cogdill and back row specialist Jalei Marcy. Both Burke and Cogdill were all-Western Conference selections.
Burke led the team in both hitting and blocking while Cogdill was credited with 720 of the team's 790 sets.
Another senior, Kaycee Kittrell, played in all 84 sets and classmate Kaelee Long saw action in 74 sets while providing backrow depth.
There are 27 girls on this year's roster, led by three seniors who were among the team leaders a year ago. The roster also includes six juniors, nine sophomores and nine freshmen.
Coach Hoffman said she's been impressed by her team's work ethic this summer. She said a number of the players have increased their vertical jumps, agility and quickness by lifting weights.
The seniors are libero Jacey Garrett, a first-team all-conference choice last fall, and front row players Macey Daniels and Tatum Bailey, both of whom received all-conference honorable mention.
Garrett led the Cards in digs with 613 and had just 21 errors while receiving 481 serves a year ago. Daniels was second on the team in kills with 202 and Bailey, who missed the first 25% of the season because of an injury, had 173 kills and is expected to use her jumping ability to make some impressive blocks.
Two sophomores who saw lots of action last year figure prominently in this year's plans. They are Demi Ferguson, who had 108 kills, and Jaleigh McCartney, who is taking over as the primary setter this fall. McCartney had just 10 errors while delivering a team-high 401 serves her freshman year.
Junior Marlee Pinnt and sophomores Kenli Boeselager and Kaylee Sprock are slated to see considerable prime time action. Hoffman said Sprock, a southpaw, seems to be on her way to developing into an effective left side hitter.
The Cards will miss Burke's 6-foot-3 presence in the middle, but Bailey is 5-11 and Ferguson, McCartney and Sprock are all 5-10. Daniels is 5-9.
Mitchell, the Cardinals' first opponent, finished with an 18-10 record last year while Scottsbluff was 10-17. Chadron beat both of them in last year's openers, but both matches went five sets. The Cards also defeated both of them later in the season.
The season schedule follows:
Sept. 2—at Gordon-Rushville, Sept. 7—at Alliance, Sept. 9—Gering, Sept. 14—Bridgeport, Sept. 17-18—at Gothenburg Tourney, Sept. 23—at Scottsbluff, Sept. 28—at Gordon-Rushville.
Oct. 1-2—At Twin Cities Tourney, Oct. 5—at Rapid City Christian, Oct. 9—Western Conference Tourney at Mitchell, Oct. 12—at Sidney, Oct. 16—at Valentine Tourney, Oct. 21—Alliance, Oct. 23—at Alliance Tourney, Oct. 25-26—at Subdistrict Tourney, Oct. 30—at District Finals.