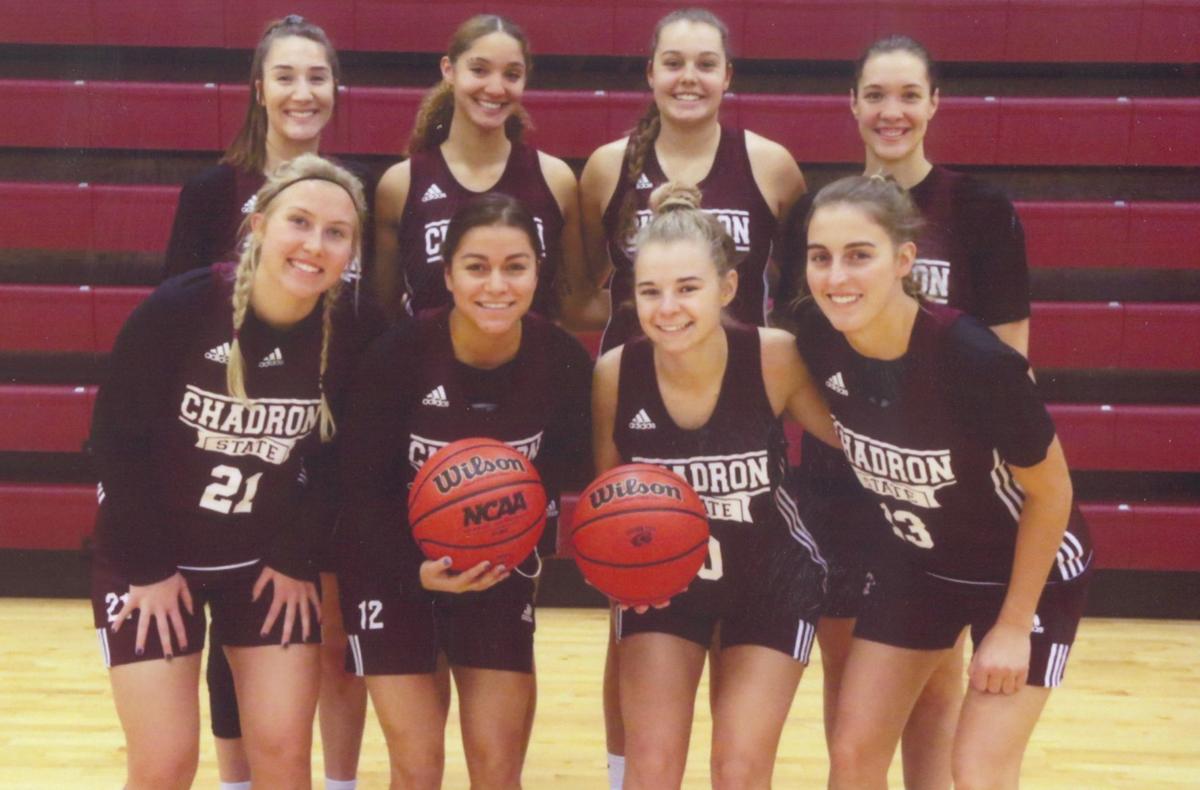 "It's time for us to play." That's Chadron State College Women's Basketball Coach Janet Raymer's assessment of her team's situation following about a month of preparation.
The Eagles are due to tip off this Sunday, Nov. 22 at 4 p.m. against Colorado Mines in the Chicoine Center. The Regis Rangers will follow the next night starting at 5:30. The men's teams from those schools will play the second game both dates, but no fans will be admitted either night because of potential problems with COVID-19. The contests will, however, be shown by accessing the CSC website.
Now in her fifth season as the head coach, Raymer is optimistic about her team. She believes each of the seven returnees can be more productivity than a year ago and is expecting must help from the six newcomers, particularly over the course of the season.
"They've been eager to practice, have worked hard and are focused," the coach said. "I think the returning players are improved and we have a better support group this year."
The only senior on the roster is 5-10 Taryn Foxen, who led the Eagles in shooting at 43.3 percent from the field and in scoring at 16.3 points a game while going over the 1,000 mark in career points last season. Her offensive skills, stamina and determined play are impressive.
The Eagles have four juniors who were on the roster a year ago when they won seven games. They are starting point guard Jori Peters along with Bailey Brooks, Rachel Henkle and Brittni McCully. The coach gives each of the juniors kudos for their work ethic.
The other returning players are sophomores Jordan Morris and Tatum Peterson, both 6-foot-1 post players.
The newcomers include community college transfers Daeja Cross and Hazel Fui, both 5-10, and freshmen Shay Powers, Olivia Waufle, Delaney Klosterman and Meaghan Ross, a redshirt last season.
Both transfers have missed several practices because of health-related issues, but are expected to be ready for the opening games. Raymer said while it may take the newcomers some time to adjust to RMAC's physical play, they appear to have a bright future.
The Colorado Mines women's team is expected to be an excellent one since all five starters from last year's 18-11 team are on the roster again.
That features 6-foot junior Delani Pinto, last year's RMAC Player of the Year and an Academic All-American when she averaged a conference-high 19.9 points that included 77 treys and she was 159 of 184 for 86.4 percent from the free throw line. No other RMAC coed made more than 113 free shots.
Another force for the Lady Orediggers is 6-2 center Courtney Stanton, who averaged 11.2 points and sank 74 of 85 free throws for 87.1 percent. In addition, Liz Holter was 11 of 13 from the field while tallying 26 points in the first game versus the Eagles last year.
Mines won both games last season, 93-49 in Golden on Jan. 25, but only by 63-57 in Chadron two weeks later. Pinto tallied 31 points in the first game.
The Regis women are returning their four top scorers from last year's 10-16 team. The leader is 5-11 Whitney Jacob, who averaged 14 points and 9.7 rebounds. The second leading scorer at 8.7 points a game was Emma Sterkel, a 5-6 senior from Gering.
The Eagles and Rangers played just once last year with CSC winning 69-65 behind Jori Peters' career-high 24 points while playing all 40 minutes in Chadron.
CSC Women's Basketball Roster 2000-01
**Bailey Brooks, Douglas, Wyo.; 5-6; Jr.
+Mardaeia Cross, Rockford, Ill.; 5-10; Jr.
***Taryn Foxen, Aurora, Colo.; 5-10; Sr.
+Hazel Fui, Logan, Australia; 5-10; Jr.
**Ranchel Henkle, Newcastle, Wyo.; 5-10; Jr.
Delaney Klosterman, Rapid City, S.D.; 5-7; Fr.
*Brittni McCully, Mullen, Neb.; 5-7; Jr.
*Jordan Morris, Apple Valley, Minn.; 6-1; So.
**Jori Peters, Mitchell, Neb.; 5-4; Jr.
*Tatum Peterson, Glenwood Springs, Colo.; 6-1; So.
Ashayla Powers, Longmont, Colo.; 5-10; Fr.
Meagan Ross, Sidney, Neb.; 5-5; R-Fr.
Olivia Waufle, Thornton, Colo.; 5-8; Fr.
Head Coach: Janet Raymer.
Assistants: Stacy Girard, Jessica Lovitt, Haley Urbatsch.