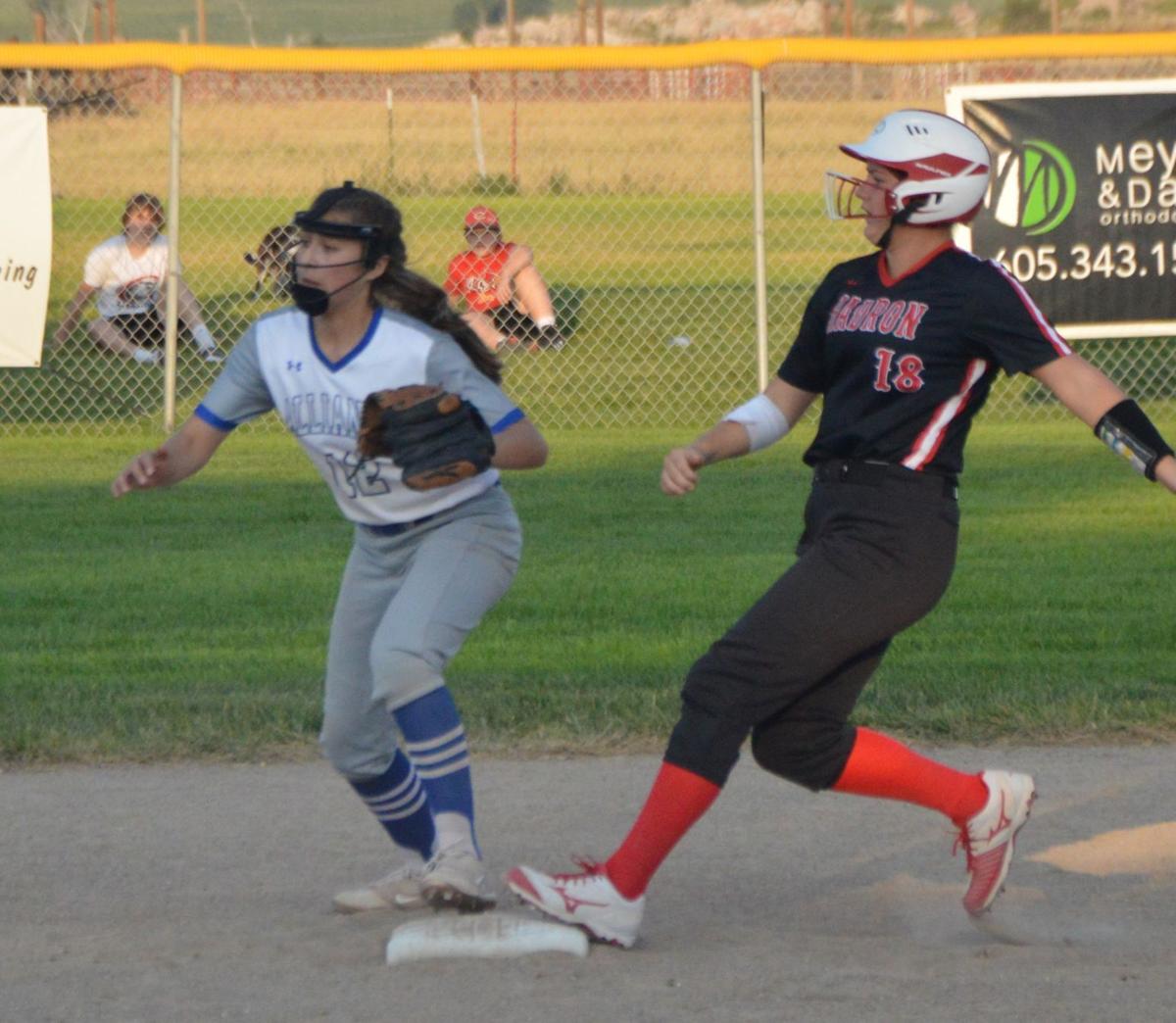 August 31's game against Scottsbluff was a heartbreaker for the Chadron Cardinals, as they lost the lead late in an 8-3 defeat.
Scottsbluff was able to get on the board first, in the bottom of the first inning, on a fly ball to center from Brady Laucomer.
The second inning saw three up and three down for both the Cardinals and Bearcats, with both teams scoreless. Kinley Richardson's score in the top of the third tied things up at 1. The inning began with a line drive single from Kristin Rasmussen, though she was forced out on her way to second after a grounder from Richardson.
However, Richardson was able to advance on a steal at second on the initial pitch to Maci Rutledge, and on to third after a wild pitch. A hard grounder to right from Rutledge brought Richardson home to make it 1-1.
Aubrey Milburn was next up, and hit a grounder to left for a single, and another left grounder from Josie Downing loaded the bases. Demaris Kelso grounded out the next play, thought Rutledge was able to score, and Josslyn Pourier's line drive single on the next play brought in Milburn to give Chadron the lead at 3-1 going into the fourth.
Unfortunately, that's where the Chadron score would remain, as the Bearcats took advantage and scored three runs on a stolen base at the top of the inning. Adryana Rodriguez kicked off the run on a steal at home, while Tatum Heimerman managed to steal third and Aleigh Portneir grabbed second.
Angelica Anaya hit a grounder and was able to reach first on an error, and Heimerman and Portneir took advantage to score. Anaya moved on to second after a sacrifice bunt from Marly Laucomer, and brought the Bearcats ahead 5-3 on a double by Mariyah Avila. The final score for the inning came from Avila, who crossed home after a line drive from Alexandra Jones.
Both teams again went scoreless in the fifth inning, and Chadron saw no luck at the plate in the sixth with a ground out and two strikeouts.
Though out on her fly ball to center, Scottsbluff's Jones was able to bring in fellow Bearcat Marly Laucomer home to put the score at 7-3; Lacomer made it to first on a walk, then on to third with a line drive from Avila. The final score of the game came on Avila, who stole third then scored on a ground out from Brady Laucomer.
It wasn't an easy start for the Cardinals at the McCook Invitational this past Saturday. Though they took fifth with a 2-1 record, their first game saw them falll 10-3 to Gering. Chadron was able to get on the board in the top of the first when a Gering error brought in Richardson, who had singled on a line drive, then advanced on a ground out from Rutledge and a hard grounder from Milburn.
The Bulldogs tied things up in the bottom of the inning, however, after a Gianni Aguilar managed to score on a fly ball fielded by Kristen Rasmussen.
The Cardinals second score came in similar fashion, as Sarah LeBere was able to score on a Gering error. LeBere was the first of two walks for the Bulldogs, with Kristen Rasmussen marking the second. A ground out from Kelso moved LeBere to third before the error from Gering's Brylee Dean gave her the chance to come home.
The score went unanswered by Gering, with Cardinals Rutledge and Kelso fielding two outs, and Kelso snagging a ground out.
Chadron advanced their lead by one in the third on a score by Milburn, who was walked but advanced on grounders from Pourier, LeBere and Kristen Rasmussen. Unfortunately for the Cardinals, it was their last run for the game.
Gering would tie them up again on runs from Jada Schluthaver and Jada Elsen, then quickly took the lead as Aguilar and Jessica Brown came in to put the Bulldogs up 5-3. By the end of the third, Gering extended its lead by four on scores from Brylee Dean, Allee Lohr, Nicki Todd and Haylee Harder.
It was a short time at the plate for Chadron in the fourth, with ground outs from Richardson and Milburn, and a fly out from Rutledge. Though the Cardinals were able to get a scoreless two outs on the Bulldogs, Gering managed a final run.
Holdrege looked ready to give Chadron their second loss of the tournament, as the Dusters went unanswered on four runs from McCartney Elliott, Faith Raburn, Jenna Gustafson and Shelby Furgison going into the bottom of the second.
But the Cardinals weren't ready to go home yet, as Lauren Rasmussen scored the first run for the Cardinals, subbing in for Downing after she was struck by a pitch. Rasmussen advanced with quick steals on the next two pitches, and made it home when Pourier got out at first on a dropped third strike.
Holdrege answered the run with two of their own from Raburn and Brooklynn Nelson, to advance their lead to 6-1 in the third. But Chadron was far from done as a seven-run rally gave them the lead.
Alisyn Swinney kicked things on a fly ball, and Richardson kept play alive on a grounder to put runners at the corners. Richardson was able to advance to second on a steal, and Swinney's quick steal of home put the score at 6-2 with eh Cardinals still trailing. Another steal, this time at third, by Richardson and a walk for Rutledge again filled first and third, and a grounder from Milburn brought Richardson in.
Rutledge was next to cross the plate, having advanced to third on the previous play and taking advantage of Holdrege errors. Milburn also seized the moment, having previously stolen second, to make a run for home and decrease the Cardinals' deficit to just one.
The steals just kept coming from the Chadron, as Lauren Rasmussen was able to steal second and third after a single. These quick plays made it that much easier for her to score and tie things up on a grounder from Pourier.
Chadron took the lead, and kept it for the rest of the matchup, when Averielle Sager — subbing for Pouier — also made steals at second and third. Kristin Rasmussen was walked, though a hard ground ball from Swinney bought in her two teammates to put Chadron up 8-6 in the third.
Holdrege was kept from scoring in the fourth, but the Cardinals were ready to extend their lead. Milburn took a walk and advanced to second on a Holdrege error, and later advanced to third and scored on a passed ball. Wild, who had made it to first on the pervious error, advanced to third on the same pitch. Another walk, this time for Downing, put Cardinals at first and third.
Wild scored on another passed ball, which also advanced Downing to third. A ground out from Pourier brought Downing in, putting Chadron at 11-6.
Holdrege managed another three runs in the fifth from Nelson, Kaeley Klein and Beyonka Garcia, but Chadron held on to its lead for the win.
In their second victory for the tournament, Chadron initially struggled but managed to get a lead against Alliance, a team they had seen an 11-2 victory against earlier this season.
Though both teams remained scoreless into the second inning, Downing started the Cardinals scoring run after a single put her on base and a triple from LeBere brought her home. LeBere was able to score on a passed ball, though a double-play from Alliance put a stop to the Chadron rally for the inning.
Chadron kept the Bulldogs scoreless again in the third, while extending their lead by one after Richardson singled, and later scored on a line drive by Rutledge. In the fourth Alliance was still kept from scoring, but Chadron managed one more. Downing hit a ground double, though Lauren Rasmussen subbed in for her. Another line drive from LeBere brought in Rasmussen for run number four.
The Cardinals win against Alliance was threatened in the fifth, when Bulldogs Hallie Schnieder, Brianna Huston and Diane DuBray all made it across home plate, but again the Chadron team was able to hold out and get the 4-3 win.
"Last year at this point our record was 2-7. We currently have a 4-5 record, defeating teams that we fell short to in past years".
"There is no doubt about it, we are a young team," Coach Jodi Hendrickson stated. "Confidence and the mentality that we can compete against these larger schools is going to take us far. We are learning to adjust at the bat much better and keep errors down."
"All three pitchers did their job today," she noted of the McCook tournament. "It is nice to have the option of mixing up pitches and speed to throw off the batter."
The girls were scheduled to swing at Gering Sept. 7, and will head to the Scottsbluff Invitational on Friday.