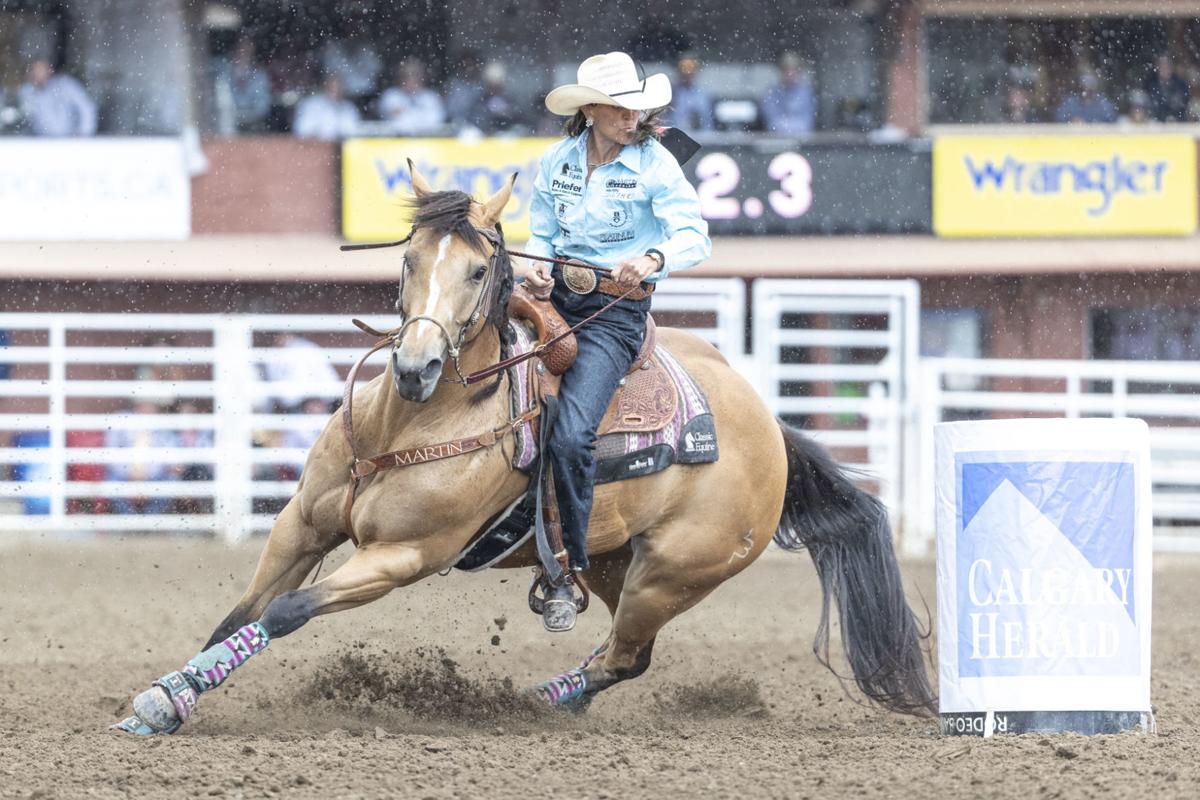 Oelrichs cowgirl Lisa Lockhart added another highlight to her already spectacular career Sunday, when she won the barrel race at the Calgary Stampede. The victory has a rich payoff-$100,000.
The triumph was a narrow - just one-three-thousandths of a second - over reigning world champion Hailey Kinsel of Cotulla, Texas, who had been in the lead most of the week.
Lockhart told reporters afterwards that she hadn't expected to win, but her decision to switch horses midway through the competition paid off.
Lockhart had ridden her faithful buckskin gelding, Louie, during their first three runs. He's the horse that for eight straight years had taken her to the Wrangler National Finals Rodeo in Las Vegas.
While Lisa and Louie's times were only a fraction of a second behind the leaders, they finished sixth once and fifth twice in the first three go-rounds. Lockhart felt she needed a little more horsepower and turned to Rosa, the buckskin mare that in 2018 carried her master to several big wins and allowed Lisa to qualify for her 12th consecutive trip to Las Vegas.
Rosa did extra well in Calgary. Their time on Friday was 17.210 seconds, good for second place in the fourth go-round. That put them in the first of two competitions on Sunday. This time Kinsel won again in 17.240 seconds and Lockhart was second in 17.250, Nellie Miller of Cottonwood, Calif., was third in 17.270 and Emily Miller of Weatherford, Okla., was fourth at 17.370.
That put the South Dakota cowgirl and her mount in the final four for the "winner take all" shootout at 3:30 p.m. This time, Lisa and Rosa completed the cloverleaf pattern in 17.116, Kinsel and her horse, Sister, were clocked in 17.119. Emily Miller's time of 17.194 would have won every other go-round, but she settled for third.
Nellie Miller, the 2017 world champion, couldn't keep up during this run, dropping to 17.402 seconds.
With the Calgary win, Lockhart is now second in the 2019 world standings, according to the Women's Pro Rodeo Association standings that were updated Monday, with earnings of $122,088.
Kinsel still has the lead with $130,891. Nellie Miller is third with $120,729. Emily Miller is fourth with $81,430.
In the past, half of the $100,000 prize at Calgary has counted toward the world standings that determine which 15 barrel racers qualify for the National Finals.
Lockhart also won the barrels at the Calgary Stampede in 2015.