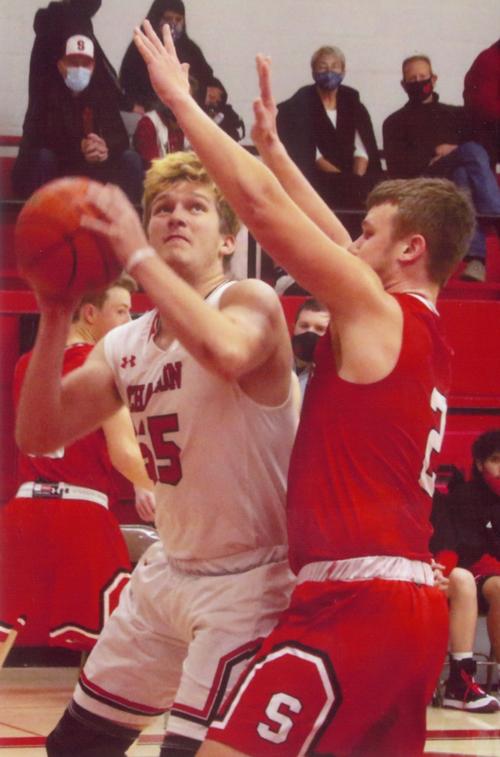 Much like the Chadron girls encountered, the Chadron High boys' basketball team was toppled twice last weekend largely because of the opponents' success in launching long bombs.
Scottsbluff sank ten 3-pointers during its 61-38 victory on Friday night in Chadron and Bridgeport buried a dozen shots from behind the arc while winning 57-44 on its home court Saturday night.
The Cardinals made three shots from afar in each game.
"We seemed to bring out the best in both of the teams," Cardinals' Coach Mitch Barry said. "After we'd played so well in the second half against Gordon-Rushville the previous week, I thought we had a chance to beat both of them. But they shot the ball better than we did."
The Cardinals are 3-3 entering a short Christmas break prior to hosting the Rotary Tournament next Tuesday and Wednesday.
While Scottsbluff had a 9-4 lead after three minutes had been played, the Cardinals were ahead 14-11 with 3:34 left after senior guard Brodey Planansky scored five points in about 40 seconds midway in the opening period.
The problem was, the Cards did not score again in the frame and trailed 21-14 when the buzzer sounded.
Unfortunately, the drought continued well into the second quarter, allowing the Bearcats to go on a 17-0 run. Thus the Bearcats were ahead 28-14 before Cody Hall came off the Chadron bench to score with 4:34 left. The Cards' only other points in the frame came on Justus Alcorn's 3-pointer with 2:10 remaining.
Scottsbluff was ahead 35-19 at halftime and outscored the hosts 20-10 in the third period to lead 55-29 entering the fourth. Neither team reached double figures in the final stanza.
The first three players in the Bearcats' scorebook all finished with 12 points to pace all scorers. They are juniors Tyler Haare and Trevor Schwartz and sophomore Kellon Harris. They combined for seven 3-pointers with Schwartz making three and the others a pair apiece.
Senior Izaiah Mendoza had five 2-pointers for 10 points.
The Scottsbluff coaches said the game was their "most complete" of the season. But their good fortune did not carry over. St. Thomas More beat the Cats 67-51 on Saturday night.
Alcorn led the Cards with 10 points. Gaurav Chima added nine and Xander Provance and Planansky six apiece.
The Cards made only 14 of 45 field goal attempts, including three of 18 from behind the arc, and were just seven of 16 at the free throw line.
Bridgeport knocked down four of its 3-pointers in the opening quarter while building an 18-8 lead. The Red Birds outscored the Purple Bulldogs 12-8 in the second period, but Bridgeport had another 18-point flurry in the third quarter, when the Cards tallied nine while falling behind 44-29.
Chadron edged the hosts 15-13 in the final stanza behind Alcorn's 10-point splurge that included a trey.
Alcorn was the game's top scorer with 20 points. Provance was next for the Cards with seven points to go with his game-best nine rebounds. Dawson Dunbar, Collin Brennan and Gaurav Chima all added five points.
Bridgeport, now 6-0 and the Panhandle's only undefeated team at the Christmas break aside from 3-0 Hay Springs, had balanced scoring. Luis Garza led with 12 points, Bayler Sterkel tallied 11, Brady Newkirk 10, Cole Faessler nine and Braxten Swires eight. All are seniors except Swires, a junior.
Both Sterkel and Faessler had three treys. Newkirk was seven of eight at the free throw line, where Bridgeport outscored the Cards 11-7. The Bulldogs were 12 of 29 from 3-point range and five of 19 on 2-point attempts.
Scottsbluff 61, Chadron 38
Scottsbluff--Tyler Harre 12, Kellon Harris 12, Trevor Schwartz 12, Izaiah Mendoza 10, Jackson Ostdiek 5, Tate Talkington 5, Kaeson Patton 5. Totals: 24 (10) 3-4 61 points.
Chadron--Justus Alcorn 10, Gaurav Chima 9, Brody Planansky 6, Xander Provance 6, Dawson Dunbar 3, Collin Brennan 2, Cody Hall 2. Totals: 14 (3) 7-16 38 points.
Scottsbluff 21 14 20 6 ---61
3-pointers: SB--Schwartz 3, Harre 2, Harris 2, Ostdiek 1, Talkington 1, Patton 1. Chad--Chima, Alcorn, Dunbar.
Bridgeport 57, Chadron 44
Chadron--Justus Alcorn 20, Xander Provance 7, Dawson Dunbar 5, Collin Brennan 5, Gaurav Chima 5, Brodey Planansky 2. Totals: 17 (3) 7-11 44 points, 27 rebounds.
Bridgeport--Luis Garza 12, Bayler Sterkel 11, Brady Newkirk 10, Cole Faessler 9, Braxten Swires 8, Jake Wallesen 4, Braeden Stull 3. Totals: 17 (12) 11-15 57 points, 19 rebounds.
Bridgeport 18 8 18 13 -----57
3-pointers: Chad---Brennan, Dunbar, Alcorn, all 1. BP--Sterkel 3, Faessler 3, Swires 2, Garza 2, Newkirk 1, Stull 1.