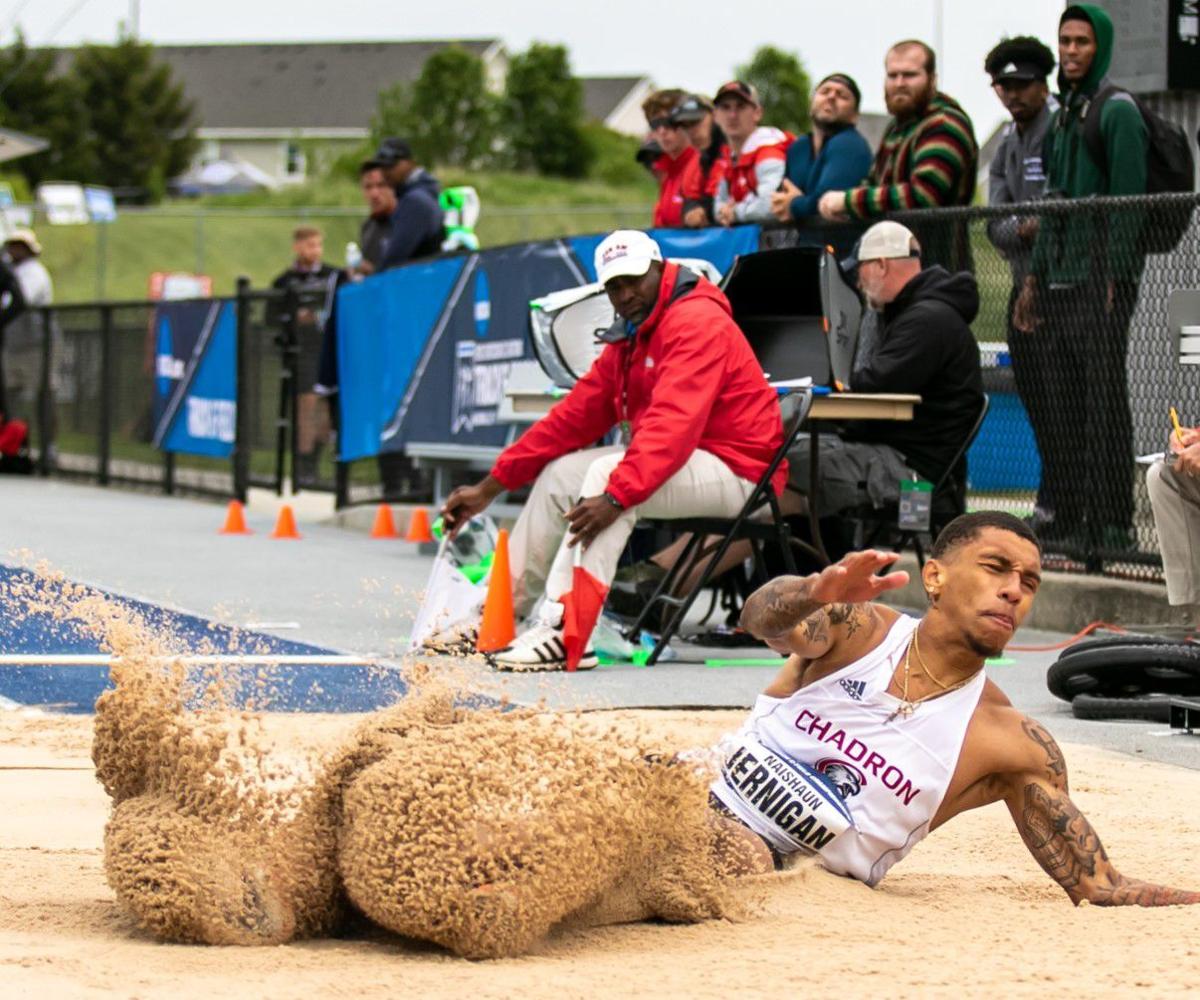 The outstanding performances by Chadron State College long jumpers on the national level continued Thursday, when the Eagles' Naishaun Jernigan won the bronze medal in the event at the NCAA Division II Outdoor Track and Field Championships at Allendale, Mich.
Jernigan jumped 7.65 meters, or 25-feet, 1 ¼ inches, while placing third. It's the fourth time at the last six DII National Outdoor Meets that Chadron State long jumpers have been among the medal winners.
Jernigan's best jump came on his fifth attempt. It was only a half inch shy of second place. He also went 24-10 on his final jump, which would have been good for fourth.
It's the second time this year that Jernigan has been an All-American long jumper. He also was eighth at the National Indoor Meet in March, when he went 23-10 ¾.
He qualified for this year's outdoor meet with a career-best 25-7 ¼ while winning the long jump at the Rocky Mountain Athletic Conference Championships in late April. His top jump Thursday was the second best of his young career, indoors or outdoors.
A native of Springfield, Mass., Jernigan arrived at Chadron State in the fall of 2019 after he'd filled out a questionnaire on line, liked the response he received from Head Coach Riley Northrup, visited the college and soon afterwards came halfway across the country to join the Eagles.
Since the outdoor track and field season was cancelled last spring because of COVID-19, Jernigan is a freshman in eligibility. He was the only underclassman to finish among the top six Thursday.
"The weather wasn't good. It was cloudy, chilly and windy," Jernigan said. "But I felt great and knew what needed to do. It wasn't too shabby."
Northrup said he was proud of Jernigan's performance.
"He's got a lot of talent and made the most of it today," the CSC coach noted. "I'll always be happy when one of my athletes has his or her second best mark of the season at nationals."
The long jump was won by Cameron Burrows, a senior from Tiffin University in Ohio, who dominated the event. His winning jump was 25-4 ¾. He also went more than 25 feet on his remaining five attempts. He previous career-best was 24-9 ½.
This was the first time Burrows had qualified for nationals in the long jump. He's also an outstanding high jumper who cleared 7-½ this spring and placed fourth in that event on Friday by going 6-11.
Second in the long jump went to Kizan David of Lincoln University in Missouri at 25-1 ¾. He won the event at this year's National Indoor Meet.
Chris Goodwin of Central Missouri placed fourth at 25-¾, followed by Trpimir Sikori of Angelo State in Texas at 24-7 and Dhanushka Sandaruwan of West Texas State at 24-4 ½.
Two entries from RMAC rival Colorado-Colorado Springs, Peter Ackah and William Ross, were 10th and 11th with marks of 23-10 ¾ and 23-9. It took a 24-foot jump to qualify for the finals.
Chadron State's previous All-American long jumpers outdoors are Damarcus Simpson, who won the event in both 2015 and 2016, and Isaac Grimes, who was fifth in 2018 and the runner-up in 2019. Eagles have now placed at both the National Indoor and Outdoor meets in the men's long jump five of the last six times they were held.
It's ironic that Jernigan would become a collegiate long jump standout in such a short time. He said he participated in that event only three times in high school and never went more than 20-3. However, the fact that he'd gone 47-5 in high school caught Northrup's attention.
"I knew he could jump when I saw how far he'd gone in the triple jump," the coach noted.
As a true freshman as CSC in 2020, Jernigan triple jumped 49-3 and long jumped 23-3 ½ while placing second in both at the RMAC Indoor Meet. His triple jump was the second best in Chadron State annals and qualified for the National Meet at Birmingham, Ala. He and sprinter Brodie Roden made the trip with Coach Northrup, but the action was cancelled just 24 hours before it was due to begin.
Shortly afterwards, the American Track and Field Coaches Association granted all the national qualifiers All-American status.
This past year, Jernigan opened the indoor season by triple jumping 48-4 and went 47-11 ¼ to place fourth in the event at the RMAC Meet. However, he tripled jumped just once outdoors, and he and Northrup decided to forego the strenuous event and concentrate on the long jump.
After his success at nationals last week, Jernigan said he hopes to qualify in both jumps in 2022.