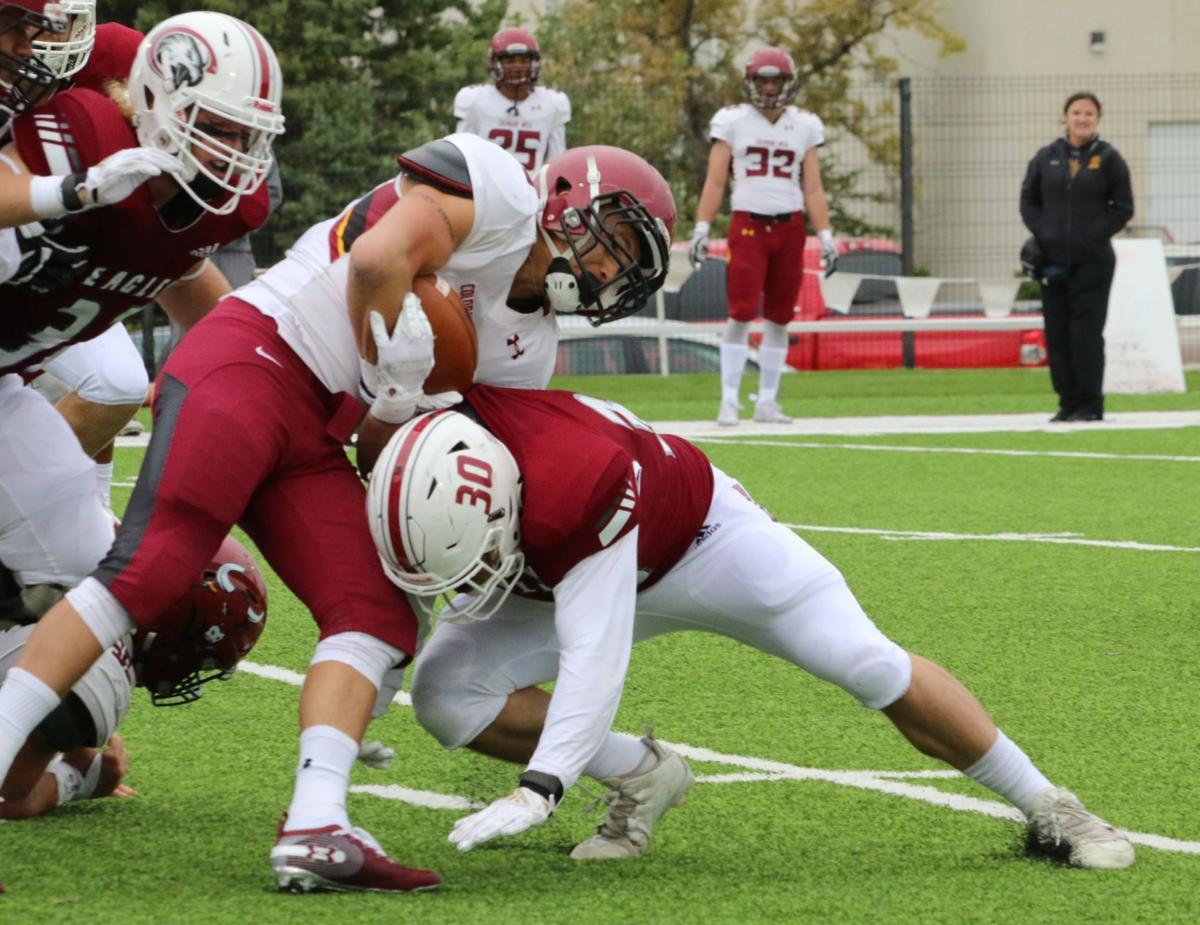 Each team scored just one touchdown in the first 60 minutes, but the Colorado Mesa Mavericks kicked a field goal in overtime to win a 10-7 defensive struggle over the Chadron State Eagles in Grand Junction on Saturday, when the NCAA Division II football season finally got underway.
Both yards and points were hard to come by. After a scoreless first half when the teams combined for just 229 yards and each missed two field goal attempts, Mesa scored early in the third quarter when tailback Jesse Rodriguez broke loose and couldn't be caught, going 61 yards for a touchdown.
Late in the first quarter, Rodriguez had galloped 63 yards, but that play started at his own two-yard line after a Chadron State punt was downed at the one. He was finally shoved out of bounds by cornerback Bobby Peale at the Eagles' 35. The second time Rodriguez got away, he went the distance.
Chadron State literally waited until the last minute to score its touchdown. The drive began at the Eagles' 42. Quarterback Dalton Holst completed passes of 17 and 14 yards to wide receiver Chad Mikelson, sandwiched around a pass interference call against Mesa.
After throwing two incompletions from the nine-yard line, Holst connected with freshman Jalon'e Rice on a shot in the end zone with just 25 seconds remaining on the game clock. Alberto Perez's kick from placement knotted the score at 7-7.
Mesa completed two passes following the ensuing kickoff, but the next two were incomplete as time expired.
The Eagles got first possession in overtime. Starting at the 25, their first two passes were incomplete, but Holst hit Mikelson with a 17-yard shot on third down. After an incompletion and a three-yard running play, Holst tried to hit a receiver coming across the front of the end zone, but Mavericks' cornerback Jordan Ellis intercepted the pass.
Mesa gave the ball to Rodriguez three times to open its overtime opportunity. The Eagles yielded just four yards, but Lucas Ruiz Diaz booted a 38-yard field goal for the victory.
It was the third time the Eagles and Mavericks had gone into overtime. CSC won the previous two and is now 6-5 in the extra sessions. The Eagles' last overtime was in 2013, when Lane Haller returned an interception 79 yards for the victory.
Eagles' Coach Jay Long said the loss was a heartbreaker, but commended his team for its effort and cohesiveness.
"It hurts to lose," Long said. "If it doesn't, you're not working hard enough. I'm proud of our effort and was glad to see our players fighting for each other. That's what got us into overtime."
The Eagles didn't have many other scoring opportunities unless someone got free on a long play. That almost happened following Mesa's touchdown, when sophomore Ethan Fray returned the ensuing kickoff 77 yards to the Mavericks' 16 before he was run out of bounds.
Now in four-down territory, CSC gained just two yards on a running play and had two incompletions before attempting a 31-yard field goal that the Mavericks blocked for the second time.
The Eagles had 17 first downs, one more than Mesa and had possession of the ball 33 ½ minutes, seven more than the hosts, but they rushed 37 times for only 58 yards and completed 21 of 41 passes for 208 yards. Mikelson led the receivers with seven catches for 82 yards.
The fact that Holst, who was under heavy pressure the entire game, was sacked four times for a minus 20 yards took away from the Eagles' rushing total.
Holst and Mikelson were the only skill position players who saw significant playing time for the Eagles a year ago. CSC played the game without senior Cole Thurness, the team's most valuable player the past two years.
In addition, veteran tight end Colt Foster missed much of the game after sustaining a serious foot injury
Led by Rodriguez's two long runs, he gained 173 yards on 22 carries, averaging less than two yards on his remaining 20 totes. The Mavs managed 228 yards rushing altogether while quarterback Aaron Howard completed 17 of 37 passes for 118 yards. Peele picked off one of Howard's aerials early in the game.
"Defensively, our scheme really worked," Long said. "We gave up one big play, but otherwise put together a really good game. Our defensive line needs a real shout-out. Their goal is to knock the offensive line back and force the ball to our linebackers, and that's what they did."
Linebackers Jeremiah Makhununiu and Travis Wilson were busy, all right. Each participated in 13 tackles. Senior end Brendan Hopkins took part in nine and Peele six to go with his interception and ability to catch up with Rodriguez during the Mesa back's 63-yard run in the first half.
Rushes, Yards 37-58 44-228
Punts, Average 7-38.7 7-40.6
Penalties, Yards 5-49 8-73
Chadron State 0 0 0 7 0 ----7
Colo. Mesa 0 0 7 0 0 ---10
CMU--Jesse Rodriguez 61 run (Lucas Ruiz Diaz kick)
CSC--Jalon'e Rice 9 pass from Dalton Holst (Drake Holdren kick)
CMU--Ruiz Diaz 38 field goal
Rushing: CSC--Justin Cauley 17-34; Jalen Starks 11-30, Ethan Fray 1-4, Dalton Holst 8-minus 10. CMU--Jesse Rodriguez 22-173, Aaron Howard 8-25, Justice Ogueri 8-19, Justice Jackson 4-12, Gavin Herberg 1-2, Isaac Maestas 1-minus 3.
Passing: CSC--Dalton Holst 21-41-1, 208 yards, 1TD. CMU--Aaron Howard 17-37-1, 118 yards.
Receiving: CSC--Chad Mikelson 7-82, Jahani Wright 3-25, Justin Cauley 2-27, Baylor Hayes 2-21, Jalen Starks 2-16, Jalon'e Rice 2-3, Montel Gladney 1-19, Jeydon Cox 1-9, Ali Musa 1-6. CMU--BJ Brown 4-27, Trey Windham 3-29, Isaac Salazar 3-26, Dagan Reinks 3-17, Sabastian Campbell 2-13, Jesse Rodriguez 2-6.
Punt Returns: CSC--Ali Musa 3-10, Chad Mikelson 1-0. CMU--Isaac Salazar 1-5. Kickoff Returns: CSC--Ethan Fray 2-77. CMU--Isaac Salazar 1-22.
Tackles: CSC--Jeremiah Makahununiu 4-9, 13; Travis Wilson 2-11, 13; Brandan Hopkins 0-9, 9; Bobby Peele 2-5,7; Jeremiah Gutierrez 3-3, 6; Brendan Brehmer 3-2, 5; Trevon Smith 1-4, 5; Kael Juelfs 1-4, 5. CMU--Greyson Matalus 4-10, 14; Bryant Bowen 3-9, 12; Damer'ren Mitchell 4-5, 9; Justin Allmond 2-7, 9.
Be the first to know
Get local news delivered to your inbox!