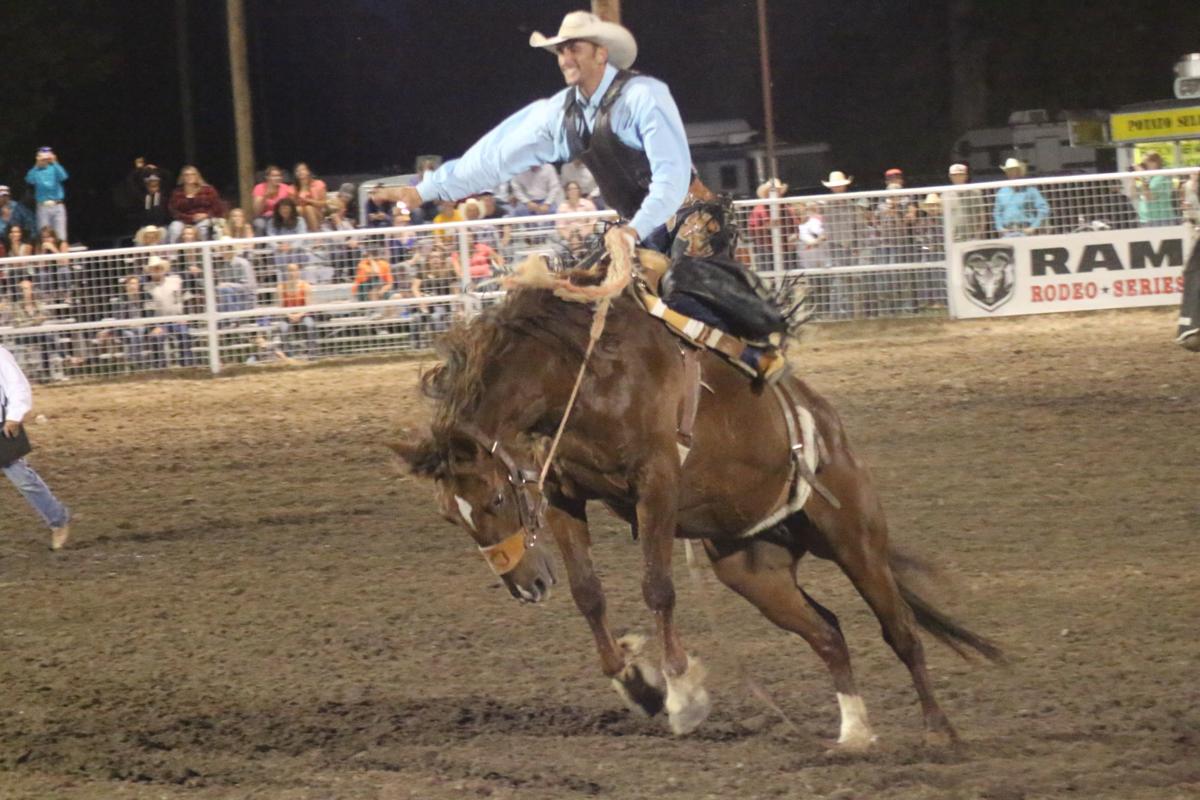 It's sad to say, but for the first time in nearly 75 years there won't be a rodeo in Crawford this Fourth of July. The decision was made in late May because of the potential of spreading the coronavirus and the rules and regulations associated with the worldwide pandemic.
Since there won't be any rodeo highlights or results to report this year, it provides the opportunity to trace some of the history of Crawford's biggest annual event and the only PRCA Rodeo in Nebraska during the Independence Day holiday.
Crawford is the appropriate host for a prestigious rodeo. The town sits in the shadow of Legend Buttes and not far from Crow Butte, giving it what is arguably the most scenic setting in the state. It also is next to Fort Robinson, once the nation's largest remount station where hundreds of cavalry horses were bred and trained to help preserve America's freedom from the 1880s into the 1940s.
With a great expanse of wide open ranchland surrounding the community, there were lots of cowboys, cowgirls, broncs and outstanding cow horses in the region. It was natural that a rodeo would be a stellar event in the community.
It's been said that Crawford nearly always had at least one rodeo a year dating back to its founding in the late 1880s. But according to a story released by the Pro Rodeo Cowboys Association in 2016, the idea of staging a Fourth of July rodeo grew out of a meeting in 1945 when a half dozen area residents were seeking a way to help fund a new hospital. Somebody suggested a rodeo might be the answer.
The next summer, the Hospital Rally Day Rodeo took place. The following year, 1947, the rodeo was moved to the Fourth of July, lights were erected in 1949 and after being called the Crawford Fair and Rodeo a few years, then Crawford's Fourth of July Rodeo, it became the Old West Trail Rodeo in 1981.
A parade, a queen contest, a youth rodeo, calf scramble and a brilliant fireworks display are accompanying attractions that help bolster the schedule. The latter will still occur this Saturday night, July 4, beginning at 10'clock.
Nearly always, at least 250 contestants from a dozen states compete in Crawford, often before or after they have been riding, roping and doggin' at a spate of rodeos to the north and west during what is popularly called "Cowboy Christmas," despite occurring in the middle of the summer. Friends and rodeo fans from miles around have turned out to watch the action year after year. The Old West Trail performance on July 4 generally draws at least 2,500 spectators.
Since it is one of his favorite events, here are some highlights of past Crawford rodeos that this reporter has collected through the years:
--One dates back to 1963, when Dee Hagemeister of Crawford and Patti Hamburger of Scottsbluff were crowned co-queens. Hamburger also won the barrel race and Hagemeister was the runner-up. Neal Allen of Hot Springs was the top money winner with $260 after winning the bareback riding and was third in the bronc riding. During Allen's career he often teamed with Dale Greenwood of Whiteclay to protect the bull riders at Crawford.
--Not all of the nation's top cowboys have rodeod in Crawford, but many have. Among the best was Chris Lybbert of Coyote, Calif., who was the rodeo's all-around cowboy three times over a 12-year span--1977, 1983 and 1989--while also placing among the top 10 in the PRCA all-around standings six straight years. Tom Ferguson of Miami, Okla., a six-time PRCA all-around winner, placed second to Lybbert in calf roping in Crawford in 1977. Also, Sylvester Mayfield of Fort Worth, Texas, an eight-time world champion tie down roper, as the event became known, won it in Crawford in '83 in 8.8 seconds. Believe it or not, another eight-time world champion tie down roper, Fred Whitfield of Hockley, Texas, entered it in Crawford in 2015 at age 57, but did not place. Don't fret for Fred. He won more than $3.2 million during his fabulous career.
--All three of the Etbauer brothers from Ree Heights, S.D., rode saddle broncs in Crawford in 1989. Dan was first, Billy tied for second and Robert was sixth. The trio qualified for the National Finals Rodeo in their pet event a total of 40 times.
--That's not the last time the Etbauer name has been prominent at the Old West Trail Rodeo. Trell Etbauer, son of Robert and Sue, won both the steer wrestling and the tie down roping at the 2012 rodeo to run away with the all-around honors. Two years later, his brother Shade was Crawford's all-around winner.
--In 2011, just a year after graduating from high school, Riley Pruitt of Gering won the tie down roping in Crawford in 8.2 seconds and two years later he won it again in 9.7. In 2019, Pruitt really fared well, finishing fourth in the world tie down standings with earnings of more than $225,000.
--Contestants with Chadron State College connections have frequently fared well at the OWT extravaganza. Grads J.C. Jensen of Arthur and Shelley Meter Spratt of Minatare and later Lysite, Wyo., were the steer wrestling and barrel racing winners in 1994. Jensen won the doggin' three times and was second once and third once during that era. More recently, Chasen Cole of Hermosa, S.D., placed second in the bull riding in 2016, then was the rodeo's top money winner the next year while winning the rugged event. Also in 2017, grad Brett Gumb of Burwell was second in steer wrestling in 4.3 seconds. And, last year, CSC senior Garrett Uptain of Craig, Colo., was the only contestant to stay aboard his bull for eight seconds and received the entire pot, $3,457.
--Crawford cowboy Lyle Welling did well in the saddle bronc riding several times. His placings have included third in 2015 and sharing second through fourth the next year. Also in 2016, Alliance High graduate Dean Gorsuch, a two-time world champion, won the OWT steer wrestling in 3.4 seconds. In 2017, Wade Sundell of Boxholm, Iowa, placed second in the saddle bronc riding and was the event's world champion the next year.
--Barrel racers also deserve some of the spotlight at Crawford. In the past decade, one of the best has been Kelly Yates of Pueblo, Colo. She won the event in 2011, tied for first with Jessica Routier of Buffalo, S.D., the next year, placed third in 2013 and won top honors again in 2014, when there were 54 entries in the event. Gordon cowgirl Deb Thompson has never won the barrels in Crawford, but came close last year when she was the runner-up in 17.71 seconds. That was 45 years after she had entered the event in Crawford for the first time. "I was 16 then and now those numbers are reversed," she said with a chuckle.
--A tip of the hat must go to those who have contributed their time and resources through the past 70-plus years to make the rodeo one of the region's most popular events. There's no way to list them, but Brooke and Jody Bass have been high on the list the past 20 years. They quickly point out that they need and receive lots of help to make the rodeo tick. Thanks to each of you.
Note: Much more about Crawford's rodeo history written by Moni Hourt is available on pages 249-255 of the community's 125th anniversary book.
Be the first to know
Get local news delivered to your inbox!