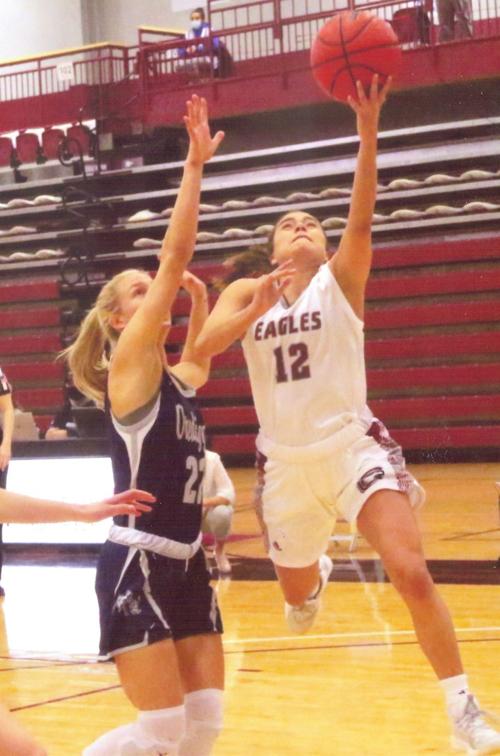 The Chadron State College women's basketball team outscored both of its Rocky Mountain Athletic Conference opponents from the field as it opened the 2021 portion of its schedule this week, but was overwhelmed at the free throw line and lost both contests.
Both Colorado Mines and the Eagles made 23 field goals Sunday night in the Chicoine Center, but the Eagles had nine 3-pointers compared to Mines' five, giving CSC a 55-51 margin in points from the field. However, Mines had a whopping 20-point margin at the free throw line and won 77-61.
The Orediggers were 26 of 35 at the charity stripe and the Lady Eagles just six of 10.
The story was about the same Monday night when Regis was the visitor. This time, thanks largely to eight of 16 shooting from behind the arc, the Eagles outscored the Rangers 54-47 from the field. But Regis was 24 of 30 from the line and CSC only 8 of 11.
The Eagles also had another huge deficit against Regis. The Rangers out-rebounded them 46-16, but because they went to the free throw line so often, the visitors took just two more field goal shots than CSC.
Coach Janet Raymer was pleased with how well the Eagles shot the ball in both games. They were 23 of 47 from the field against Mines, including nine of 20 from 3-point territory. However, CSC committed 20 turnovers, 13 more than the Orediggers.
Chadron State went 23 of 53 from the field for 43.4 percent against Regis, and the 8 of 16 from long range was gratifying. The Eagles also reduced their turnovers to 13, but the rebounding and free throw margins were too much to overcome.
With leading scorer Taryn Foxen on the bench with two fouls the entire second quarter against Mines, Jori Peters, the 5-4 point guard, provided much of CSC's offensive spark by pouring in 19 points. The Eagles also got a big boost from an up-and-coming guard, redshirt freshman Meaghan Ross.
The Sidney product was four of seven from the field, including three of six from long range for 12 points. Foxen also contributed 11. Mines was led by Liz Holter with 22 points and Denali Pinto with 18. Both sank seven free throws to boost their totals.
The Orediggers outscored the Eagles in every quarter while building their record to 6-1, but lost by two points at Black Hills State on Monday night.
Both Regis and Chadron State put four players in double figures Monday night. Grace O'Neill led the Rangers with 19, but Morgan Smith and Whitney Jacob were other culprits. Smith had 13 points and 12 rebounds and Jacob 11 points and 13 caroms. Tashika Burrell added 12 points, while going three of 12 from the field, but made all six of her free shots.
Transfer Hazel Fui came off the bench to sink six of eight field goal shots to lead CSC with 12 points. Both Foxin and Ross finished with 11 and center Tatum Peterson added 10, all in the first quarter.
Ross was three of six from 3-point land for the second straight game.
Regis led all the way after building a 27-17 first quarter lead. The Eagles tallied 15 points in each of the next three frame, and cut what had been a 17-point deficit in the third quarter to just eight with five minutes to go. However, the Denver team was 10 of 14 from the charity stripe in the fourth, while CSC never went to the line in that period.
The Eagles, now 0-4, are to play Westminster in Salt Lake City on Saturday night. The Lady Griffins did not make the trip to Chadron in December and have played just two games this season, going 1-1.
Colorado Mines 77, Chadron State 61
Colo. Mines--Liz Holter 22, Denali Pinto 18, Courtney Stanton 10, Megan Van de Graaf 9, Lorelee Stock 8, Ashley Steffeck 6, Reven Herrera 3, Shelby Nichols 1. Totals: 23-56 (5-8) 26-35 77 points, 35 rebounds, 7 turnovers.
Chadron State--Jori Peters 19, Meghan Ross 12, Taryn Foxen 11, Brittni McCully 6, Hazel Fui 5, Rachel Henkle 4, Bailey Brooks 3, Olivia Waufle 2. Totals: 23-47 (9-20) 6-10 61 points, 28 rebounds, 20 turnovers.
Colorado Mines 16 19 22 20 ---77
Chadron State 15 14 20 12 ---61
3-pointers: Mines--Pinto 3, Steffeck 1, Holter 1. CSC--Ross 3, Foxen 2, Peters 2, Brooks 1.
Regis 71, Chadron State 62
Regis--Grace O'Neill 19, Morgan Smith 13, Tashika Burrell 12, Whitney Jacob 11, Sydney Spreights 9, Sydney Daniels 1. Totals 22-55 (3-15) 24-30 71 points, 46 rebounds, 15 turnovers.
Chadron State--Hazel Fui 12, Taryn Foxen 11, Meaghan Ross 11, Tatum Peterson 10, Jori Peters 7, Britni McCully 5, Bailey Brooks 4, Shayla Powers 2. Totals: 23-53 (8-16) 8-11 62 points, 16 rebounds, 13 turnovers.
Chadron State 17 15 15 15 ----62
3-pointers: Regis--Jacob 2, O'Neill 1. CSC--Ross 3, Foxen 2, Peters 1, McCully 1, Brooks 1.