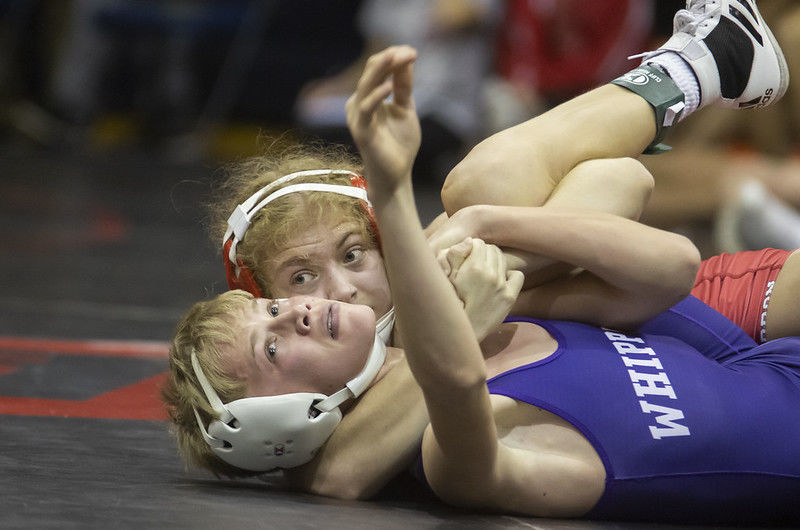 If you ask two high school state wrestlers what their offseason looks like they will look at each other unknowingly, and if one of those wrestlers is Paige Denke of Chadron she will respond with, "I don't really have an offseason I guess. Today I started training for Fargo and world team trials…I don't really stop, I don't think that you can stop. Last summer I was gone from Chadron for two months because I was training. I was only in town for two weeks." To Paige's right is another CHS wrestler in Daniel Wellnitz who says "Wrestling makes you a better person, and you don't realize it. You don't need a whole team to do well. You can be successful on your own."
Paige (106) and Daniel (145) competed in Class B at state wrestling last week, where each won a match. Daniel got his win in his first match of the day when he took on a 36-10 wrestler in Garrett Johnson of Platteview. Wellnitz was up 3-0 going into the third period after an escape and takedown in the second: "At that point, being up 3-0 in my first state match," Daniel pauses, "I was just really nervous because I wanted to win." Daniel did win. Starting in a neutral position he took down his opponent for a 5-0 victory.
Wellnitz, who leads the Chadron squad (by far) in escape points was asked about the art of the escape: "Escaping really hasn't been one of my best skills in years past. I worked on it a lot during the summer, and I've always had college coaches to try and hold me down…It's really important when it comes to bigger matches and all you need is one point." It was Daniel's 33rd match win on the year.
Paige, a 32 win wrestler, was no stranger going into the NSAA State Championships as she competed a few weeks prior in the NSWCA Girls High School Tournament: "I felt more pressure during the girls' tournament because I felt like I was expected to win that. I think if I wouldn't have pressured up in the last match it could have gone a different way." Denke lost her finals match to Flavia Nagatani of Kearney in a tight 5-3 match. "But I also took that as a learning experience not to pressure up at the boys' state tournament, and I think that helped my confidence out a lot.
You have free articles remaining.
Denke was pleased to be at state but she is quick to affirm her real aspirations: "State has never really been my main goal, it is a stepping stone. My goals are more of national champion and a world team member. I see myself climbing the ladder and I think it's great, but I know that there is more for me." Denke was in solitary company at state: "Getting there was a big deal for me because I was the only one. There is I think 896 wrestlers and I was the only girl."
Denke dropped her first round match in a 10-2 MD, but rebounded immediately against Carter Cline of Mount Michael in her consolation match. Entering the third, neither wrestler had scored a point and Denke started on bottom: "At that point I was determined to win a match. I was confident in my ability to get off bottom. I mean I've wrestled with multiple guys and they're all bigger than me, and I figured if I can get out from bottom wrestling with them, I can with this kid too."
For only being a junior in high school, Wellnitz has grasped the unforgiving nature of qualifying for state: "You can qualify one year and the next year you can just have a bad year. I wanted to go every year of course, but you've just got to keep working hard at it because last year ends…everyone wants to win state but just getting there is a big deal." Wellnitz nearly took his quarterfinal match to full time against 42-3 Sean Martin of Seward who ended up getting second in 145. Gathering another tough draw in the consolation bracket, Wellnitz lost to Joseph Orsi of Omaha Scutt who went on to claim fourth in 145. Even in the loss, Daniel still looks to the future: "It's important, because the more tournaments you go to the better competitors you'll see, and they will give you more respect because you competed at state."
Denke, who cites her main motivation as her father, used to go to practices all the time when he was a coach for federation. Once there started to be girls' wrestling, Denke says "I just grabbed onto it and I was ready to go." Denke is now motivating more than her fair share of young female wrestlers and was asked if she sees her influence as a positive or a weight: "I don't see it as a pressure. I can only see it as a positive. Because I feel like if I'm influencing those girls to try something new and be different then there is no way that could be a negative. As long as I go out there and do it for myself, and show them that you can be a girl and still be tough." Denke even went a little bit deeper: "I think it's blurred lines for some of the younger girls. Their friends may be against it because it's not feminine, but if you can make the division and they can be inspired by me making the division then I think it's great…It's built a lot of confidence and a self-image for me."
Wellnitz who started wrestling when he was five talks about his wrestling friends as being his main motivator: "You can beat them one week, and then they'll beat you the next. I always like wrestling more than the other sports because it's all on you. I'm seeing guys that I wrestled when I was five now winning state championships."
Denke and Wellnitz will both tell you that wrestling is more than just a sport. When asked to say what they love about the sport they will hesitate and search for the perfect, complex response, because it's very clear to them there is something near to perfection about wrestling, and they want to honor that. Paige finishes with "I think even with us we've grown closer this year just because we've been working harder and we knew our goals. There were other boys in the same room that had the same goals as us and they may have fell short, but they were still there supporting us and us them. That's not something you really have in other sports, it's just raw emotion."
Be the first to know
Get local news delivered to your inbox!