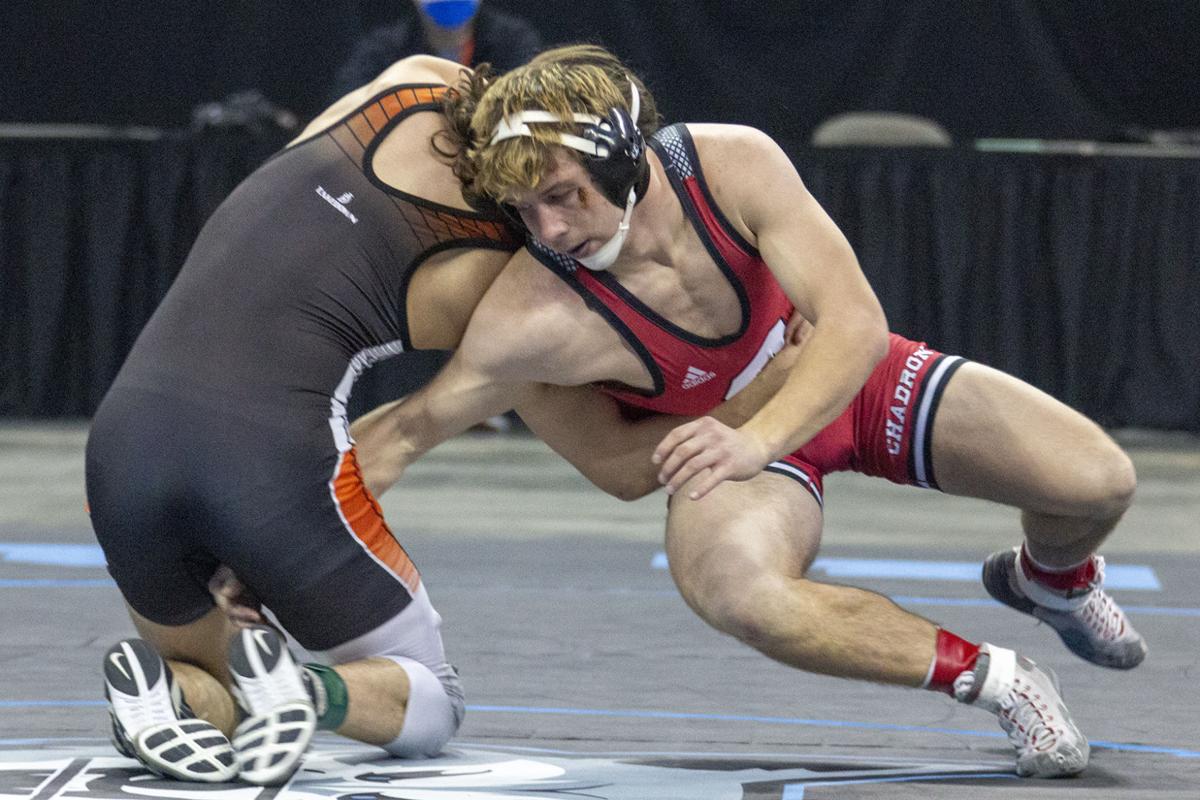 The Chadron Wrestling team faced difficult opponents at the State Championships last Friday and Saturday, with Daniel Wellnitz coming away with the only placing among the five, nabbing fifth place in the 152-pound division after a 5-2 decision over Cole Maschmann of Beatrice.
Wellnitz started out rough in Championship Round 1, losing by a 5-1 decision to Cooper Spaulding of Norris. But he came back strong, winning his next three matches.
Breckin Schoepf of Seward was pinned by Wellnitz in 1:39 during Consolation Round 1. Wellnitz then earned a 6-1 decision over Scottsbluff's Mychaia Moss in Consolation Round 2 before a 2-1 Sudden Victory in Consolation Round 3.
The Consolation Semifinals held another loss for Wellnitz on a 6-4 decision in favor of Jett Samuelson of Hastings, before his final round in the Fifth Place match.
Sawyer Haag had a strong showing as well, though he also took his first loss in the Championship Round with a 1:09 fall to Evan Connoyer of Waverly.
The first two consolation rounds meant victory for Haag, with a 4:34 fall over Brody Schmielau of Elkhorn followed by a 3-0 decision win over Joao Croteau of Norris.
Haag's final match was a close one, but ended with a 7-4 decision for his opponent, Jackson Phelps of Hastings.
Kade Waggener lost by a 4-1 decision to Braden Hanson of Blair in Championship Round 1, and by a 4:422 fall to Caleb Adkins of Plattsmouth in Consolation Round 1.
"We had three seniors that were up for the challenge of leading the team," Coach Jamie Slingsby stated, "and they did an excellent job all year long.
"[I'm] very happy for each of the seniors. Daniel Welllnitz was able to bring home a medal as a fifth place finisher this year after qualifying for state last year. Sawyer Haag was able to come back from an injury that ended his junior season and qualify for state before losing in the heartbreak round.
"Kade Waggener had a tough weekend but still ended his career as a state qualifier. Kade Waggener has improved immensely from his freshman year to senior. Kade split time from Junior Varsity and Varsity and had a losing record his freshman year to winning over 30 matches and qualifying for state his senior year.
"We were also able to send two lower classmen with Rhett Cullers and Ryan Bickel. As first year as state qualifiers they had a tough weekend but learned lessons and gained valuable experience that they can build from for next year."
Cullers lost by a 17-1 tech fall to Kobe Lyons of York in Championship Round 1, and by a 10-0 major decision to Jarrett Koch of Beatrice in Consolation Round 1.
Bickel lost by a 3:50 fall to Neil Hartman of Omaha Concordia in Championship Round 1, and by a 4:01 fall to Tyler Pavelka of Adams Central in Consolation Round 1.
"As for the season," Slingsby continued, "I feel very fortunate that we were able to complete the season without any COVID issues. Not a single wrestler from our team was ever sick or quarantined due to COVID. I believe that is a testament to not only the wrestlers but also the parents and families to follow the PPHD guidelines.
"We had a small squad and with a dual meet schedule that we were forced to follow due to the guidelines some people might not think we had a successful season. We had five wrestlers qualify for the state tournament, we also had five wrestlers with over 30 wins and four wrestlers with 15 pins or more on the season. We also had a girls state placer and a boys state placer. As a staff the team was a great group to work with. They came to practice everyday willing to work hard to improve without any complaints."
Champ. Round 1 - Cooper Spaulding (NOR) won by a 5-1 decision over Wellnitz
Cons. Round 1 - Wellnitz won by a 1:39 fall over Breckin Schoepf (SEW)
Cons. Round 2 - Wellnitz won by a 6-1 decision over Mychaia Moss (SCO)
Cons. Round 3 - Wellnitz won in 2-1 sudden victory over Diego Maganda (SCH)
Cons. Semi - Jett Samuelson (HAS) 32-8 won by a 6-4 decision over Wellnitz
5th Place Match - Wellnitz won by a 5-2 decision over Cole Maschmann (BEA)
Champ. Round 1 - Kobe Lyons (YORK) won by a 17-1 tech fall over Cullers
Cons. Round 1 - Jarrett Koch (BEA) won by a 10-0 major decision over Cullers
Champ. Round 1 - Evan Canoyer (WAV) won by a 1:09 fall over Haag
Cons. Round 1 - Haag won by a 4:34 fall over Brody Schmielau (ELK)
Cons. Round 2 - Haag won by a 3-0 decision over Joao Croteau (NOR)
Cons. Round 3 - Jackson Phelps (HAS) won by a 7-4 decision over Haag
Champ. Round 1 - Braden Hanson (BLA) won by a 4-1 decision over Waggener
Cons. Round 1 - Caleb Adkins (PLA) won by a 4:42 fall over Waggener
Champ. Round 1 - Neil Hartman (OMA CON) won by a 3:50 fall over Bickel
Cons. Round 1 - Tyler Pavelka (ADA CEN) won by a 4:01 fall over Bickel