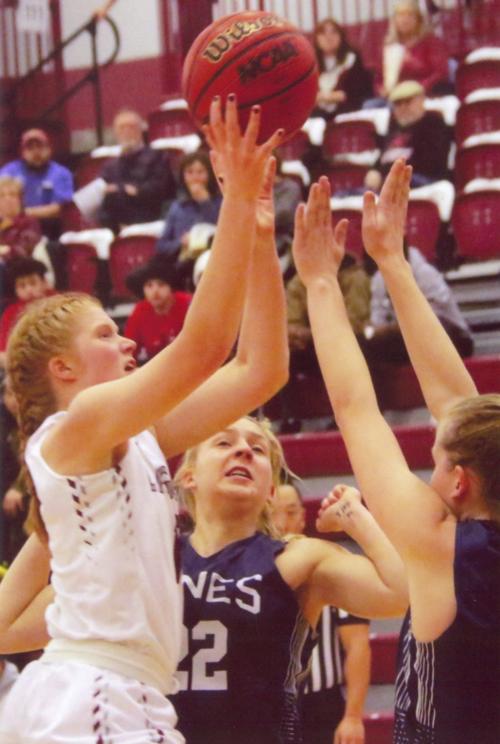 It was a rough weekend for the Chadron State College women's basketball team when it visited its two South Dakota opponents. The Eagles were outscored 49-16 in the first quarters, allowing the hosts to jump out to large leads and glided on to 28- and 23- point victories.
Friday evening in Rapid City, South Dakota Mines nailed nine of its 20 field goal shots, including six 3-pointers, in the first quarter while building a 24-6 lead and went on to win 73-45.
Saturday afternoon in Spearfish, Black Hills State hit nine of 18 shots from the field, four of them treys, and also forced 14 turnovers, en route to taking a 25-10 opening quarter margin and won 72-49.
Each of the home teams shot 43.3 percent from the field against the Eagles and they combined to make 26 shots from behind the arc. Chadron State made 33.3 percent of it field goal shots against Mines. The figure improved to 42.7 percent versus the Yellow Jackets, but CSC got off just 43 field goal attempts, 17 fewer than Black Hills, because the Eagles wound up with a season-high 32 turnovers.
And, the visitors hit just five of 25 long range shots in the two contests.
Sophomore Ryan Weiss, the team's leading scorer with a 16.4-point average, led the Hardrockers with 21 points on eight of 15 from the field, including five of 11 on threes. The hosts also had two players score 11 points and another add 10.
The Eagles had a bright spot. With her teammates struggling, sophomore Rachel Henkle, who had scored just six points all season, got a chance to play more. She made seven of her eight shots for a team-best 14 points. Senior Jessica Lovitt added 11, but two starters failed to score.
The game had another oddity. Just five fouls were called against the Eagles, and Mines made only one of its five free throws. CSC was 5 of 8 at the line, but was out-rebounded 47-31. CSC point guard Jori Peters was just two of eight from the field, but was the game's top rebounder with nine and had five assists.
Like South Dakota Mines, Black Hills had four double-digit scorers, paced by its top gun, Racquel Wientjes, with 13 points, nine of them in the first period. That's when CSC had 14 turnovers and took only five field goal shots. All told, the Yellow Jackets tallied 29 points off the Eagles' 32 turnovers.
Lovitt was the Eagles' only double-figure scorer with 14. Taryn Foxen, CSC's top scorer for the season with a 15.5 average, managed just seven points in each game.
Metro State upset Black Hills 65-55 on Friday night while the Lady Hardrockers threshed the Roadrunners 61-35 on Saturday for their ninth straight victory.
Both South Dakota teams are now 12-7, tying them for fifth place in the RMAC standings with three games to play. Colorado Mesa leads the league at 17-2, both Colorado Mines and Colorado Western are 15-4 and Westminster is 14-7.
You have free articles remaining.
The Lady Eagles are 5-23 overall and 3-16 in RMAC.
South Dakota Mines 73, Chadron State 45
Chadron State--Rachel Henkle 14, Jessica Lovitt 11, Taryn Foxen 7, Jori Peters 6, Bailey Brooks 5, Melisa Kadic 2. Totals: 19-57 (2-16) 5-8, 45 points, 31 rebounds, 15 turnovers.
South Dakota Mines--Ryan Weiss 21, Sami Steffeck 11, Naomi Hidalgo 11, Michaela Shaklee 10, Sydney Leeper 9, Molly McCabe 6, Cooper Courtney 3, Anna Haugen 2. Totals: 29-67 (14-33) 1-5, 73 points, 47 rebounds, 12 turnovers.
Chadron State 6 8 11 20 ----45
South Dakota Mines 24 18 13 18 -----73
3-pointers: Brooks 1, Foxen 1. SDM--Wiess 5, Steffeck 3, Leeper 3, Shaklee 2, Hidalgo 1.
Black Hills State 72, Chadron State 49
Chadron State--Jessica Lovitt 14, Jori Peters 8, Haley Urbatsch 8, Taryn Foxen 7, Rachel Henkle 4, Sam Hinkle 4, Bailey Brooks 2, Melisa Kadic 2. Totals: 18-43 (3-9) 10-14, 49 points, 22 rebounds, 32 turnovers.
Black Hills State--Racquel Wientjes 13, Danica Kocer 12, Abby Switzer 11, Ashlee Beacom 10 Morgan Ham 9, Niki Wyk 9, Kasse Hoyer 3, Alyssa Martinez 2, Raven Cournoyer 2, Cody Robinson 1. Totals: 26-60 (12-30) 8-13, 73 points, 29 rebounds, 18 turnovers.
Chadron State 10 10 12 17 ----49
Black Hills State 25 8 15 24 -----72
3-pointers: CSC--Urbatsch 2, Foxen 1. BHSU--Ham 3, Kocher 3, Switzer 2, Beacom 2, Wientjes 1, Wyk 1.
Be the first to know
Get local news delivered to your inbox!