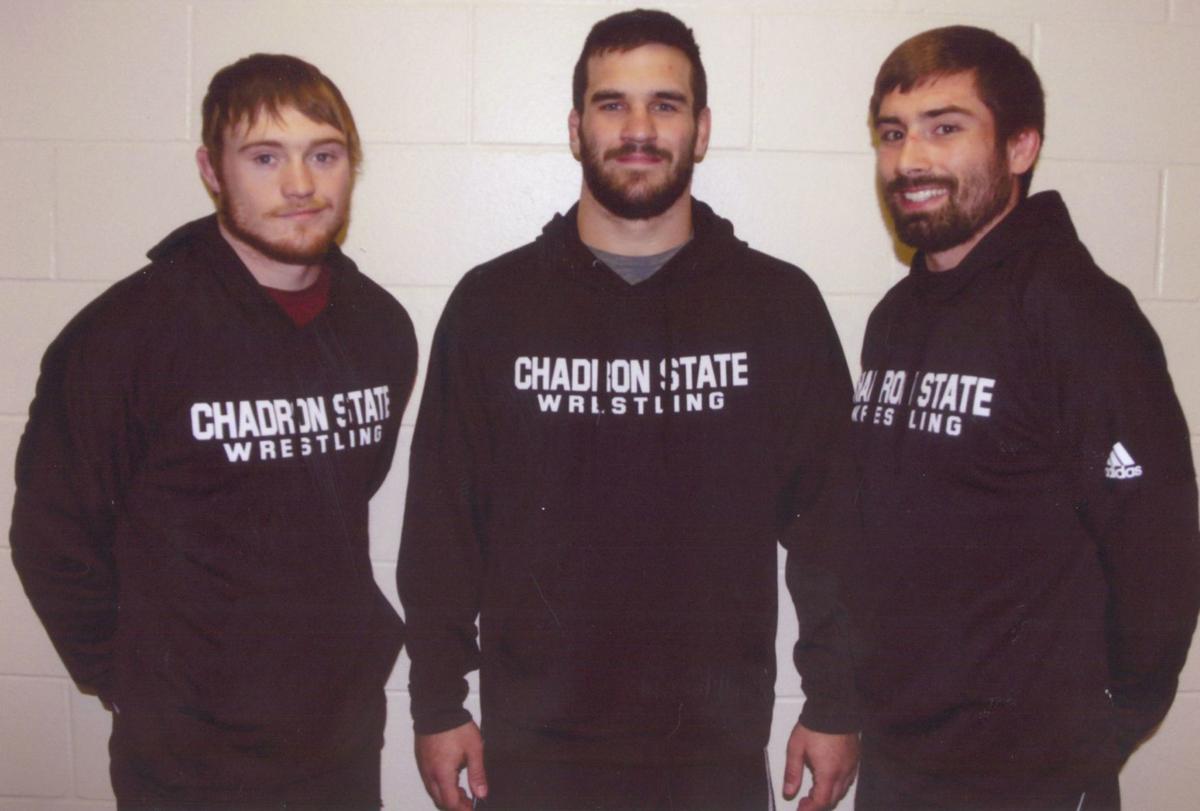 After the two winningest wrestlers in Chadron State College history are honored Thursday evening, three members of this year's team will begin competing Friday during the NCAA Division II National Championships in Sioux Falls. The tourney champs will be crowned Saturday night.
Brett Hunter, the Eagles' only two-time national champion and the current Chadron State coach, along with his CSC classmate Josh Majerus, will be inducted into the National Wrestling Coaches Association's Division II Hall of Fame during a dinner Thursday night at the Denny Sanford Premier Center. The tourney will be at the same location.
Teammates all four years at CSC, Hunter and Majerus are the first Eagles to be inducted into the Hall of Fame. Hunter won the 165-pound national title as a sophomore in 2007 and the 174-pound crown as a senior in 2009. He also is the school's winningest wrestler with a 133-32 record and is in his eighth season as the Eagles' head mentor. He's a Rushville native.
Majerus compiled a 117-43 record at Chadron State. That's the second highest number of wins in Eagles' history and he's the only three-time NCAA II Division II All-American. He placed second as a sophomore in 2007, won the championship in 2008 and placed fourth in 2009, always at 197 pounds.
Originally from Albion, Majerus now teaches and coaches wrestling at Twin River High in Genoa.
There are high expectations for this year's trio of national qualifiers, who will compete Friday and Saturday. Those Eagles are seniors Chase Clasen of Moses Lake, Wash., at 149 pounds and Wade French of Herriman, Utah, at 197 and junior Tate Allison of Moorcroft, Wyo., at 157.
They qualified for nationals by placing among the top three in their weight classes at the Super Region 6 Tournament in Kearney on Feb. 29. French was first, Clasen second and Allison third.
All three have made a special sacrifice in hopes of reaching the pinnacle of their sport. They've each shed at least 20 pounds and, in French's case, it's about 35. Following what Coach Hunter calls "our weight management plan," they've limited their food intake, its substance and also have run more and wrestled more teammates during practice sessions.
French has previously excelled at a national tourney. He was the 197-pound National Junior College Tournament champion while competing for Western Wyoming College at Rock Springs in 2018. He's also won the Super 6 Regional Tournament title both years he's been at CSC. He'll go to Sioux City with a 23-3 record. He finished 19-9 a year ago.
Clasen won the Super 6 Region 149-pound championship a year ago, but went up a weight to 157 this year before losing the pounds to bring him back to 149 near the end of the season. He had a 12-6 record as a 157-pounder and has won five of six matches at his new weight. While he may feel hungry at times now, he said he has more energy and quickness.
When Clasen decided to shed the weight to return to 149, Allison followed suit and dropped from 165 to 157. He was 13-7 while at 157 and has won five of his six matches and also received a forfeit as a 149-pounder, giving him a 19-8 record going to nationals.
Allison will undoubtedly receive the Eagles' most improved wrestler award this year. He was 7-14 last season.
Allison and French will help get the national tourney started. Both were randomly drawn into the "pigtail" portion of their weight class brackets. Those matches--two at each weight--will take the mats first Friday morning.
Hunter said the pigtail matches were added two years ago when each weight classes took on 20 contestants instead of 16 as in the past.
"The guys who are in the pigtail part will have to win three matches the first day instead of just two to become All-Americans, but they are given plenty of time to recover and may have gained some momentum by already having wrestled once that day," Hunter said.
French's foe in the pigtail match will be Jackson Ryan of Southwest Minnesota State. He has a 17-6 record. The winner of that match will take on No. 3 seed Nicholas Kee of North Carolina Pembroke, who is unbeaten in 16 matches this winter. Neither of last year's two top placers at 197 is back, but Nick
Baumler of Upper Iowa returns with a 29-2 record after finishing third a year ago.
Allison's pigtail opponent will be Walker Carr of Northern State at Aberdeen, S.D. Carr is 14-10. The winner will tangle with No. 1 seed Trey Grine of Tiffin College in Ohio, who has a 22-1 record after being the 149-pound runner-up last year when he finished at 23-3.
When Clasen takes the mat Friday morning his rival will be the winner of the pigtail match involving Juwan Edmond of McKendree University in Missouri and Chris Donathan of Tiffin. Edmund is 12-7 and Donathan is 26-5 and seeded fourth despite being a freshman.
Hunter said it's impossible to predict what's going to happen at the national tourney, and has a few of stories to illustrate his point.
Hunter notes that when Majerus was a sophomore and became the 197-pound runner-up, he entered the tourney with a 24-11 record, but pinned the No. 2 seeded entry, Derek Brunson of Pembroke, in his first match.
Also, in 2013, Hunter's first year as head coach, the Eagles' Perry McAfee of Casper lost his first match, but in the second round defeated Trevor Franklin of Upper Iowa, who had been the 131-pound national champion in both 2011 and 2012 and was the National Wrestler of the Year in '12.
That same year, Jordan Debus of Mitchell defeated Tanner Keck of Central Oklahoma 9-4. Earlier the season, Keck had overwhelmed Debus 19-4.
Bolstered by their big wins, both McAfee and Debus went on to become All-Americans.
Be the first to know
Get local news delivered to your inbox!