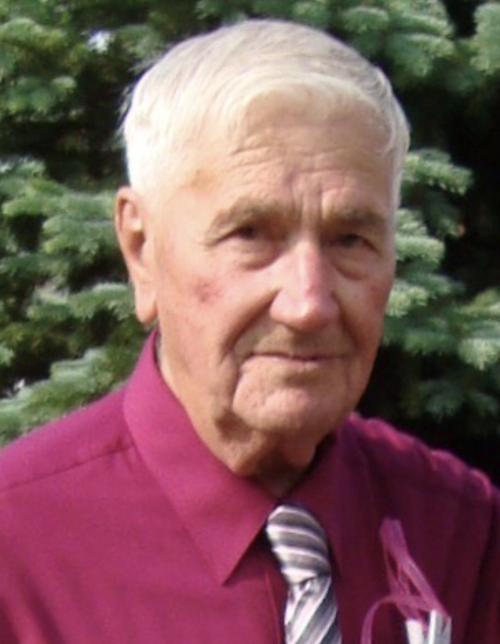 CHADRON | A memorial service for Leo J. Wiest will be held on Saturday, June 27, 2020 at 11:00 AM at Chamberlain Chapel in Chadron, Nebraska. Inurnment will be held at the Black Hills National Cemetery at a later date.
Leo John Wiest passed away after a brief illness, on June 10, 2020, in Chadron, Nebraska. He was born on June 25, 1925 in Wakpala, South Dakota, the eldest son of Jacob J. and Christine (Schwab) Wiest.
Leo attended school in Wakpala until he enlisted in the Marine Corps in December of 1943. During WWII, he served in Guadalcanal, Solomon Islands, and on Okinawa, where he fought in the battle of Sugar Loaf Hill. Leo was on Guam when the war ended and was discharged in 1946. Upon return from the war, Leo graduated high school and attended Northern State College in Aberdeen. Later, not finished serving his country, he joined the National Guard, where he was promoted to Platoon Sergeant.
Leo married Violet Walker on September 13, 1954 in McLaughlin, SD, where they made a home for many years and welcomed four wonderful children. During this time, Leo worked various jobs, most in the construction industry. Leo and Violet divorced in 1970 and he later moved to Nebraska, where he worked in a meat packing plant. He was blessed with one more child during this time. Leo enjoyed staying busy (you couldn't stop him), coffee with his buddies, telling stories, and loved taking his granddaughter, Raela Wiest, to and from school. He also loved playing the piano, and did so beautifully, never having had a lesson.
In addition to his parents, Leo was preceded in death by his sisters Alice, Virginia, and Muriel, his brother Larry, and his beloved daughter Colette. He is survived by his brother Joe (Vivian) Wiest; children Gary (Shannon) Wiest of Carmicheal, CA; Brenda (Babe) Johnson of Newcastle, WY; Patricia (Mike) Reid, of Highlands Ranch, CO; Waylon (Courtney) Wiest, of Chadron, NE; honorary step- daughter, Raeonna Fraser, of Aurora, CO; 14 grandchildren; 19 great-grandchildren; two great-great grandchildren, and many close friends and family.
A memorial has been established for the Nebraska Veteran's Financial Aid. Donations may be sent to Chamberlain Chapel, PO Box 970, Chadron, NE 69337.
To plant a tree in memory of Leo Wiest as a living tribute, please visit Tribute Store.
Be the first to know
Get local news delivered to your inbox!