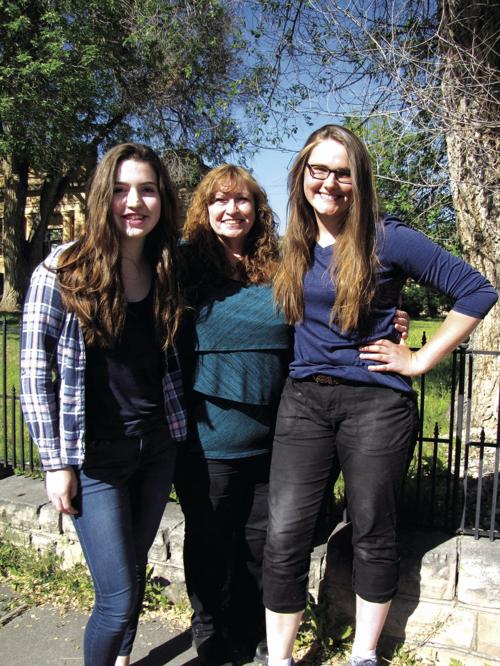 HOT SPRINGS – With the school year completed, and a trip back to their European home countries looming ahead of them, Josefine Moegelvang, from Denmark, and Kim Thomke, from Germany, both 15 years old, were looking back on their 10-month foreign student visit to Hot Springs and feeling sad about it ending.
Both girls arrived in Hot Springs at the beginning of the school year, in August of 2016, and will soon be flying home.
Thomke in particular said she really didn't feel like going back to Germany, because she'd fallen in love with the wide open spaces of South Dakota.
"I don't want to go," she said.
Thomke is from Kassel, a town in the middle of the country, where there are "lots of people, lots of traffic, and things going on all the time."
Living with the Green family, ranchers, in Oelrichs, Thomke said she got to see what ranch and small town life is about, to be a cowgirl for a little while, and see calving and branding, and live a rural lifestyle. "I did everything on the ranch," she said, "and it was exciting. The chickens, collecting eggs, I went to a rodeo where everyone talked to you, because you know everyone."
This is something she wouldn't have been able to do in her native Germany, with about 588 people per square mile. South Dakota, by contrast, has about 11 people per square mile.
Another thing that impressed her about living in Fall River County was the school spirit shown at Hot Springs High School, especially when everyone cheered for the Bison football team. In Germany – even with soccer – there is no such school team to root for. Individual towns have soccer teams, she said, but one student might cheer for Dusseldorf's team, another for Hamburg's, the way Americans root for pro football teams.
She also enjoyed the prom – preparing for it, going out to eat, how her friend Megan helped with her hair — and many other events.
Moegelvang said one highlight of her was stay in Hot Springs was becoming a member of her host family – now she has two families.
Moegelvang lived with Jan Becker, the local contact for Education First (EF) foreign exchange student contacts. Her sister was an EF foreign exchange student during the 2015-2016 school year, one of the things that led Moegelvang to pursue becoming a foreign exchange student.
An athlete– Moegelvang played volleyball, basketball and ran track for Hot Springs – she recalled her first day of volleyball practice, how she wondered what she'd gotten herself into because all of her teammates looked very athletic, tough competition. Yet her teammates quickly warmed up to her, and she felt "taken in," like an American. (Her nickname quickly became "the Great Dane.")
"This forthcoming attitude of Americans, taking people into your hearts and community without limiting their experiences," was impressive, Moegelvang said. She was "baffled" by how welcome she was made to feel, and how easily she was brought into things.
"This welcome, openness, interest in another society, the chance to do this, this and this every year, with no limitations, came to make this a good year," Moegelvang said. "Lots of people put lots of energy into this. Giving back in awesome ways – the teams, the host families, teachers, friends, the average American. I didn't think this would happen."
She also liked her "awesome" first day of school, where she got to get into woodworking and art classes, thanks to administrators working with her schedule. She loved the high school's Hot Springs spirit, how the community is supportive of athletes like the girls basketball team, even though their season wasn't a great one.
Prom was also awesome, because it was her first date. She learned a lot about trust that evening, and she said she felt like she took a step away from girlhood, and towards becoming a woman. She recalled going to Rapid City and shopping for dresses, getting a manicure and pedicure, and riding in a car with several fellow teenagers. She lauded Kole Vollmer for being a very nice prom date, too.
Moegelvang also participated in the recent Lakota bow-making class at the high school, and was impressed with this, too.
Both girls also talked about their trip to New York City and how this was a fascinating experience. They saw what a huge American city to offer – busy traffic, walking fast on all the streets, everyone being stressed out – and compared it to peaceful rural South Dakota life.
Moegelvang said she learned some things about herself and Americans.
"I never learned so much about myself as I did this year," she said. With her Mamma and Papa always watching over her in Denmark, in the U.S. she learned that good decisions don't have bad consequences and vice versa, she said. She also learned that if she trusts in herself and others, that she can grow by leaps and bounds.
Thomke talked about learning how to step out her shy self and become more interactive with others.
"I felt so young, so inexperienced," she said. "Interacting with others without my parents changed this. I can't hide behind my parents any more, I have to do things on my own."
She also talked about having to live with the choices she makes, and how she now has the confidence – along with the responsibility – to make wise choices.
What did they learn about Americans?
Both Thomke and Moegelvang talked about the way they were accepted into the community, but they also laughed when they talked about seeing men wearing white socks and sandals or flip-flops together.
Both girls were especially thankful for everyone and everything that came together to make their 10 months in Hot Springs such a wonderful time in their lives.
Becker said EF prepares the foreign student experience on both ends quite well to help make the experience a good one.
"If my parents had another child, they would send them with EF, too," Thomke said.
"To me, this is all about building cultural bridges," Becker said. "I've been doing this for the last 20 years and I love it. Every year I learn something from the students we have shared our home with. We both learn to trust in our family and there have been some amazing teens that have shared this experience and bring joy to the world."
"I fell in love with my family because they put so much effort into making me feel welcome," Thomke said. "This is a great approach and creates a special connection between people. It creates a family spirit."
Moegelvang mirrored this comment.
"I feel grateful for my hosts, and the school, who took in a student, a bunch of crazy kids, into their house for 10 months. There is trust in us, with EF we had to be good students and maintain our grades.
Becker said that the EF program is always looking for host families.
Each year, EF brings about 3,000 foreign students from 25 countries into the U.S. to live with host families. The families and students can rely on 24/7 support from EF throughout the time they are visiting. Also all EF students are exceptional and must pass a thorough application and screening process that goes far beyond U.S. State Department requirements.