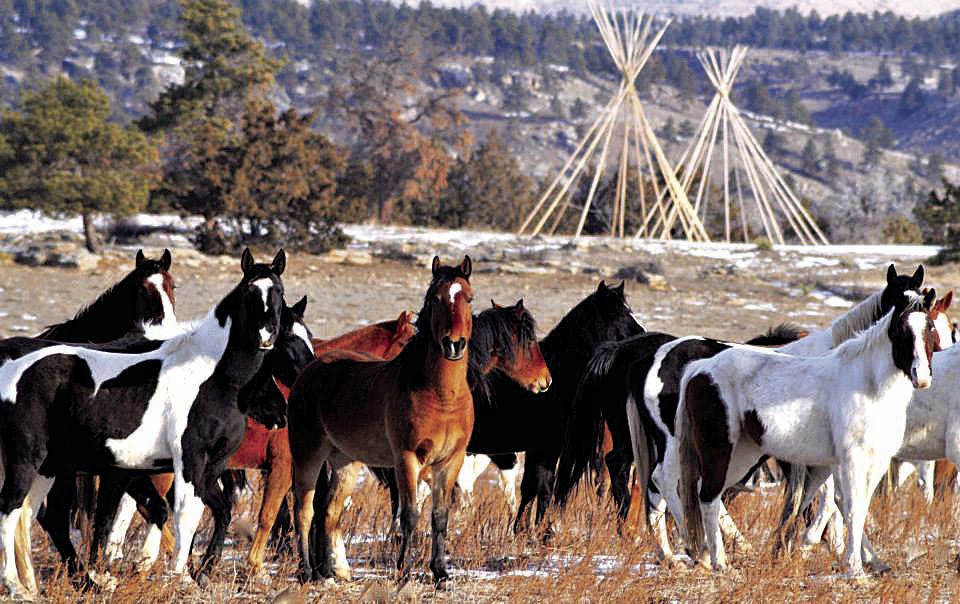 Lawsuit could impact Black Hills Horse Sanctuary
HOT SPRINGS – A civil court case currently under consideration could have a major impact on the Black Hills Wild Horse Sanctuary, one of Fall River County's largest tourism venues.
The case is a land dispute between two non-profits -- the Institute of Range and the American Mustang/Black Hills Wild Horse Sanctuary and The Nature Conservancy – that goes back 20 years and boils down to an argument over the legality of document and how it was obtained.
On Thursday, Sept. 14, Judge Heidi Linngren sided with The Nature Conservancy on the issue in a summary judgment hearing held in the Pennington County courthouse in Rapid City. However, IRAM is vowing to appeal the case.
IRAM Executive Director and Program Development Coordinator Susan Watt and Communications and Cultural Relations Director Karla LaRive see the case as a "land grab" by The Nature Conservancy (TNC) – a "land grab" they say was acquired by fraudulent means.
They say it could cost IRAM 4,000 acres of land, worth millions of dollars, and upend the horse sanctuary's 30-year efforts as a sanctuary for wild horses and wildlife, also as a sacred space for the Lakota people, who hold sun dances on the property, which is loaded with cultural artifacts such as petroglyphs, say LaRive and Watt.
According to court documents – Hot Springs Attorneys Jim Sword and Brian Ahrendt are representing IRAM – what happened was this:
In 1997, The Nature Conservancy's Western Dakotas Program Director, Bob Paulson, then Black Hills Program Director, approached IRAM about acquiring a conservation easement for IRAM property, to create a Cheyenne River conservation corridor.
IRAM alleges that Paulson knew the organization was governed by a board of directors – and not just IRAM founder and President Dayton Hyde, the Oregon rancher, naturalist and author who, in 1988 raised enough money to buy the roots of the current 11,000-acre sanctuary and convinced Bureau of Land Management to send him its unadoptable wild horses.
In 1997, Paulson met with the board, and after these discussions, according to IRAM, "neglected or failed to communicate" with the board that TNC wanted IRAM's board to approve and sign a "Deed Of Conservation Easement" to create the legal means for establishing the intended conservation corridor.
Instead, IRAM alleges that on Dec. 3, 1998, Paulson met with Hyde – essentially on the back of a pickup truck – and told him it was necessary to sign "certain documents related to an easement," to begin the process of creating the conservation corridor.
Hyde, IRAM contends, thought he was signing an "easement documentation report" – one created in October of 1998 – not the final Deed of Conservation Easement, which would have required board approval, not just his signature.
An easement documentation report is a compilation of information that documents the current condition and conservation values of a property prior to a conservation easement being granted. It generally includes maps, photographs and a description of significant land features.
IRAM alleges what Hyde actually signed was a cover sheet for the Deed of Conservation Easement – not the documentation report. IRAM then claims that Paulson supposedly slipped a bunch of paperwork relating to the Deed in behind the cover page to make it appear as though Hyde, representing IRAM, had indeed signed off on the Deed of Conservation Easement, entitling TNC to certain property rights on the land – 50 percent of the "full and fair market value" of the property.
IRAM further alleges that Hyde and the IRAM board never received full copies of what Hyde signed, and that Paulson told Hyde he wouldn't need an attorney to review this paperwork, also that Paulson "intentionally withheld" the true nature of what Hyde had signed.
In doing all of these things, IRAM contends that TNC and Paulson committed "fraud," acquired Hyde's signature "by fraud" and "deceived" Hyde and IRAM. Paulson's deceptions – and by association TNC's – were "willful, wanton and malicious," IRAM alleges.
IRAM contends this behavior by Paulson is not a single incident.
More recent court documents submitted as evidence for IRAM's allegations note the case of Victor (Ole) Nelson's property, also part of TNC's Cheyenne River Canyon's conservation project.
Paulson testified in a previous court proceeding that he used the same process to acquire Nelson's property as was used with IRAM: Nelson signed a conservation easement with TNC in June of 1999. Each page of the agreement was numbered separately. However, prior to TNC accepting this agreement, Nelson died. So Paulson had Nelson's brother, Henry, sign a blank page, then, according to the IRAM's submitted claims, Paulson as TNC's representative, slipped the signed blank page between two existing pages into the conservation easement legitimizing it.
To further complicate things, the IRAM Deed of Conservation Easement was notarized without IRAM's seal on the document. The very next day, on Dec. 3, 1998, it was filed with the Fall River County Register of Deeds, "thus hiding the contents of the easement" from IRAM's board and Hyde. Hyde, still mentally sharp at 92, does not recall going to this "closing," records allege.
The Deed of Conservation Easement, IRAM contends, restricts the uses they can make of what is their land and the management techniques IRAM can employ to work this land.
It also, IRAM alleges, creates a problem for the Lakota because the land used for the sun dance ceremony, a significant cultural event, is in jeopardy because the Deed of Conservation does not specifically provide for this. Had TNC properly negotiated the deed, the sun dance would have been provided for, IRAM says.
With any conservation agreement, there is what court documents call a "consideration."
IRAM further alleges that no exchange of a "consideration" between TNC and IRAM ever took place, despite the property being worth several million dollars to IRAM.
The Deed of Conservation Easement filed with the county specifies what "rights" TNC has on "their" ground. It says the property involved consists of 8,273 acres of IRAM property, and TNC gets half of this, more than 4,000 acres, worth a fair market value, in a "perpetual conservation easement."
These acres, according to the Deed of Conservation, consist of "substantially undisturbed" land in a "natural state" that has "significant ecological and open space values" and "provides relatively natural habitat for native plants and wildlife."
This will "contribute to the ecological integrity of the canyon and river zone of the Black Hills and conserve significantly relatively natural habitat for wildlife and plants."
The Deed says TNC "owes a certain obligation to Dayton Hyde and Susan Watt" for their efforts in caring for the property. To acknowledge this, TNC offers a "life estate" to Hyde and Watt in one of the three zones TNC has created on the property, provided that this zone is not subdivided. After the death of both Watt and Hyde, this property becomes TNC's.
IRAM disputes this, with all three of its original founders: Hyde, Richard Blue and Bob Friese agreeing that no one would have given TNC a real property right on their ground.
The Deed also allows TNC to have "immediate entry" upon the property to "enforce" the "rights" granted by the easement, to study and make scientific observations of its ecosystems and to make sure IRAM is in compliance with the easement's terms. IRAM must notify TNC before doing almost any activity.
The Deed prohibits the dumping of toxic waste or hazardous materials; changes, alterations or impairments to the "natural features" of the property; the introduction of non-native species – except pheasants, chukar partridge or quail; no feedlots or wild game farming; an filling, excavating, mining, drilling or extraction of "minerals, hydrocarbons, soils, sand, gravel, rocks or other materials;" making leases or subdivisions; construction of buildings; use of snowmobiles, ATV, motorcycles except for agricultural purposes; construction of roads or trails; application of biocides, herbicides, defoliants or other chemicals; intentional killing of prairie dogs; timber harvesting (unless approved); the grazing of horses or cattle unless the range condition are maintained or improved.
In the event of a problem, TNC has the right to sue IRAM, but TNC's members, directors, officers, employees, agents and contractors are held harmless from liabilities. Also, IRAM continues paying taxes on the land.
The only way for the Deed of Conservation to be done away with is via the courts.
The Nature Conservancy's view
TNC's lawyer, former Attorney General Roger Tellinghuisen, now a partner in the Rapid City law firm of DeMersseman, Jensen, Tellinghuisen & Huffman, LLP, answered IRAM's civil suit against TNC, Paulson, the state, the county and Will and Hillary Eidsness – all involved in some aspect of the Deed of Conservation Easement deal.
In a nutshell, Tellinghuisen's reply to IRAM's civil suit says the court should dismiss the case for "failure to state a cause of action," and denies the allegations IRAM has made against TNC, Paulson, etc.
Specifically, Tellinghuisen argues that there is not enough information to quiet the title or deny or admit many of the allegations forwarded by IRAM, while acknowledging that IRAM's board of directors never approved the Deed of Conservation Easement.
He acknowledges that TNC recorded the Deed of Conservation Easement that Hyde signed, but denies that it is "wrongful."
He claims Paulson met with Hyde and Richard Blue (one of three original founders of IRAM, the third was Bob Friese), both IRAM board members, but there is "not sufficient knowledge" to answer other allegations.
He admits Paulson attended the "real estate closing" of the Deed with Hyde present also, but denies Paulson, TNC and others failed to inform him of what was in it.
He admits that TNC never met with the IRAM board of directors "at one time," but denies that this negates the Deed.
He notes that the Sun Dance is important, but says this is addressed in TNC's Deed in the purpose, under cultural values.
Tellinghuisen claims IRAM was compensated for the damages resulting from TNC's Deed, and that IRAM's claim of diminished value of the land doesn't have enough information to bear this out.
Finally, Tellinghuisen invokes a series of "affirmative defenses," including:
• Estoppel (legalese for an "obstruction that precludes a person from asserting a fact or a right or prevents one from denying a fact. Such a hindrance is due to a person's actions, conduct, statements, admissions, failure to act or judgment against the person in an identical legal case")
• Laches (the legal doctrine that a legal right or claim will not be enforced or allowed if a long delay in asserting the right or claim has prejudiced the adverse party (hurt the opponent) as a sort of "legal ambush."
• Payment – TNC claims a $230,000 payment was made and used to settle a mortgage on the property. IRAM has documents to show this mortgage was paid by the Wright family on Dec. 1, 1998, the day before a Deed was signed, and IRAM's books classify this as a "donation," not a payment.
• Waiver – The intentional and voluntary giving up of something, such as a right, either by an express statement or by conduct (such as not enforcing a right).
(These legal terms were defined by Law.com's legal dictionary.)
Paulson, contacted by phone before the hearing, said it was "inappropriate" to share his version of the events surrounding the case. "There's no case there," he said, "we're in the business of conservation and we do it well."
The lawsuit that started this legal squabble was initiated in June of 2016 with a complaint and a summons to quiet the title by IRAM, followed by a reply by Tellinghuisen for TNC, etc. in July of 2016.
Since that time, the lawyers for both sides have been piling up a slew of documents relating to the case.
IRAM wants the Deed of Conservation declared null and void, and seeks punitive damages against Paulson and TNC. Watt and LaRive are concerned that TNC will sell the land or open it to oil and gas exploration, perhaps uranium mining, thereby destroying all of Hyde's hard work to both create and sustain IRAM.
TNC's remedy, Tellinghuisen writes, is to dismiss the case, with no damages against TNC, and leave the IRAM easement valid, with IRAM paying the legal fees.
In the court hearing on Sept. 14, Michael V. Wheeler, another DeMersseman, Jensen, Tellinghuisen & Huffman, LLP partner representing TNC, emphasized several things to "correct the record" in this case.
Despite Sword's noting that the $230,000 was used to pay off a mortgage on IRAM's property on Dec. 1, 1998, two days before the Dec. 3 closing, he claimed the money represented a TNC's payment to IRAM and this sanctioned the Deed of Conservation Easement.
He also argued that the long delay between 1998 and the 2016 lawsuit suggested that the parties were satisfied with the outcome of their negotiations.
Wheeler said using the Nelson case as an example of how TNC and Paulson operates was "highly irrelevant," and that after Hot Springs Attorney Pat Ginsbach negotiated the TNC deal for Nelson, Ginsbach, Sword's former partner, turned around and sued to undo this. Throwing this into the IRAM vs. TNC trial would require a "trial of its own" to sort out the issues.
Finally, Wheeler pointed to the clause after the clause permitting TNC to acquire 4,000 acres of IRAM's property. This acquisition would only take place, he said, if IRAM's property would be involved in a "condemnation" or other "change in conditions" resulting in the Deed of Conservation Easement being nixed. He claimed that TNC would use money from the sale of the property for other "conservation purposes."
Linngren sided with TNC in the hearing – a move that visibly upset both LaRive and Watts. Sword said after the hearing that they would appeal the decision.
"We're going to Pierre," he said.