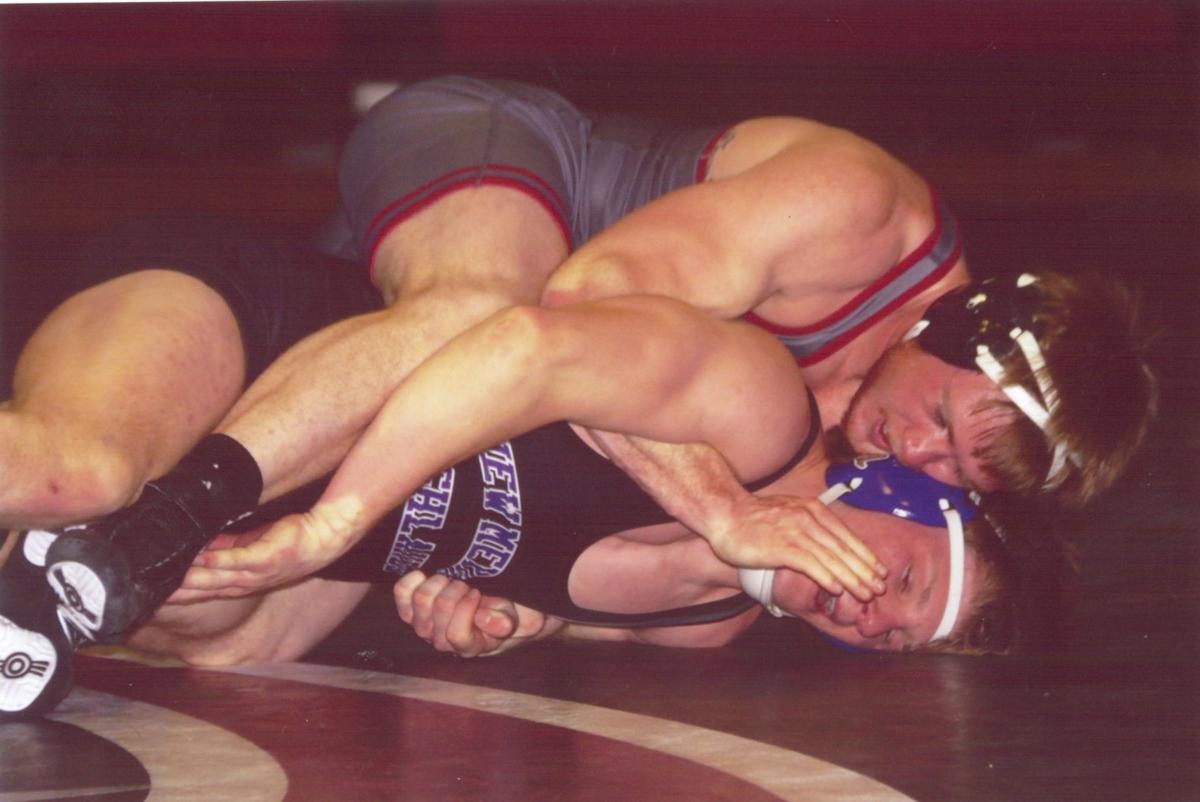 Three Chadron State College wrestlers have qualified for the NCAA Division II National Championships after placing among the top three in their weight classes at the Super 6 Regional Tourney hosted by Nebraska-Kearney on Saturday.
Senior Wade French of Herriman, Utah, is the region's 197-pound champion for the second year in a row, senior Chase Clasen of Moses Lake, Wash., placed second at 149 pounds and junior Tate Allison of Moorcroft, Wyo., finished third at 157 after losing his first-round match.
The trio now prepares for the National Tourney in Sioux Falls, S.D., on March 13 and 14, when their coach, Brett Hunter, and his CSC classmate and fellow national champion, Josh Majerus, will be inducted into the National Wrestling Coaches Association's Division II Jim Koch Hall of Fame on Thursday, March 12.
Hunter said he was extremely pleased to have three national qualifiers. He called the Regional Tourney "a one-day grind that requires lots of toughness to be successful." Chadron State will now be represented at nationals by at least one wrestler for 52 consecutive years.
French repeated as the 197-pound regional champ by scoring a technical fall and a 7-0 decision before winning 4-1 over Donnie Negus of Colorado Mesa in the finals. French will go to nationals with a 23-3 record. He outscored his three opponents at the regional showdown 28-1.
Negus handed French one of his three losses 5-0 during a dual on Nov. 16, but French defeated the Maverick 9-3 for the championship at the Nebraska-Kearney Open a week later and beat him in their rubber match Saturday.
Earlier in the week the coaches placed French on their RMAC first-team all-conference team.
With Hunter providing the inspiration, both Clasen and Allison qualified for nationals after losing enough weight during the past month to drop down a weight class from where they'd competed during the season.
Clasen knocked off the 149-pound No. 1 seed and No. 5 nationally-ranked Mason Boutain of San Francisco State, by a 4-2 score in the semifinals. He then lost 2-0 in the finals to UNK's Sam Turner, a transfer who had qualified for the Division I National Tournament twice while attending the University of Wyoming.
Clasen is 17-7 for the season and will be wrestling at nationals for the second year in a row. A year ago, he was the 149-pound regional winner. His record this season is 17-7.
Allison qualified for nationals the hard way. He lost to San Francisco's Maxamillian Schneider, the 157-pound top-seed, in the first round. But Allison won a pair of close decisions (one of them 11-10), received an injury forfeit from Schneider and knocked off the No. 2 seed, Isaiah Diggs of Colorado State-Pueblo, 10-2, for a major decision to claim the third-place medal.
Allison will go to nationals with a 19-8 record after finishing 7-14 a year ago at 165 pounds.
CSC redshirt freshman Mason Watt of Broomfield, Colo., made it to the 285-pound third place match, but was defeated by Pueblo's Gavin Nye of Pueblo. Watt ends the season at 19-9.
Three more Eagles--senior Brandon Kile at 133 pounds, sophomore Joe Ritzen of Chadron at 141 and freshman Preston Renner of Westminster, Colo., at 165--went 1-2. This was Renner's first varsity competition this season, and he didn't get any breaks in the bracket. His losses were to the No. 1 and 3 seeds.
One of Ritzen's loses was to the 141-pound champion, Jonathan Trujillo, of New Mexico Highlands.
Kearney had five of 10 weight class winners and two additional national qualifiers while winning the team championship with 148 points. Western Colorado was second in the team standings with 106 points, but has no champions and just two qualifiers. Colorado Mesa had the third most points with 88, a weight class winner and four more qualifiers.
The other team point totals were Colorado Mines, 84.5, Adams State, 72; CSU-Pueblo, 69; CSC, 59.5; San Francisco State, 50; Highlands, 46; and Simon Fraser 27.5.
Mines and San Francisco State each have one champion.
The weight class winners by weight are: 125--Josh Portillo, UNK; 133--Wesley Dawkins, UNK; 141--Jonathon Trujillo, NMHU: 149--Sam Turner, UNK; 157--Jacob Wasser, UNK; 165--Fred Green, Mesa; 174--Robert Gambrell, Mines; 184--Justin Pichedwatana, San Francisco State; 197--Wade French, CSC; 285--Jarrod Hinrichs, UNK.
Portillo, Dawkins and Hinrichs all finished as runners-up at last year's national tourney.