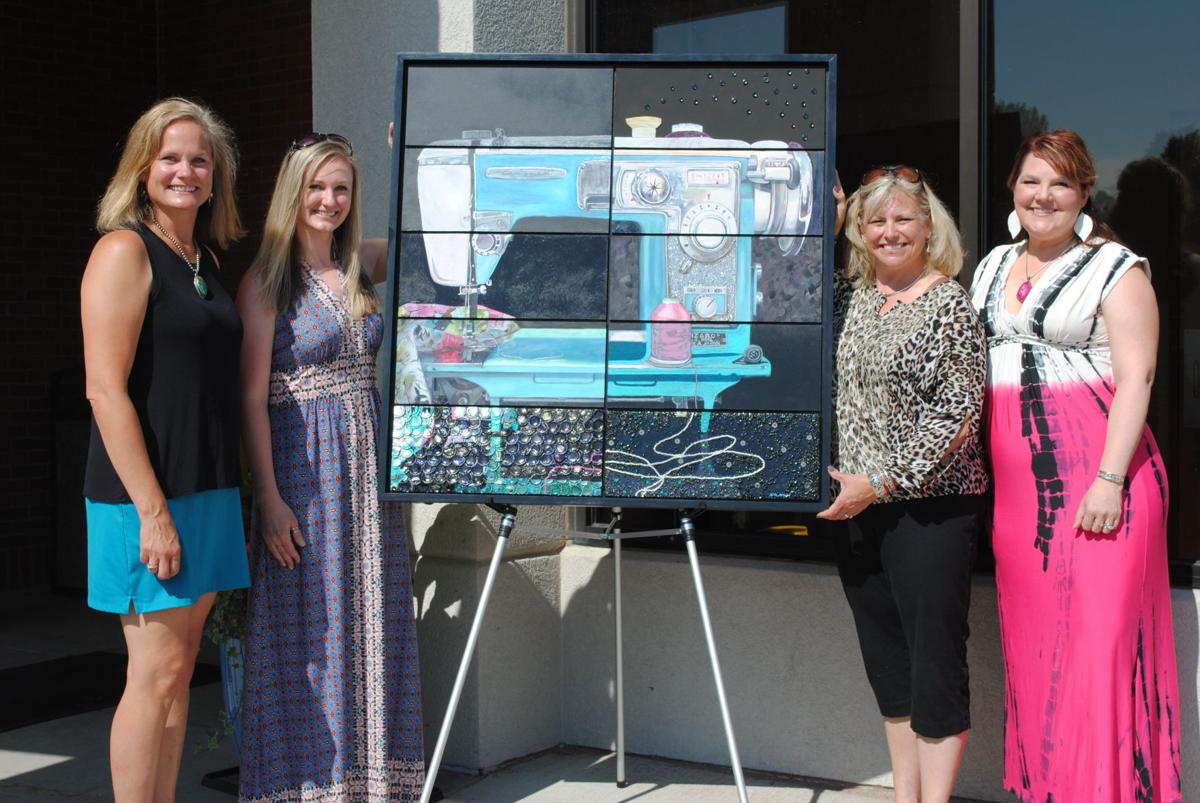 SPEARFISH | Five Gillette, Wyo., artists didn't know when they painted a turquoise sewing machine for their annual art gala that it would be an ideal symbol to commemorate 2020.
Nor did they know it would go on to hang in the halls of Monument Health Spearfish Hospital.
Janice Hamilton and Susan Jerke found the machine at an antique shop in Montana last fall. They brought it to Blanche Guernsey, Dorie Beck and Misty Maynard as the inspiration for their next collaborative piece to auction at their 23rd annual art gala.
"This year's theme was going to be the '50s and we thought a teal sewing machine fit the theme as well," Jerke said. "It was just one of those artist things I guess. When you see it, you know it."
Local Color, the group the five artists belong to and that hosts the gala, had to cancel this year's event due to COVID-19. However, they decided instead to have a raffle for the collaborative 10-panel piece. Tickets were $10 and proceeds went to the Edible Prairie Project, a nonprofit organization that helps provide food to students over summer break.
Jerke said the group was able to raise about $300, and one of the members matched it, for a total donation of $600.
"It's something really dear to our hearts, and when we can share it outside our little group, it's really fun," she said.
The piece was raffled May 10 and went to Spearfish realtor Spencer Rossi, who previously worked with Local Color to establish a similar art gala in the city.
Rossi said she knew she wanted to donate the piece to Monument Health's hospital in Spearfish before she won it.
"It felt like divine intervention to have a piece about mask making, the caregiving aspect," Rossi said.
The piece was named "Rosie the Mask Maker," which Rossi said gives today's generation a glimpse of what the original World War II-era "Rosie the Riveters" may have felt through the community aspect and stick-to-itiveness.
Dan Daly, a spokesperson for Monument Health, said "Rosie the Mask Maker" is a perfect piece to add to the hospital's collection because it reflects the mask making and community support Monument Health has received. 
Daly said supply chain personnel estimate that volunteers made and donated about 22,000 cloth masks since the start of the pandemic.
"The sewing machine art really sort of encapsulates that," he said.
Daly said a five-member internal art committee, with representatives from JLG Architects and Racing Magpie, discuss and decide whether art pieces are appropriate for Monument Health systems.
He said they make sure art isn't too adult oriented or religious, that it fits with the design of the building and that it represents the diversity in the Monument Health systems community.
Daly also said hospitals try to use and purchase art from local artists and photographers.
"It's important we support our local community," Daly said. "It's very appropriate to depict regions and cultures in our region. We wouldn't want to do it any other way."
The piece is not yet hanging in the Spearfish hospital, but will be on display soon.
Be the first to know
Get local news delivered to your inbox!